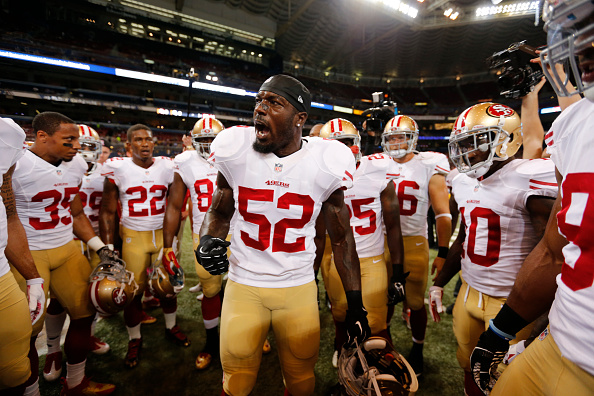 Former San Francisco 49ers linebacker Patrick Willis is eligible for induction into the Pro Football Hall of Fame in 2020. His career only lasted eight seasons, yet, he was one of the top three linebackers in the NFL for most of them. It's hard to get a bronze bust with such a short career, however, these are two reasons why I believe he deserves one.
Patrick Willis: Hall of Fame Worthy
Numbers Never Lie
In his eight-year career, Willis recorded 950 tackles averaging 119 per season. 100 tackles are considered a great season, and Willis accomplished this in six seasons. A seven-time Pro Bowler and five-time First-Team All-Pro selection, he has the accomplishments worthy of induction. He had 97 tackles in 2011 which was good enough for a First Team All-Pro selection. In his final season, he only played six games with 34 tackles. From 2007-2010 he had at least 101 solo tackles and at least 128 combined.
His rookie season was his best season and is one of the most impressive seasons in recent memory. He finished with 174 combined and 135 solo tackles in 2007, third best since 2000. Pro Football Reference measures a player's success with their Approximate Value, or the value they have each season. Willis since 2000 is 16th among linebackers, ahead of Von Miller who is already considered a Hall of Fame player.
According to Bleacher Report's Brian Knowles, "Willis put up seven seasons with 10 or more Approximate Value, which is roughly the borderline between making the Pro Bowl or not. That's as many great seasons as Dick Butkus, Warren Sapp or Ted Hendricks. It's more than Jim Brown or Charles Haley or Ray Nitschke. The absence of a career in his 30s should count against Willis when it comes to talking about being the best linebacker of all time, not whether he should be in the Hall of Fame or not."
The Hall of Fame is for players whose impact was significant and Willis's impact was very significant. If the Hall of Fame was only for the greatest of all time at each position, we wouldn't have anywhere close to over 300 members. The Hall of Fame celebrates greatness, and Willis exemplifies what greatness is, even in a short career.
Respect Among the Football Community
A Hall of Fame player should be respected by those who played with and against him, and Willis is no exception. Hall of Fame linebacker Ray Lewis said in an interview with 95.7 The Game that "I'm an old school football player and I'm telling you, P. Willis played the game old school," Lewis continued. "And from that perspective, maybe he didn't play long enough…but from the body of work from his years, you're going to have to take a hard look."
Lewis is considered a top-five linebacker of all time, to earn the respect of arguably the greatest linebacker of his era is crucial for Willis. When one of the greats has respect for you, it says a lot about the legacy you have. Since very few know what it takes to be a HOF linebacker like Lewis does, I believe this adds to the case for Willis joining him in Canton.
While HOF voters aren't supposed to consider character while voting, it's become a factor especially with Terrell Owens having to wait three years with a first ballot resume. Willis is one of the best players in terms of character and his willingness to be a role model on and off the field. He was always about the team first rather than himself and did everything he could to win. When Willis and teammate Navorro Bowman was named First Team All-Pro selections in 2012, he showed one of many examples of putting others first.
In an interview with the SFGate, guard Daniel Kilgore said "It was special to see Patrick's reaction when he heard NaVorro got it, whose locker at the team's Santa Clara headquarters sits between Willis' on one side and Bowman's on the other. "I was watching them. It was awesome to see Patrick more excited for NaVorro than he was for himself."
His Head Coach at Ole Miss, Ed Orgeron said "He's been like a coach on the field for us. Patrick leads by example. He is not a big talker. He just gets in there and does his job every day and makes everybody around him better. There will never be another Patrick Willis."
There will never be another Patrick Willis because no one will be as dominant as he was when he was at his peak. Matt Williamson of Scouts Inc. in 2011 said that "Nobody in the NFL plays their position better than Patrick Willis, and that is saying a lot. He is as good a linebacker as Peyton Manning is a quarterback, as Andre Johnson is a receiver, as Adrian Peterson is a running back. He has no weaknesses."
Short Careers Can Still Get You a Bust
FootballPerspective.com's Chase Stuart analyzed Hall of Fame players with short careers to compare Willis to other members. Stuart used a few notable examples of players who lasted less than ten years in the NFL but are still in Canton. Stuart said that "Dave Casper isn't thought of as a "short career" guy, but he should be. Yes, Casper played for 11 seasons and in 147 games, but in his first two seasons, he played in 28 games and made 0 starts, catching just 9 passes for 97 yards. In his final season, he played in 7 games and caught 4 passes for 29 yards. Casper built his HOF career over 8 seasons of play and 112 games, just like Willis."
Butkus is considered one of the best linebackers in the Modern Era, but Willis has a higher career average value on PFR despite playing one less season. Gale Sayers only played 68 games yet made the Hall of Fame for dominating in a short time frame. Terrell Davis's career was cut short, yet he was recently inducted in 2015 with 7,607 rushing yards. A short career shouldn't keep you out of Canton if you deserve it, and players with shorter careers further prove why Willis is worthy of induction.
Last Word
When someone is as dominant as Willis was, he is a Hall of Famer. You cannot tell the history of pro football without mentioning his name. That is the factor I believe makes someone a Hall of Famer, and Willis has done more than enough to align with this. While I don't know if he will be a first-ballot selection, he is more than deserving of a gold jacket.
Main Photo:
Embed from Getty Images