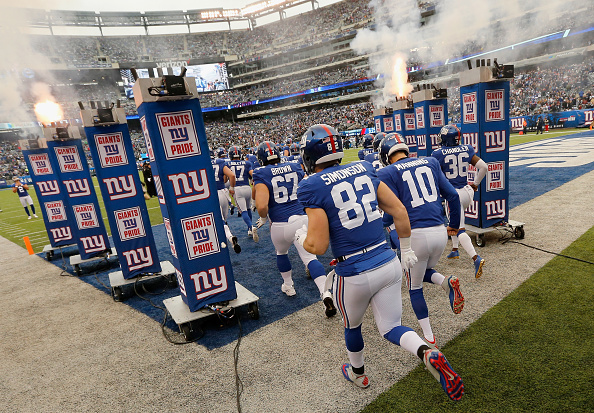 The NFL Draft has ended. Teams are rapidly scoping out the new undrafted free agents to find some hidden gems. These "gems," in addition to some of the lesser-known veteran free agents, are fighting an uphill battle to make NFL rosters. Here I reveal my pre-preseason roster prediction for the New York Football Giants.
Giants Final Roster Prediction
Quarterback
Safe: Eli Manning, Daniel Jones, Alex Tanney
Cut: Kyle Lauletta, Eric Dungey
This one was fairly straightforward. General manager Dave Gettleman has made it clear that he wants to keep incumbent Eli Manning for as long as he can. He selected Daniel Jones at sixth overall this year to become the quarterback of the future, even though he likely doesn't get much playing time this year. The only questionable pick was between journeyman Alex Tanney and second-year man Kyle Lauletta. But the Lauletta experiment seemed to fail after numerous arrests for driving infractions, and a less than subpar showing against the Washington Redskins in December.
Running Back
Safe: Saquon Barkley, Wayne Gallman, Elijhaa Penny (FB), Jonathan Hilliman
Cut: Paul Perkins, Robert Martin
Obviously, Saquon Barkley is staying. He had one of the most memorable seasons for a rookie in the history of the NFL, and he's not going anywhere. Wayne Gallman is a solid backup, and very good in passing situations. The Giants are one of the few teams that will still employ a fullback next September, but it will be useful to have Elijhaa Penny in as an extra blocker. Jonathan Hilliman, an undrafted free Agent from Rutgers, is going to get a chance to make a name for himself after Paul Perkins and Robert Martin failed to impress in each of their respective chances.
Wide Receiver
Safe: Sterling Shepard, Golden Tate, Corey Coleman, Cody Latimer, Russell Shepard, Darius Slayton, Reggie White Jr.
Cut: Bennie Fowler III, Alonzo Russell, Brittan Golden, Alex Wesley
After the Odell Beckham trade, the WR corps for the Giants had a major shakeup. Gone was their best playmaker and deep speed threat. In his place is a hodgepodge of veterans and young players looking to fill the void. Sterling Shepard and Golden Tate figure to fit in immediately as the top targets on this team. Cody Latimer and Russell Shepard both put on solid showings last season that showed their value as depth receivers. Darius Slayton was drafted late, but his speed could stretch the field more than anyone else in the depth chart. Corey Coleman will be brought back primarily as a returner, where he excelled in 2018.
Tight End
Safe: Evan Engram, Rhett Ellison, C.J. Conrad
Cut: Scott Simonson, Garrett Dickerson
Evan Engram is easily staying. The Ole Miss product has shined during his time in New York, and with Beckham gone, he will continue to produce. Rhett Ellison is a very underrated member of this team. His history as fullback makes him a brilliant blocker, but he has shown that he is able to catch and run, too. C.J. Conrad is the wild card here, but he has a similar skill set to Ellison. He and fellow rookie Jones have already struck up a rapport during minicamp, and I see him as the undrafted rookie with the best chance to make the team. Scott Simonson and Garrett Dickerson didn't produce enough in their previous campaigns to warrant a spot on this year's roster.
Offensive Line
Safe: Nate Solder, Chad Wheeler, Will Hernandez, Kevin Zeitler, Spencer Pulley, Jon Halapio, George Asafo-Adjei, Paul Adams, Nick Gates
Cut: Brian Mihalik, Victor Salako, Chad Slade, Evan Brown, James O'Hagan
The offensive line has long been the weakness for the Giants. They tried fixing it in 2015 with the drafting of Ereck Flowers, and we know how that turned out. This year, they go into the season with one of their best starting offensive lines since their last Super Bowl. Nate Solder and Kevin Zeitler are skilled veterans that will continue to produce for the G-Men. Will Hernandez is looking to follow up a great rookie campaign. Chad Wheeler and Spencer Pulley performed impressively in the place of Flowers and Jon Halapio, respectively. Pulley and Halapio will now have to fight for the starting role.
Defensive Line
Safe: Dalvin Tomlinson, B.J. Hill, Dexter Lawrence, Olsen Pierre, Chris Slayton
Cut: R.J. McIntosh, Breckyn Hager, Myles Humphrey, Jake Ceresna
Dave Gettleman loves his big boys in the middle. In the first round this year, he questionably picked Dexter Lawrence, a run stopping nose tackle from Clemson. He will look to provide some kind of run defense alongside B.J. Hill and Dalvin Tomlinson. Both of them are follow up solid campaigns, where Hill was second on the team in sacks and Tomlinson had 50 sacks. Olsen Pierre was grabbed to provide some depth behind the starters, while seventh-round pick Chris Slayton looks to seize any chance he gets to stay on the team throughout the season.
Outside Linebacker
Safe: Markus Golden, Lorenzo Carter, Kareem Martin, Oshane Ximines
Cut: Avery Moss, Jeremiah Harris, Nate Harvey
Since James Bettcher was hired as the defensive coordinator, the Giants have played in a 3-4 defense. This was meant to provide extra help rushing the quarterback, but the Giants were still one of the worst at that last season. They look to rectify that with the signing of Markus Golden and the drafting of Oshane Ximines. They were both brought in to bring a new look to the pass rush. Lorenzo Carter and Kareem Martin look to be heavily involved that pass rushing rotation as well, as both had decent seasons last year.
Inside Linebacker
Safe: Alec Ogletree, B.J. Goodson, Nathan Stupar, Ryan Connelly, Josiah Tauaefa
Cut: Tae Davis, Ukeme Eligwe, Jonathan Anderson
Alec Ogletree returns as one of the best defensive players for the Giants at inside linebacker, and third-year linebacker B.J. Goodson looks to hold his position as the second ILB. Challenging him for this position are rookies Ryan Connelly and Josiah Tauaefa. Connelly is the standout pick here, though, because he was picked over other linebackers that were rated much higher than him on most peoples boards. Tauaefa looks to break through as a UDFA and bring his amazing tackling to the NFL.
Cornerback
Safe: Janoris Jenkins, Deandre Baker, Sam Beal, Julian Love, Grant Haley
Cut: Corey Ballentine, Antonio Hamilton, Ronald Zamort, Tony Lippett, Michael Hunter, Henre' Toliver
Gettleman really jumped into the challenge of rebuilding the secondary this draft. He drafted Jim Thorpe award winner Deandre Baker and finalist Julian Love in the first and fourth rounds, respectively. They look to slide in next to veteran Janoris Jenkins, who will remain as the number one cornerback on the depth chart. 2018 Supplemental Draft pick Sam Beal will try to stay healthy and show his talent after missing the entire previous season. Grant Haley will return as the slot man after posting fantastic numbers as a UDFA last season.
Safety
Safe: Antoine Bethea, Jabrill Peppers, Sean Chandler, Michael Thomas, Mark McLaurin
Cut: Kenny Ladler, Jake Carlock, Kamrin Moore, Jacob Thieneman
Gone is Landon Collins, All-Pro safety and defensive playmaker. In his place is Jabrill Peppers, the centerpiece of the Beckham trade. Originally a first-round pick out of Michigan, he blossomed into a starter last season, being able to play linebacker and corner as well. He'll play next to veteran free safety Antoine Bethea, who reunites with Bettcher, who played for in 2017. Michael Thomas will play as the third safety while remaining as the special teams' captain. Sean Chandler and rookie Mark McLaurin will also play, probably in a more limited capacity.
Special Teams
Safe: Aldrick Rosas, Zak DeOssie, Riley Dixon
Cut: Taybor Pepper, Ryan Anderson
This was the easiest piece to write. The Giants are going to run it back with the same squad as their previous campaign. Aldrick Rosas is following up a Pro Bowl season, during which he earned himself a spot on the list of best Giants kickers. Zak DeOssie is still one of the most reliable long snappers in the league, even after 10+ years in the league. Riley Dixon will continue as the punter after putting up prolific numbers in 2018. He may face some competition in camp from UDFA Ryan Anderson, but he should stay on.
Last Word
Just because a player didn't make the 53-man roster, doesn't mean they don't make the team. Players like Corey Ballentine and R.J. McIntosh are likely candidates for the practice squad and plenty of players can be brought back in case of injury. And we know how often that happens.
Main Photo:
Embed from Getty Images