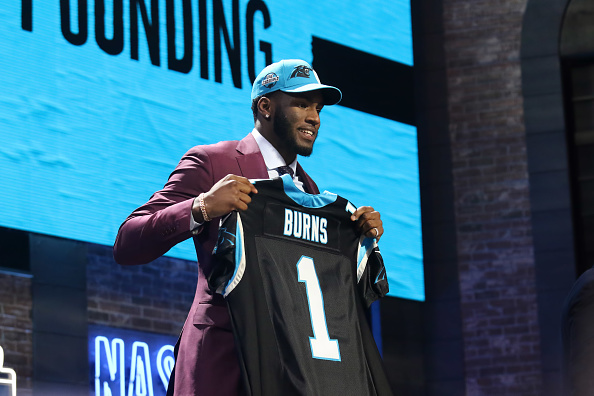 The 2019 NFL Draft has come and gone. As with most years, it consisted of three days of drama and fun. The draft may be over, but the excitement is not gone. Now we get to see these players blossom or falter in their respective systems with new teams and new coaches. Throughout the draft process, I took a look at 415 players, graded them and ranked them accordingly. Some early draft picks bust, and some late-round picks bloom, mainly because there are so many more variables that determine success rather than simply ability. Either way, here are my ratings of each team's haul from the 2019 NFL Draft. Also, Check out BetQL for this weeks NFL picks and start betting smarter!
Of course, some teams are at an advantage for successful drafts. For example, the Arizona Cardinals had the first overall pick, and have better odds of finding a star than the New England Patriots do at 32nd overall. Therefore, the grading will look at the average difference from a players draft position to their ranking on my big board. In a three part series, here is the grading on the first round.
Ranking the First Round Draft Hauls By Team
The Titans picked a defensive stud at 19th overall. They have a bunch of good, but not great players on the roster. Marcus Mariota, Corey Davis, Delanie Walker, Malcolm Butler; the Titans could really use a superstar. I was a huge fan of their selection of Harold Landry last year, but if he does not turn into a star, they found one this year in Jeffery Simmons. Simmons has a torn ACL, and a history of assault, which caused him to fall to 19th overall, but he is a top ten talent. They may need to wait a season while he recovers, but the value is exceptional.
The Panthers had the best first round by my grading. Brian Burns was ranked in the top five but fell likely due to concerns around his playing weight. Regardless, the Panthers got an absolute stud at 16th overall. With insane bend and superb athleticism, Burns' playing weight should be a non-factor.
The Broncos traded out from 10th overall with the Steelers. They moved back to 20th overall and drafted Noah Fant, a tight end out of Iowa. Fant received a mid-first-round grade, which makes his value at 20th overall rather good. The Broncos filled a need at tight end with a very good route runner and a better blocker than he gets credit for. They also picked up extra assets which could help them in the later stages of the draft. While the Broncos and the Bills both received the same value grade, the Broncos get the edge because they traded out of their pick and picked up additional assets.
The Bills had one of the best picks of the first round. They considered trading up to third overall to get Quinnen Williams. They stayed put at nine and got an excellent player at the same position. Ed Oliver was third overall on my board, which makes the selection at ninth overall superb. He will fill the hole of Kyle Williams exceptionally.
The Lions became the first team to draft a tight end in the top ten since the 2014 version of themselves. With the eighth overall pick, the Lions selected T.J. Hockenson out of Iowa. Hockenson is a phenomenal blocker and a solid pass catcher. He should add help to the passing game that lost Golden Tate last season, as well as to the line which is by no means unbelievable. As a top five rated player on my board, the Lions made a solid value pick.
The Vikings had a glaring need on the offensive line. With the 18th overall pick, they selected Garrett Bradbury, an interior guy out of North Carolina State. Bradbury had a mid-first-round grade. The Vikings got a very good lineman with good value. He's an instant starter, and a few more solid offensive linemen and they'll be ready for next season.
The Jets considered trading down from the third overall pick. Instead, they decided to select the player who teams would have been trading up for. Quinnen Williams is an interior defensive lineman who was an absolute terror for opposing players at Alabama. Williams was my second overall player, so provides obvious value for the Jets at third overall. He is a very refined pass rusher who will dominate the next level as well.
The 49ers job in round one was rather easy. Let the Cardinals do their job, and then draft Nick Bosa. They did just that. A stud pass rusher out of Ohio State who heavily resembles his brother, Joey Bosa, Nick should succeed with the 49ers. He was my number one overall player, despite missing much of the season with injury. The pick at two was easy, and provided great value.
The Bengals selected offensive tackle Jonah Williams out of Alabama at 11th overall. The tackle class was likely the most talented in years, and after none were drafted in the top ten, the Bengals got the pick of the litter. With a mid-first-round grade, his value was just about spot on with where he was selected. He should be solid for the Bengals for years to come, whether at tackle or guard.
The Chargers drafted Jerry Tillery, a defensive tackle out of Notre Dame at 28th overall. Tillery showed flashes in college of stardom but struggled with consistency. He received an early second-round grade, meaning the value at 28th overall is pretty spot on. The Chargers got their replacement for free agent Corey Luiget, not to mention Tillery's significantly higher ceiling.
The Redskins stayed patient at 15th overall, but they got their guy. Ohio State quarterback Dwayne Haskins slid into the Redskins lap in the middle of the first round. Alex Smith should be around the team next season, which could really help with Haskins' development after only starting for one season at Ohio State. The Redskins need to go and get him a receiver, but he gets to step in behind a very good offensive line. Haskins has a mid-second-round grade, meaning he is a solid pick in the middle of the first round.
They also traded back into the first round to select edge rusher Montez Sweat at 26th overall. The defensive line wasn't a need, but the value was absolutely there. After being misdiagnosed with a heart condition at the NFL combine, his stock fell from the top ten to late first round. He received a grade in the top ten on my board, and his value at 26th overall was excellent.
The Jaguars didn't need an edge rusher, but also couldn't pass up on the value they got. Josh Allen fell to seventh overall after being a near lock for the top five. Allen received a mid-first-round grade and has tons of upside to go along with it. The value for the Jaguars was pretty good, and he'll join a very good pass rushing group that consists of Yannick Ngakoue and Calais Campbell.
The Dolphins may be the team to watch in the Rosen sweepstakes. After the Cardinals drafted Murray, and the Giants drafted Daniel Jones, and the Redskins drafted Dwayne Haskins, the Dolphins should be runaway favorites for Josh Rosen. They passed up on Haskins at 13th overall to select defensive tackle Christian Wilkins. Wilkins had an early second-round grade, so the value at 13th overall wasn't bad at all. The Dolphins continue to build a solid young defensive core with Wilkins joining Minkah Fitzpatrick and Jerome Baker.
The Cardinals did the unthinkable and drafted a quarterback in the top ten for the second year in a row. With the first overall pick, they selected Kyler Murray out of Oklahoma. Murray is an athletic explosive quarterback who may fit into the Kliff Kingsbury offense better than Josh Rosen. The need for a quarterback is always huge on draft night, but with Murray sitting as a mid-first-rounder, the value wasn't so great.
The Patriots owned the 32nd pick. Shocking, right? Fans around the league held their breaths as they thought about the possibility of D.K. Metcalf joining the Patriots. Instead, the Patriots went a different route at receiver. They drafted N'Keal Harry, a big receiver who struggles to separate but wins routes in other ways. He tracks the ball very well and can regularly come down with contested catches. With a late second-round grade, the Patriots got decent value on Harry. On that note, questioning the Patriots rarely ends well.
The Eagles had a very good day. After almost trading up with the Dolphins for Wilkins, the Eagles addressed the other trenches. Jason Peters is aging and the Eagles made sure to have a backup plan in place. Andre Dillard could use some coaching, especially in the run game. His footwork is very good and he is a solid pass protector. If he learns behind Lane Johnson and Peters for a year, he'll have a good future ahead of him. Graded as a mid-second-rounder, the value is pretty solid.
The Steelers were expected to take a cornerback at 20th overall for much of the draft process. Instead, they traded up to 10th overall to select a replacement for Ryan Shazier. Devin Bush is a sideline-to-sideline linebacker who can cover tight ends and running backs rather easily. He is incredibly athletic and thinks the game rather well. With a mid-second-round grade, 10th overall is slightly too high for my liking, but they addressed a need very well.
The Raiders had an interesting night as well. Reports of going off the board at fourth overall were right all along. The Raiders select Clemson edge rusher Clelin Ferrell. Ferrell is a good football player, and with a mid-second-round grade, he would have made sense in the first round. Fourth overall is a little rich for me, especially with who was still on the board, but he is an instant upgrade as a pass rusher for the team.
At 24th overall, the Raiders went with the simple pick following Marshawn Lynch's retirement. They selected Josh Jacobs out of Alabama. Jacobs has a solid mix of power, athleticism, and vision. With a mid-second-round grade, and my top graded running back, Jacobs provides good value for the Raiders at 24.
The pick at 27th overall seemed like quite a bit of a reach. They selected Johnathan Abram, a safety out of Mississippi State. He will help them, but safety wasn't exactly the most glaring need on the team. He had a mid-third-round grade, meaning the pick at 27 play not have been so worth it. There's plenty of similarly talented safeties still available heading into day two.
The Ravens got their guy last year in Lamar Jackson. After inexplicably being labeled as a wide receiver due to his athleticism, he took the reigns from Joe Flacco as the starting quarterback. This year they stick to the same theme. The difference is this year they actually did select a wide receiver. Marquise Brown is a very athletic receiver who can do more than just burn defenders downfield. As an early third-rounder, the value at 25th overall wasn't too bad. Jackson and Brown should form a ridiculously fast duo.
The Buccaneers drafted Devin White fifth overall. White is a great athlete with a high ceiling at linebacker. His mental processing needs work, but the athleticism and ability are clearly there. He had a mid-second-round grade, meaning that the value on this pick isn't superb. He could easily bloom into a superstar, but it's on the coaches now to have him tap into his potential.
The Packers didn't have the best day according to the grading system. Michigan Wolverine defensive linemen Rashan Gary was drafted as 12th overall after receiving an early third-round grade. He has huge boom or bust potential, and now it's on the Packers to tap into that potential.
They also traded back into the first round to draft safety Darnell Savage out of Maryland at 21st overall. Savage also received an early third-round grade. Neither of these picks were of terrible value, but neither of them graded out well either.
The Texans had one of the most inexplicable picks of the first round. The offensive line has been terrible for years, but thankfully a deep offensive line class had arrived to save the day. At 22nd overall, the pick before the Texans were on the clock, the Philadelphia Eagles traded up to snag Washington State's Andre Dillard. Regardless, the deep class meant that the Texans still got to take a stab at some very good offensive linemen. Oklahoma's Cody Ford, Kansas State's Dalton Risner, Florida's Jawaan Taylor highlight the leftovers. Instead, they decided to go with Alabama State's Tytus Howard. Howard had a mid-fourth-round grade, meaning that the selection at 23rd overall wasn't horrendous value, but it wasn't great. The decision not to trade down to select Howard, who wasn't on any first round radars is truly baffling.
The Giants draft was interesting, to say the least. I don't even know where to start. Even though the trades are in the past, and the focus is solely on the draft, it's incredibly difficult to understand their motives coming into the draft. Rosen is expected to cost a day two pick, but instead, the Giants draft Daniel Jones out of Duke at sixth overall. Jones received a UDFA grade. He's incredibly vanilla with very few selling points. He can complete easy throws and miss targets on difficult throws, there's not very much to know about him.
Their next pick at 17th overall is the real head-scratcher though. A pick previously owned by the Browns, but flipped in the Odell Beckham Jr. trade, the Giants tried to replace a former superstar. It wasn't Odell Beckham Jr. though. Last season they traded Damon Harrison Sr. for a 5th round pick, and then they proceeded to take a nose tackle in Dexter Lawrence with a mid-third-round grade at 17th overall.
If it weren't for trading back into the first round, the Giants would've put themselves in the running for one of the worst days of a draft ever. At 30th overall, after a trade with the Seahawks, they drafted DeAndre Baker. Baker is a cornerback out of Georgia, and with an early second-round grade, he actually provides the Giants with some decent value.
The Falcons drafted two offensive linemen in the first round. First was Chris Lindstrom, an interior man out of Boston College. They drafted him at 14th overall, and while they may have reached a little on most boards, it was great value on mine. Ranked as the eighth overall player, drafting him at 14 was a great move. The same cannot be said for the second pick of the night.
The Falcons also drafted Kaleb McGary, a tackle out of Washington. Ranked as a UDFA on my board, drafting him in the first round does not help their draft ranking. McGary struggles with technique but has the size and power to be coached into being a decent offensive lineman. Good luck to the Falcons coaching staff.
The Seahawks originally owned picks 21 and 29. After trading back from 21st overall to 30th overall with the Packers, they owned back to back picks at 29th and 30th overall. After seeing who they drafted at 29th overall, fans should be ecstatic that they traded back from 30th overall. TCU edge rusher L.J. Collier was the selection. With a UDFA grade, the Seahawks gave an early submission for worst pick in the draft.
Last Word
It's difficult to truly rate the draft this early in the process. Player development curves are wildly variant. As an example from just last year, undrafted free agent Phillip Lindsay took the league by storm and outperformed many highly drafted players of the same position, such as Rashaad Penny and Ronald Jones. With that being said, it's still important to analyze the draft at this point. Every time the team drafts a player, they see something they like in them. The player may not pan out, and therefore the scout may have been wrong in their evaluation. On that same note, these gradings may not be perfect three years from now when all the players have developed fully, but it is still better to have analyzed each pick rather than to go into next season blindfolded.
Main Photo:
Embed from Getty Images