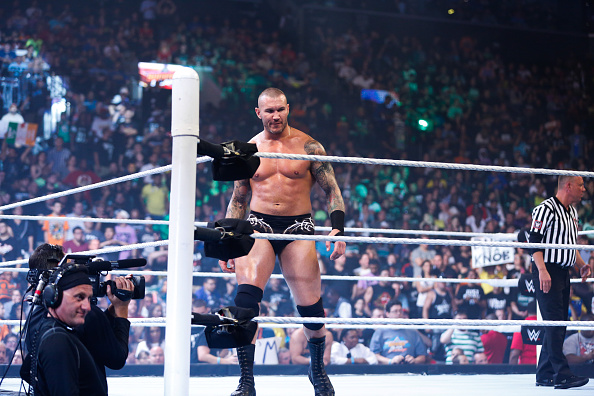 The next stop on the road to Wrestlemania is the brutal Elimination Chamber. This is truly one of the matches that puts not only a wrestler's skill but their stamina to the test as well. The Elimination Chamber is not only punishingly strong but a match that lasts a long time. Let's take a look at some of the biggest matches of the night.
First of two Elimination Chambers
Women's Chamber Match
For the second year in a row there will be a women's Elimination Chamber match. The women of the WWE are proving that they can keep up with their male counterparts and should have had some of these matches all along. In that spirit, the competition for the women this year is for the first ever women's tag team championship. It is very surprising it has taken this long for there to be a women's tag team championship. It is one of the most extreme ways for this title to be introduced.
The teams taking on the Elimination Chamber are Sasha Banks and Bayley, Nia Jax and Tamina, along with Liv Morgan and Sarah Logan representing RAW. With Carmella and Naomi, Mandy Rose and Sonya Deville and Billie Kay and Peyton Royce being the three teams from Smackdown. So not only is the pride of the team themselves on the line. Also which show will have the women's championship.
Will brute strength take this match or will it be the agility and cunning nature of the quicker wrestlers who will take this coveted belts? With so many high level talents in the ring, this is sure to be an entertaining way to kick off the main show. The question will also be, which team can hold it together the most and watch each other's back, and of course, what has been shown many times in the history of the WWE, which team will stay loyal to their partner and not betray them.
This match has been a long time in coming. Braun has been waiting to fully get his hands on Baron since he has come back from elbow surgery. A full blown no-DQ match fits in with what he wants. Of course, no-DQ also means if Baron can find someone who wants to back him up. He can try to use the numbers game to help him with at Elimination Chamber. While Drew McIntyre and Bobby Lashley have been the rare ones who have backed Baron up. Bobby has his own match to focus on, although there is a good chance Drew make an appearance. Although this could be one of the quicker matches if no one decides to help Baron and Braun is finally able to get his hands on the man who has plagued him for months.
Sometimes, you see the beginnings of a storyline and say, are they really going to try this? There is no way this could work after everything before it. However, in a surprisingly short time the so-called 'The Best Tag Team in the World' of Shane and the Miz have become a quick fan favorite and worked well enough together to win the tag team championships. Now at the Elimination Chamber they will put those titles up against the much more experienced team of the USO brothers. Can the Miz and Shane keep their title through this challenge? Tune in to see.
Men's Elimination Chamber match for the WWE championship
Six men will enter this structure to vie for the WWE championship currently held by the so-called 'new' Daniel Bryan. The other are AJ Styles, Randy Orton, Samoa Joe, Jeff Hardy and Kofi Kingston. All of these men have the skill to pull off a win in this punishing event, and while they all have experience in the intimidating cage. It varies in times in and matches won. How much this experience can help is as big a factor as having the stamina to pull it off.
On that note, if stamina alone can pull this win together. Of late, Kofi has been putting up amazing matches to show his skill. The latest by staying in a gauntlet match on the Smackdown before the Elimination Chamber for just over 60 minutes. Of course this could ultimately backfire and exhaust him beforehand. But if anyone is showing his strength and skill and desire to push ahead, Kofi may be the favorite to last to ultimate victory.
Last Word
The Elimination Chamber is a strong yearly match that truly separates the lower and higher caliber wrestlers. However it is not without its dangers, there have been many injuries over the years both minor and major. This match is also an important step to see who will position themselves to make it into a major match at Wrestlemania. We should have a great night of entertainment with these matches and more.
Main Photo: Embed from Getty Images