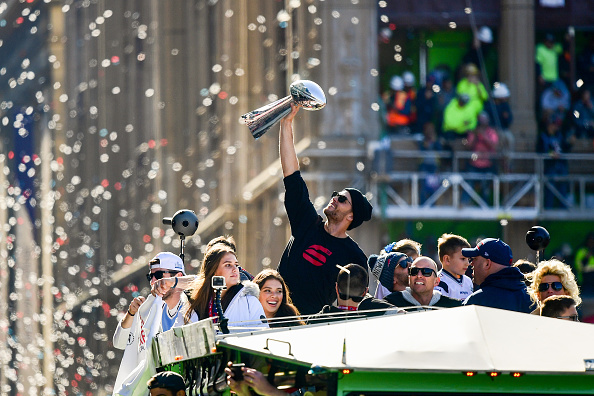 After winning their sixth Super Bowl this century, the New England Patriots added to their already historic dynasty. Tom Brady and Bill Belichick have added another championship to their Hall of Fame careers. Julian Edelman was named Super Bowl MVP after a ten-catch performance for over 140 yards. In the lowest scoring game in Super Bowl history, we witnessed another example of how good the Patriots truly are. After the game, I came to realize something- instead of loathing on another Patriots championship, we should appreciate it while it lasts. This will not last forever, and when it ends football will never be the same.
Enjoy the Patriots Dynasty While it Lasts
Definition of Consistency
The Patriots have been the best team by far in football since 2001 when they upset the St. Louis Rams in Super Bowl XXXVI. They have been the example of consistency and dominance for almost two decades, something no dynasty in football has come close to. Most dynasties last a few seasons and a few last a decade but no one has come close to the 20-year run that New England has.
Not only have they won 15 division championships, including the last ten, but have also been no lower than the four seed in the AFC Playoffs. The fact they have always had a home playoff game speaks to the consistency and greatness the Patriots have shown for 20 years. New England has won nine of 18 AFC championships since 2001, they have been in the Super Bowl for half of the past 18 years. This is astonishing, advancing to the Super Bowl is very difficult yet they make it look so easy. They have made half of the last 18 championships while no team in the NFC has played in more than two.
The Seahawks are the only NFC team to play in two Super Bowls this century, which shows how hard it is to make it to one Super Bowl, let alone nine. New England has won six championships and tied the Steelers for the most in the Super Bowl era. The Steelers did it over three separate decades, the Patriots have done it this century alone. The dominance they have shown is unheard of and no team will ever come close.
All They Do is Win
New England has been so dominant, but what makes it even more impressive is in the salary cap era they have not had many stars. Most players come in and out and are replaced instantly. The Patriots have only had a few players who will be or have a chance to be Hall of Famers. Tom Brady, Rob Gronkowski, Tedy Bruschi, Willie McGinest, 2019 HOF selection Ty Law, 2019 Finalist Richard Seymour, and Adam Vinatieri are the only players with a legit chance at a gold jacket. Seven players out of hundreds to play this century have been stars while everyone else contributes and when their time is up is replaced with someone else.
Randy Moss did have a historic 2007 season, however, he is most known for his time with the Vikings, so he is not included in this. Most of their team consists of unknown players who are often overlooked and make significant impacts for the team. Players such as Wes Welker, Kevin Faulk, Malcolm Butler, and Edelman were either low draft picks or undrafted yet flourished in New England. Belichick is amazing at finding talent and using their strengths to their advantage. The team is almost entirely different every year as starters and key players leave yet never skip a beat. It doesn't matter who is on the team, Belichick and Brady will find a way to win.
The Last Word
The level of dominance the Patriots have shown will never be matched. No team will be able to find a coach this intelligent and who can adjust better than anyone ever has. No one will find a third string, a sixth-round quarterback who will become the greatest of all time. The chance of a team succeeding this much in the salary cap era losing so many pieces year after year seems impossible. It may not be exciting to see them continue to win, but let's enjoy it while it lasts. This era is coming to an end, as Brady and Belichick are both retiring sooner rather than later. We will never see a dynasty like this ever again in any sport, so appreciate and enjoy it while you can.
Main Photo:
Embed from Getty Images