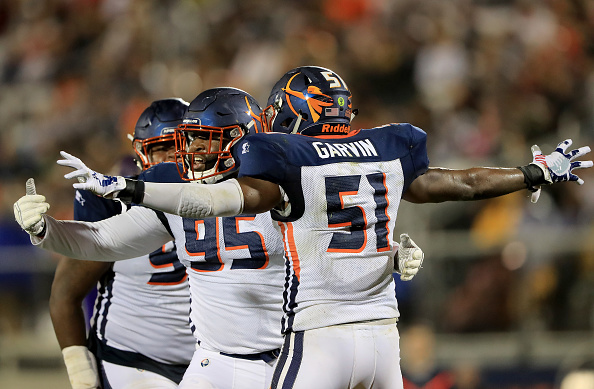 Week one of the AAF inaugural season is done and some teams have established themselves as front-runners while others have shown a need for improvement. Despite only four games per week, week one had it all. Blowouts, close games, and a shutout were what represented the AAF in week one. We even saw a Philly-Special from the Orlando Apollos. The AAF showed great promise and so did some of the teams in it. Here are the AAF power rankings for week two:
Week Two AAF Power Rankings
1. Orlando Apollos, 1-0
Orlando has the claim of being the highest scoring team in week one. They put up 40 points on the Atlanta Legends in the first game of the AAF season. Their offense was firing on all cylinders and their defense put points on the board as well. Quarterback Garrett Gilbert and receiver Jalin Marshall put on a show. Both players had a passing and receiving touchdown. And both plays were to each other. Marshall's touchdown pass came on a Philly-Special to Gilbert. The Apollos defense allowed only six points via two field goals. Terence Garvin recorded two interceptions including a pick-six to lead the Apollos defense to victory.
2. Birmingham Iron, 1-0
The Iron had the most dominant defensive display holding the Memphis Express to zero points. The Iron forced three turnovers in their game against Memphis. Johnathan Massaquoi also recorded two sacks. Their offense also had a few players excel in their first game. Running back Trent Richardson recorded two scores for the Iron and wide receiver Quinton Patton caught four passes for 107 yards. The Iron will head into their week two match-up looking to keep their opponent's total points the same for another week.
3. Arizona Hotshots, 1-0
The Hotshots passing game was firing on all cylinders in their game against Salt Lake. Hotshots quarterback John Wolford threw for 275 yards and four touchdowns. The Hotshots receiving corps was led by Rashad Moss who had five catches for 103 yards and two touchdowns. Their defense also recorded two interceptions but allowed 22 points. If their defense can tighten up a bit, Arizona has a shot to rise into the number one spot next week.
4. San Antonio Commanders, 1-0
The Commanders were the worst winning team in week one. They held the Fleet to six points but scored only fifteen themselves. Quarterback Logan Woodside threw for over 200 yards but threw two interceptions while also failing to record a touchdown. The Commanders multi-back running game was able to total 116 yards and a touchdown. Their defense held the Fleet to six points while grabbing three interceptions. Week two will be a test to see where the Commanders are really at this season.
5. Salt Lake Stallions, 0-1
Salt Lake had the best performance offensively out of the 0-1 teams. They put up 22 points on the Arizona Hotshots but allowed 38 on defense. Their pass defense looked bad even for a start-up league in its first week. The Hotshots offense could not be stopped, which led to the Stallions downfall. They have a chance in week two to correct their mistakes and rise up the rankings a bit.
6. San Diego Fleet, 0-1
The Fleet are the third worst team after week one despite scoring six points. They held the Commanders to 15, which would typically be good if your offense can score points. The Fleet passing attack was not clicking in week one. They had two quarterbacks total for three interceptions, zero touchdowns. San Diego can make some noise in the AAF if they can fix their offense.
7. Atlanta Legends, 0-1
The Legends were the biggest disappointment in week one for the AAF. With running back Denard Robinson and a number of talented players, many thought they would beat the Apollos. What actually took place was a blowout that left the Legends looking for answers. By the third quarter, the Legends looked like they had given up. The Apollos defense made quick work of must Legends drives, and they were scoring quickly via offense and defense. The Legends need to figure out who is their quarterback for the season and fix both ends of the ball if they want a chance at a championship this season.
8. Memphis Express, 0-1
The last place team after week one is the Express. The biggest issue for Memphis is that their offense has yet to score a point. They were shutout by the Iron and allowed 26 points as well. Their defense only totaled one sack and one fumble. They did little to fight against the Iron offense and they could not get past the Iron defense. They need to fix all phases if they want to stay out of the AAF basement in its inaugural season.
Main Photo:
Embed from Getty Images