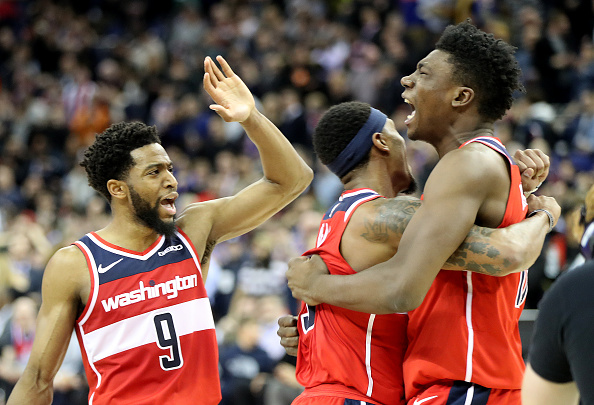 Plenty of Surprises came with the closing of the 2019 NBA trade deadline. One of those surprises came from the Washington Wizards. They made a few moves before the NBA trade deadline was over. Trading for Jabari Parker and Bobby Portis from the Chicago Bulls is one move. The other is trading Otto Porter Jr to the Bulls in return. Wesley Johnson was traded to the Wizards as well. As a team seen on the rise, here is the Washington Wizards trade deadline review:
New guys ready to work. #WizCavs | #DCFamily pic.twitter.com/GgRH89kvMv

— Washington Wizards (@WashWizards) February 8, 2019
Washington Wizards Trade Deadline Review
Wizards Are Making Moves
It seems as if the Wizards are doing one of two things. First, it seems like the Wizards are clearing their roster with the exceptions of John Wall and Bradley Beal. This seems negative, but could be a positive move for the team. It opens them up from a financial point of view. Are the Wizards just playing chess moving pieces around? I do not know the answer, I can only assume, but that is not ever a good idea to do. On the positive note, the Wizards could be trading for stars and making room for All-Star Players to play in D.C. when Wall is healed from his injury.
Wizards Preparing For Future
John Wall is injured and out for about one year with a ruptured achilles, according to USA Today. Washington, before the Wall injury and trade moves, were inching their way back into the playoff conversation at number nine. Now after the injury and trade they look to win-now while preparing for the future. Parker and Portis are skilled hard working players to come off the bench for Jeff Green and Thomas Bryant. Furthermore, once the off-season starts they may be looking to sign an All-Star to DC. Then lies the question who? They did just trade away players to help them with their finances. The Wizards are usually consistently a good team and as of lately they have struggled.
Washington Ready to Win Now
Washington trading for Jabari Parker and Bobby Portis in the meantime may have been a wise choice. No one will know until the end of the season. An inference we can make is, while Wall is out they traded for those two in order to make a run for the Eastern Conference Playoffs. They aren't far behind and this move gives them depth on the bench. Not only do they have depth within their depth some of their players are versatile and can play more than one position. Additionally, on defense, they can guard just about any position.
Wizards Ready For Change of Direction?
Earlier in the season, they traded Kelly Oubre Jr to the Suns in return for veteran champion Trevor Ariza. They have struggled on the road this season only winning seven games while at home they are seventeen and eleven. It isn't like they aren't trying. They are trying because according to nba.com they are averaging forty rebounds per game, which means they are earning chances for second-chance points. Even so, they are averaging 113.8 points per game and allowing their opponents to average 116.7 points per game. Once more, despite having the team go through many changes they average 26.6 assists per game. As a team, they have had their challenges and their triumphs. The silver lining although losing their starting point guard and changing almost the entire roster mid-season is they are still in playoff contention. All the players they have acquired are defensive minded players who can shoot the ball consistently and proficiently. They are learning to play as a team with a new team.
Closing Remarks
Perhaps the moves made before the closing of the NBA trade deadline by the Wizards were the correct ones. Only time will tell. They need to build their chemistry, play team defense, and the offense will come to them. The offense will come to them because they are all physical players who can drive to the rim and score buckets or create plays for the teammates. At the end of the season, we will see if these moves were the correct ones. Furthermore, we will see if these players stay next year as well. When Wall returns they will have their floor general on the floor and the Wizards may be the dark horse this and next year to win it all.
Main Photo:
Embed from Getty Images