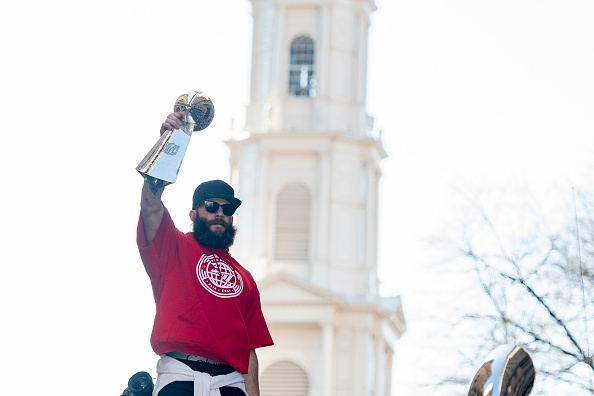 As football fans may have noticed, the New England Patriots won this year's Super Bowl title for the sixth time in this century, as I correctly predicted before the season began. They won 13-3 against the Los Angeles Rams by keeping their high powered offense in check. By the way, it was the lowest scoring Super Bowl ever.
The Patriots made more history as Tom Brady became the first ever NFL player to have six titles on his resume. Additionally, Bill Belichick joined Curly Lambeau and George Halas for the most championships by a head coach. This team joins the 1960's Green Bay Packers, 1970's Pittsburgh Steelers, 1980's San Francisco 49ers and the 1990's Dallas Cowboys in championship dynasties. Here is the reason why the Patriots are the best dynasty anybody has seen in league history.
Patriots Dynasty is the Greatest in NFL History
Free Agency
For history's sake, the NFL's first free agency began in 1993. Unlike in the era of the historic Packers, Steelers, 49ers, and Cowboys, there was a lot of players changing teams. The objective of free agency was to increase parity in the league and players choosing where they wanted to go. That was definitely the case with the Patriots as numerous players came, produced and went. This is why it's hard to win a championship in football because players come and go all the time.
Bill Belichick
The mastermind also known as Bill Belichick is one of the key components that keep this ship rolling. He first came to Foxboro in 1996 as the defensive backs coach after a disappointing stint as the Cleveland Browns head coach. He reunited with his former boss of the New York Giants, Bill Parcells. Then he followed Parcells to the New York Jets for three seasons before he was chosen as their head coach but quickly resigned. Then, he was hired as the Patriots head coach in 2000 and was the primary decision maker.
Belichick brought in a culture of professionalism and a commitment to winning. His system was the "Patriot Way" meaning that the players do their job no matter what it is. He is the best at paying attention to details, devising a different gameplan each week and taking away what their opponents do best. Additionally, Belichick loves to keep things close to the vest and that means he says very little. Well, it's irrelevant because he's eight-time Super Bowl champion and the greatest coach of all time.
Their System
Thanks to Coach Belichick, his strategy was to get players who would fit into his system. Also, he got rid of guys who were declining or didn't live up to expectations. On defense, they can go to players like from cornerbacks Ty Law to Asante Samuel to Malcolm Butler to Stephon Gilmore, safeties from Lawyer Milloy to Rodney Harrison to Devin McCourty and Patrick Chung, defensive linemen from Richard Seymour to Vince Wilfork, middle linebackers from Tedy Bruschi to Jerod Mayo to Dont'a Hightower, pass rushers from Willie McGinest to Chandler Jones to Trey Flowers and outside linebackers from Mike Vrabel to Rob Ninkovich.
On offense, they go from power running backs like Antowain Smith to Corey Dillon to Stevan Ridley to LeGarrette Blount to Sony Michel. The receiving backs went from Kevin Faulk to Danny Woodhead to Shane Vereen to James White. The wide receivers were from Troy Brown to Deion Branch to Randy Moss, slot receivers Wes Welker to Super Bowl MVP Julian Edelman and the tight end position from Daniel Graham to Benjamin Watson to Rob Gronkowski. The common denominator was that they were and are productive players and checked their egos out the door.
Tom Brady
At last but not least, the most important piece of the puzzle is Thomas Edward Patrick Brady Jr. He is widely known as the greatest quarterback of all time. What's remarkable is that he was a part-time starter at the University of Michigan competing with Brian Griese and Drew Henson. People know that Brady drafted 199th by the Patriots in 2000. He got his chance early in the 2001 season when Drew Bledsoe went down with an injury and never looked back since.
With the GOAT at the helm, they would win their first ever Super Bowl by upsetting the Rams 20-17 on a last-second field goal by Adam Vinatieri. In addition, Brady would have five more Super Bowl titles, four Super Bowl MVP's, three regular season awards and 14 Pro Bowl appearances.
But what makes Brady really great is that he plays with a chip on his shoulder. He can read defenses very well and puts the ball in the right place. Brady loves the competition and proving his doubters wrong that didn't believe in him. He makes his revolving door of receivers around him better. For example, Deion Branch and Julian Edelman became Super Bowl MVP's and Rob Gronkowski became an All-Pro tight end and arguably the best ever at his position. It's safe to say that he's been the great pick in franchise history.
The Last Word
In conclusion, these are the reasons why this team is the NFL's greatest dynasty. It's amazing how this team is competitive each year and it drives the haters insane. Just get used to it because we will never see this type of success ever again.
Main Photo:
Embed from Getty Images