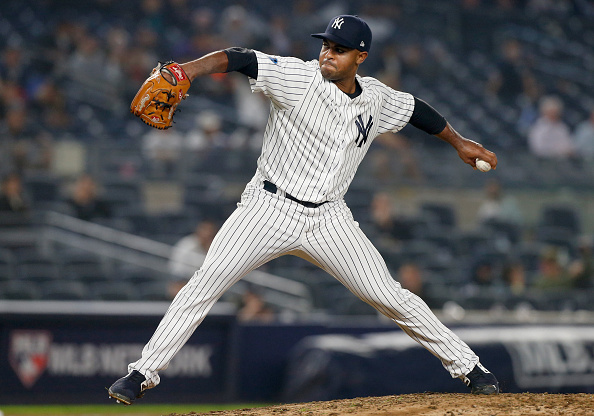 For the past three MLB seasons, the New York Yankees had a player finished among the top two vote-getters in the Rookie of the Year Award balloting. Many felt that Miguel Andujar should have won the award in the 2018 season. However, the baseball writers were more impressed with Shohei Ohtani of the Las Angeles Angels due to he's an outfielder and a starting pitcher. Second baseman Gleyber Torres finished third place last for the Rookie of the Year Award. However, Yankee fans were fortunate to witness Aaron Judge win the award in 2017. Catcher Gary Sanchez finished third that year along with a second-half explosion in 2016.
Although players like Clint Frazier, Luke Voit, and Domingo German have exceeded their rookie eligibility, there are currently nine players on the Yankees' 40-man roster whose rookie status remains intact for 2019. Although it's way too early to predict who a might compete to win the Rookie of the Year award, the Yankees showcase a few potential prospects who may have a chance
Potential Rookie of the Year Candidates for the Yankees
Stephen Tarpley
Stephen Tarpley pitched to a 3.00 ERA with 13 strikeouts, allowing six hits. The Yankees added him to their division series roster because they were impressed with the small sample size. Tarpley has a good chance of making the team out of spring training. As he gains more experience, Tarpley could develop into a trusted pitcher.
Jonathan Loaisiga
Jonathan Loaisiga, the right-hander from Nicaragua only pitched in nine games with four starts for the Yankees before getting hurt. His best start came in a win against the Philadelphia Phillies were he pitched 5.1 scoreless innings, striking out eight and allowing only a single hit. Currently, he's ranked 66th in MLB Pipeline's Top 100 prospect list.
Joe Harvey
A recent addition to the 40-man roster. Joe Harvey pitched to a 1.82 ERA and 0.99 WHIP in 54.1 innings for Scranton/Wilkes-Barre in 2018. The 26-year-old right-hander struck out 61, walked 21, and allowed only one home run. He might be called on to make an impact in 2019.
Chance Adams
Chance Adams produced great numbers for Scranton/Wilkes-Barre in 2017. However, he struggled in 2018. Despite his struggles, he still made his MLB debut on August 4, 2018, against the Boston Red Sox. In his MLB debut, Adams pitched for 5 innings allowing 3 hits and 3 earned runs.
Ben Heller
Ben Heller missed all the 2018 season due to Tommy John surgery. He did appear in 19 games for the Yankees in 2017. He pitched to a 3.00 ERA over 18 innings, walked 10, and struck out 15 batters.
Last Word
The 2018 season was a huge year for the Yankee farm system. Miguel Andujar and Gleyber Torres were among the top rookies in the MLB. Players with rookie eligibility like Stephen Tarpley, Chance Adams, and Jonathan Loaisiga showed their potential to be capable MLB pitchers. Spring training is still nearly three months away and plenty of things can happen before pitchers and catchers report. The potential 20019 MLB rookie of the Year could be one of those players currently on the Yankee roster.
Main Photo:
Embed from Getty Images