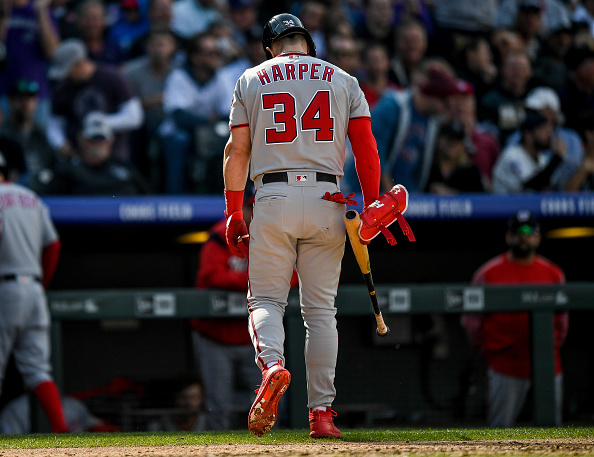 These days, Bryce Harper is a very popular name. As the outfielder is probably about to sign a contract, rumors are pointing toward a departure from Washington in order to become a member of the Philadelphia Phillies. After the meeting Bryce Harper, Scott Boras, and the Phillies had in Las Vegas, this is the most likely scenario.
If it actually happens, it would mean that Harper would play for a rival team of the Nationals. It would instantly make the Phillies the best team, which would give more adversity to the Nationals.
But even if Bryce Harper is one of the best players of the league, I can't say that Washington would suffer as much as we believe from his potential departure from D.C.
Losing Bryce Harper Will Not Undermine the Future of the Nationals
A good organization can recover for two reasons. Here is how the Nationals are going to address Harper's departure.
1. Intern replacements
The league has become younger than ever. An organization like the Atlanta Braves is loaded with good prospects; it explains the good 2018 season they had, and it is also the reason why they will have a good run in the next few years.
This is an extreme case because their entire roster was young, but it proves that you need fresh arms or new bats in order to stay competitive. It applies to the Nationals because they were able to develop two young outfielders: Juan Soto and Victor Robles. Everybody knows about Juan Soto, who finished just shy of Ronald Acuna Jr. for the title of the rookie of the year in the National League, but Victor Robles is also a candidate to be a very good player in the Nationals' outfield for a while.
He will not compensate all by himself in 2019 for what Harper brought to this team, but he will help the fans forget about Harper for only a fraction of the price.
2. Lot of money to spend
Victor Robles can't compensate all by himself for Harper's loss, but he can help the new guys to make the Nationals a good team.
Because Harper is about to leave a wealthy team, the owners will be able to take the money they could have spent on him in order to improve other positions.
The Lerner family, who owns the Nationals, already started by giving an enormous contract to Patrick Corbin. By giving him a long-term deal of $140 million, they made sure to have one of the best one-two-three punch (Max Scherzer, Stephen Strasburg, and Corbin) in the entire league. They also took a chance on Brian Dozier for $9 million in order to replace the departure of Dan Murphy and they made sure to add not one, but two receivers in Yan Gomes and Kurt Suzuki. They are going to cost the Nationals at least $18 million. In addition, let's not forget that Anthony Rendon is 12 months away from asking for a Jose Altuve-like contract.
Even if the Nationals are willing to spend a lot, it is hard to imagine a contract worth around $350 millions being added to this loaded payroll. Considering the fact that they don't absolutely need Harper in order to win as it was stated, maybe they should pass on Harper and invest their money on an outfielder like A.J. Pollock. He is not as good as Harper and he is often injured, but the outfield of the Nationals would be very competitive.
Obviously, if Harper plays for the Phillies in 2019, it would still be hard for the D.C. fans and the marketing employees would have to be very creative. But, ultimately, the Nationals are not going to drown if Harper leaves the city.
Main Photo:
Embed from Getty Images