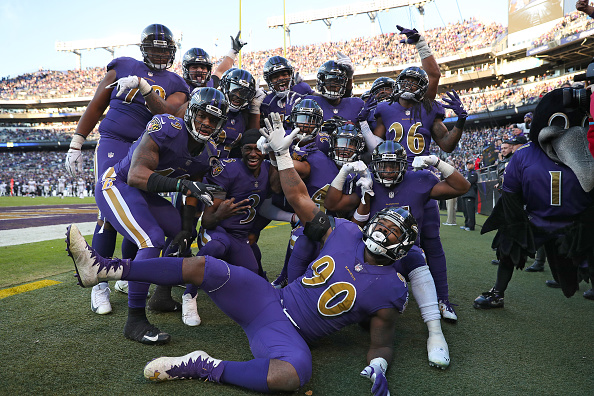 In the NFL Playoffs look for the Baltimore Ravens to be one of the last teams standing. Baltimore had a rocky start to their season, yet ended it with a bang. It did not look good for them earlier in the season. Former starting quarterback Joe Flacco hurt his hip and that injury allowed the rookie quarterback to earn a chance.
Oh wow did he deliver and help lead them to the playoffs. Furthermore, they had running back Alex Collins who was having a wonderful season before injury. The Ravens caught the injury bug early in the season and were able to overcome it by making the post-season.
Baltimore Ravens Healthy and Are the Dark Horse to Win Super Bowl.
The Ravens are all healthy just in time for the post-season. This gives them fresh legs and more options and players to use in game situations. It allows them to have depth which they have struggled with all season long due to injuries. Coach Harbaugh stated in an interview, "this is the healthiest this we have been all year long." In addition, it allows the Ravens to use different packages that they couldn't use without some of their players. Now they can use an array of all their packages since they are healthy.
"This is the healthiest we've been all year." pic.twitter.com/t2wmTcC10K

— Baltimore Ravens (@Ravens) December 31, 2018
No one wants to play the Ravens especially in the playoffs. One team in particular would be the Chargers. This is because they lost to them at home in week 15 on a game sealing fumble recovery returned for a touchdown. They were on a drive that would have tied the game and potentially an extra point that would have won the game. This would have secured them the number one overall seed in the AFC. However the scenarios that played out gave them the 5th seed and the Ravens stayed alive in the post-season race, winning in week 16 to squeak in.
The blueprint.

? | @weddlesbeard pic.twitter.com/Rj6K6BOD1k

— Baltimore Ravens (@Ravens) January 1, 2019
LA gets a rematch in the NFL Playoffs, this time on the road in Baltimore. Phillip Rivers and the Chargers seem to play a higher quality of football on the road then they do at home. They are a well versed team who have the ability knock all the teams in the AFC out. This shown by how close the games were in the regular season. Let me remind you the game in LA was close until the end when the Ravens defense scored to secure the victory.
Ravens Defense Know How To Score Points.
However, Baltimore has the same ability as well; their defense is disciplined and on offense their new rookie starting quarterback Lamar Jackson has the skill of being mobile, which keeps the defense on their feet. Furthermore, their running backs have been by committee until midseason and they are starting to find their rhythm behind their offensive line who are physical and can grind it out.
Lastly, their defense is ranked second in the league according to NFL.com allowing only 17.9 points per game. They hold their opponents to under 100 rush yards and averaged on the season 82.9 yards ranked 4th in the league. They are still ranked 5th in the league in passing yards at only allowing 210 yards per game. Now that is impressive. For total yards allowed they are ranked 1st in the league allowing a total of only 292.9 yards.
Check the stats, all facts. pic.twitter.com/bSdDNVJwDx

— Baltimore Ravens (@Ravens) January 1, 2019
This defense is a legitimate playoff contender as shown by the statistics. Furthermore, they are ranked one in scoring defense, yet another reason this defense is elite. It takes some pressure off of the offense. The combo of this offense and defensive unit being able put up points is dangerous thing and a formula for a Super Bowl run. Let us not forget Flacco, Terrell Suggs, and coach Harbaugh have Super Bowl experience as they have already won one before.
Lamar Jackson and The Baltimore Ravens Surging at the Right Time.
Jackson should be considered for rookie of the year for the way he has been playing, leading this team to the playoffs. The Ravens defense as superb as it is, is not scared of any team. The offense for the first half of the season did enough to get by. Now they are starting to show why they can make noise in the NFL Playoffs. Jackson is no stranger to the spotlight as in college he won the heisman trophy. In the NFL he played in every game of the season and earned the starting spot after their bye week due to Joe Flaccos hip injury. Jackson on the season threw for 1,201 yards, 6 touchdowns, 3 interceptions, with a QBR of 84.5.
The youngest QB to ever win a playoff game is Michael Vick.
Can Lamar Jackson claim that title?

?: https://t.co/rMu3VS009r pic.twitter.com/r4aEfiL0jw

— Baltimore Ravens (@Ravens) January 2, 2019
Additionally, he completed 99 out of 170 passes for a completion percentage of 58.2. He managed to record similar numbers to Flacco despite Flacco starting nine games and Jackson Starting seven. They each basically played a half season and Jackson did well according to the stats. Flacco threw for 2,465 yards, 12 touchdowns, and 6 interceptions. Also, he completed 232 passes out of 379 attempts for of 84.1. If Flacco didn't get injured he would have had a chance to throw for 5,000 yards in a single season. Only a few other quarterbacks have done that in the NFL.
Last Word
In conclusion, when the Ravens are clicking on all cylinders they are not a team to be messed with. They have shown us it isn't how you start it is how you finish.
Main Image: