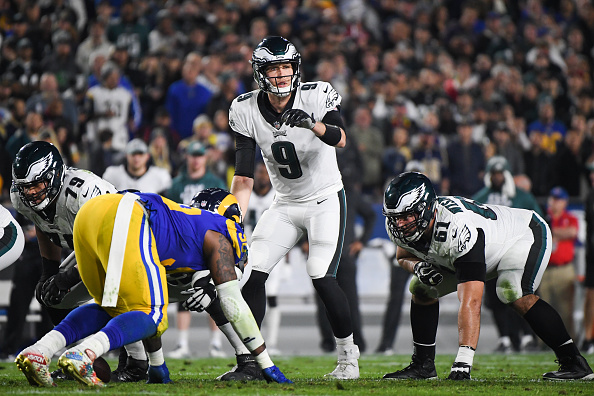 Nick Foles should be the Philadelphia Eagles starter. How do you relegate a quarterback fresh off a Super Bowl win to second-string on your depth chart? Ask the Philadelphia Eagles. One of the NFL's greatest Cinderella stories quickly became one of it's greatest travesties. Foles, the Eagles backup quarterback, rose from relative obscurity to bring the city of Philadelphia it's first division title since 2013. Then, he brought Philly its first and only Super Bowl win. The backup quarterback should have been a starter, even if not for the Eagles.
Nick Foles Should've Started All Along
Foles Picks Up Where Wentz Left Off
Last year, in Week 14 versus the Los Angeles Rams, Carson Wentz left the game with an ACL injury. Backup quarterback Foles stepped in and finished off the Rams 43–35. When it was revealed that Wentz's season was over, Philadelphia fans were heartbroken. Wentz had set the team up for a playoff run. It appeared that Philly finally had a shot at the big game. Fans and teammates rallied behind Foles.
And Foles gave fans one heck of a performance. Granted, we shouldn't take anything away from Carson Wentz. He left the team in an excellent position. Yet how often does a backup quarterback manage to fill the cleats left for him? In this case, said backup led the Eagles to the playoffs. He systematically defeated the Atlanta Falcons and the Minnesota Vikings to advance to the Super Bowl where he turned in a historic performance. Foles became only the second quarterback after Eli Manning to take down Tom Brady and the New England Patriots in a Super Bowl championship.
What Happened to Nick Foles After His Big Win?
I wondered, lamented even, what would happen to Foles after his Super Bowl win. Surely the Eagles wouldn't sit him in favor of Carson Wentz, would they? Oh yes, they would, and they did. Foles started the first two games of the 2018 season as Wentz wasn't yet healthy enough to play. But sure enough, after Wentz was medically cleared, Foles took a seat on the bench and let the starting quarterback taste defeat at the hands of the Titans, Vikings, Cowboys, and Panthers.
Drew Brees and the New Orleans Saints absolutely manhandled Wentz and the Eagles in Week 11 handing them the worst loss ever given to a defending Super Bowl champion. The Saints annihilated the Eagles by 41 points for a final score of 48–7.
Where is Foles Now?
In a strange twist of fate, Carson Wentz sustained a back injury, putting him out of commission for Week 15's contest against — you guessed it — the Los Angeles Rams. Foles stepped in at quarterback and, in a stunning upset, defeated the Rams 30–23. Truth be told, the Rams have gotten worse as the season has progressed. However, it doesn't stop me from hoping that it was Foles' skill and not the Rams' failings that won the game.
To be clear, I never want to see anyone hurt. I hope Wentz regains his health and comes back to the NFL for a long and successful career. However, the coincidence of Foles stepping in at virtually the same time and in the same circumstances as last year shouldn't be lost on anyone. For me, it's some sort of karmic redemption for the Eagles' backup. I just hope he can pull off the same success as last season.
The Last Word
I have no idea how an athlete wins the biggest game in sports for a city in the midst of a championship drought, then gets relegated to the back bench. The Eagles should have at least traded him. Several teams needed a championship-capable quarterback. If they weren't going to make him a starter they at least owed it to him to give him a shot at starting somewhere. After all, he brought Philly it's first Lombardi.
I'm not normally an Eagles fan, but I'm certainly invested in this storyline. If Nick Foles manages to pull off another impossible playoff run, or even if he doesn't, he deserves to be a starting quarterback.
Main Photo:
Embed from Getty Images