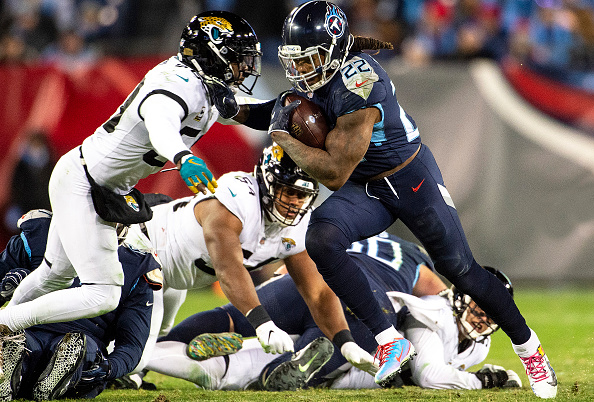 Welcome to the end of Week 14 of the 2018 NFL regular season. Things are starting to heat up as we head towards the final stretch. These last three weeks will determine the fate of each team. But first, here's this weekly edition of the top five performances of the week.
Tadi Abedje's Top NFL Week 14 Performances
Week Fourteen Stats: 35/53 passing, 377 yards, two touchdowns, one interception
The Kansas City rocketman also known as Patrick Mahomes II had another 300 yard game going up against the number one ranked scoring defense in the Ravens. First of all, he had one unbelievable moment late in the second quarter when he danced around the pocket and threw a no look sidearm pass to Demarcus Robinson as he caught it. Then with the game on the line on fourth-and-nine, Mahomes rolled to right while being chased. He throws it across his body downfield and Tyreek Hill caught it for 48 yards. Mahomes threw the game tying touchdown to Damien Williams on fourth-and-three to send it to overtime. The Chiefs would make a field goal and stopped Baltimore in the extra session to clinch a playoff spot. He's the third 1st or 2nd year passer (Dan Marino and Kurt Warner) to have a 4,000 yard and 40 touchdown season.
Week Fourteen Stats: 17 carries for 238 yards, four touchdowns

On Thursday Night became the night that Titans running back Derrick Henry will never forget. The big physical started off the game scoring the first points of the game on a three-yard touchdown run. Then, he took a handoff from Tennessee's one yard line and he bounced it outside sitff arming three Jacksonville defenders on his why to a 99-yard touchdown run. Henry is the second ever to it other than Tony Dorsett. Henry wasn't finished as he had two more TD runs of 16 and 54 yards. That would led to an average of 14 yards a carry dismantling the Jaguars defense in the process. In total, he would have a franchise record 238 yards on the ground including his career high four touchdowns. What shocking about it is that it's only his third 100-yard game of his career.
Saquon Barkley (Running Back) – New York Giants
Week Fourteen Stats: 14 carries for 170 yards, one touchdown
Saquon Barkley continues to show the world why the Giants didn't make a mistake picking him second overall from Penn State. This was the 12th time this year that he's had at least 100 yards from scrimmage as he continues to add milestones to his resume. Barkley showed his home run ability in the second quarter when he took a handoff and went straight ahead 78 yards to the end zone untouched. With that score, it was his 13th in which it's the most in team history. It would help him to average 12.1 yards a carry. Also, he had a one-handed catch coming out of the backfield. Barkley is certainly on his way to becoming Offensive Rookie of the Year.
Amari Cooper (Wide Receiver) – Dallas Cowboys
Week Fourteen Stats: 10 receptions, 217 yards, three touchdowns
Each week, Amari Cooper is proving to the Cowboys why they traded a first round pick to go get him. With the game tied at nine apiece with 7:52 remaining against the division rival Eagles, he caught a 28 yard touchdown perfect pass from Dak Prescott while in single coverage. Three possessions later, Cooper went deep and caught a pass against double coverage and ran 75 yards to the house. On third-and-nine at the Philadelphia 40 in overtime, he caught a pass while running a crossing and got a first down. That would eventually lead to a walk-off score as he caught a pass that was deflected by Rasul Douglas and walked into the end zone. Cooper became the first Dallas receiver since Michael Irvin to have 200 yards receiving in a game.
Week Fourteen Stats: seven receptions, 210 yards, one touchdown
It was a career day for the 49ers tight end George Kittle. The 2017 fifth round pick out of Iowa would do things that no other 49ers tight end like Vernon Davis, Brent Jones and Russ Francis has done. With 10 minutes left in the first half, Kittle was open while catching a pass from Nick Mullens off play action and went 85 yards to the end zone. That was the longest score by a tight end in team history. The play would lead to a career high 210 yards on seven balls against the Broncos defense that couldn't contain him. The crazy part about it was that he could've broke Shannon Sharpe's record for most yards in a single game by a tight end but didn't catch a ball after halftime. Nevertheless, Kittle became the first 49ers TE ever to have a 1,000 yard season.
The Last Word
These are some great performances of Week 14. Check in for next week's edition of my top five performances.
Main Photo:
Embed from Getty Images