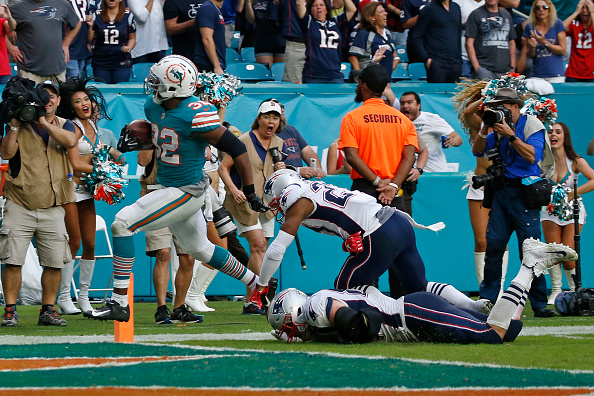 What happened in South Florida continues to be the House of Horrors for the Patriots. They lost to the Dolphins 34-33 in what was one of the most unbelievable finishes in league history. Keep in mind, the Pats have lost four of their last five games in Miami. They had an opportunity to win the game and clinch their 10th straight AFC East Title. Now, let's explain how it all went down.
New England Patriots' House of Horrors continued in South Beach
Fourth Quarter
The Patriots had a 30-28 lead when they forced the Dolphins to go three-and-out and got the ball back with 4:26 remaining. On their last possession of the game, they would play ball control to eat up a lot of clock. With a holding penalty pushing them back, Tom Brady would hit Josh Gordon for 12 yards for a first down in second-and-nine. Then, Brady threw it deep to the left side in Gordon's direction and drew a 41 yard pass interference penalty on Minkah Fitzpatrick that put them at Miami's seven.
They would run three times to try to get into the end zone with James White and Sony Michel but got stuffed. It would setup a 22 yard field goal attempt by Stephen Gostkowski. He would make the FG to extend New England's lead to 33-28 with 21 seconds left. They burned 4:10 of the game clock on the drive to give Miami as little time as possible to get a winning score.
The Final Play
So the Dolphins got the ball back with seven seconds left at their own 31 yard line. The Patriots were lined up in a prevent defense and Rob Gronkowski was put in because of his height to knockdown the deep pass. Ryan Tannehill took the snap with the Pats rushing four and completed a 14-yard pass to Kenny Stills. Then, Stills would lateral it backwards to DeVante Parker and pitched it to Kenyan Drake. Drake would fake a pitch, make his move inside with blocks and ran upfield to the house with no time left.
This play was called "Boise" that the Pats failed to stop. Additionally, it's also named the Miami Miracle because off the odds of that play being successful was slim to none. The play was like the Saints-Jaguars hook-and-lateral play in 2003. Gronk missed a tackle on Drake that would've prevented the score. The Dolphins running back's 4.3 speed certainly helped him outrun the defenders and into the end zone. The Dolphins 69-yard walk-off touchdown was the longest in the Super Bowl era with no time left.
Brady's Performance Overlooked
With everybody talking about the hook-and-ladder play, the performance of Tom Brady was overshadowed. He threw for 358 yards and three touchdowns on 27 of 43 passing and a 112.4 quarterback rating. For the second straight week, Brady added another milestone to his illustrious career. He passed his rival Peyton Manning for regular and postseason touchdown passes with 582. Brady's TD passes went to Julian Edelman, Cordarrelle Patterson and Gronkowski (eight receptions, 107 yards). But the bad news is that he's 7-10 in his career against the Dolphins in Miami.
The Last Word
With the Patriots heartbreaking loss in Miami, they failed to clinch their division title. Despite being at 9-4, they're still the number two seed behind the Chiefs in the AFC. They'll have a chance to host a playoff game when they travel to Pittsburgh to take on the Steelers. If they don't get the number one seed, they could have a first round bye.
Main Photo:
Embed from Getty Images