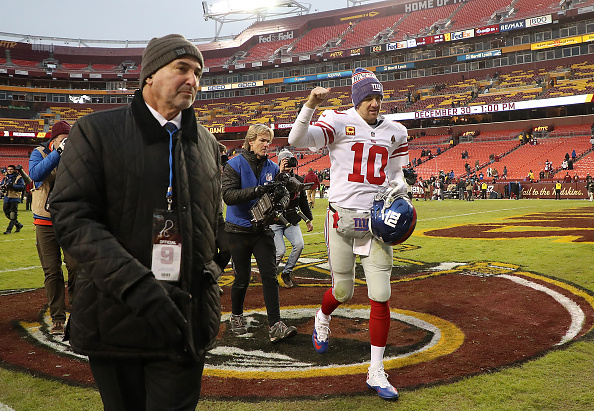 I'm a staunch Eli Manning defender, an apologist even when he isn't playing well. I've been a fan of the New York Giants quarterback for as long as I can remember. I've said it before and I'll say it again; Giants quarterback Eli Manning proves he is far from washed-up. When head coach Ben McAdoo benched Manning last year, I was beside myself.
Eli Manning Proves He Isn't Washed-Up
Manning Done Wrong in 2017 Season
Citing a 2–9 season and the need to give backup quarterbacks Geno Smith and Davis Webb some reps on the field, Manning's streak of playing starter in 210 consecutive games was broken in 2017, ending his chance to break Brett Favre's record of 297 consecutive starts. I was livid. Evidently, so too were many fans. The Twitterverse erupted in calls for not only McAdoo's head but for owner John Mara's too.
Smith didn't exactly light up the field in his first career start with the Giants, throwing one touchdown pass and completing 21 of 34 passes for 212 yards. After a 24–17 loss to the Raiders, and some serious fan and fellow player outcry, Manning started the next week to a standing ovation as he started against, but ultimately lost to, the Dallas Cowboys.
Manning Always Comes Up Clutch
McAdoo had no right to bench Manning, a constant for the franchise since his rookie season in 2004. The Giants suffered from a whole spectrum of issues and making Manning the scapegoat for a whole team's problems was a disgusting and dirty move. Manning brought the Lombardi to New York City, not once, but twice and both times were against virtually insurmountable odds. The New England Patriots were on an undefeated run in 2017 and Manning led a heroic drive in the final two minutes, bringing myself, and a whole host of football fans, a moment we'll never forget; David Tyree's Helmet Catch. In 2012, Manning once again became Tom Brady's kryptonite as he led the Giants to a second Super Bowl victory.
Manning came up clutch when it mattered. He always has.
Fans Hoped Giants Would Come Back Better in 2018
McAdoo eventually got the boot, the Giants finished last in the NFC East with a 3–13 record, and fans seemed content that all would be right with the G-Men in 2018. However, the Giants got off to a shaky start this season. Last year's fans outraged by Manning's benching last year have been pretty quiet this year. His detractors and critics, however, have been exceptionally vocal, this time calling for the quarterback's head instead of the coaching staff's.
Manning's Detractors Have Been Vocal
Detractors frequently cite his age and his immobility as reasons why the Giants should move on from Manning. At 37 years old, he is hardly the oldest player, let alone oldest quarterback, in the NFL. Manning has never been close to the most mobile quarterback. Instead of trying to change him at this point, he needs a coaching staff to build around his skill set. For starters, he needs an O-Line that doesn't leak like a sieve and leave him with a broken pocket.
People talk about Manning's recent frequency of being sacked as if he's somehow responsible for the fact that an entire line is incapable of defending him. The Giants suffered from some perceived questionable coaching decisions, like virtually sitting star running back Saquon Barkley and blowing a huge lead over the Philadelphia Eagles in week 12. Those things aren't Manning's fault. In truth, Barkley can't play every minute of every game. That would risk injury to a player who will be much needed as the Giants build their offense next year, an offense which definitely should having Manning at the helm.
Some call into question Manning's chemistry with Odell Beckham Jr. but OBJ isn't the star fans think he is. The wide receiver's recent disparaging comments regarding Manning in a TV interview were classless and the epitome of selfish behavior. That's a different story altogether, but it wouldn't be easy to maintain chemistry with a "teammate" like that.
Manning Has Had a Fantastic Season This Year
Manning has shown brilliance this season. His week 11 performance against the Tampa Bay Buccaneers was nearly perfect as he put up a 94.4 percent completion rate, a 155.8 passer rating, and zero interceptions. Barkley took the blame for his one incomplete pass.
Fans got some more vindication during this Sunday's blowout game against the Washington Redskins. With the G-Men up 40–0, backup quarterback Kyle Lauletta entered the game. Manning detractors have called for Lauletta to start all season. Well, it wasn't pretty. Lauletta completed zero of his five pass attempts and threw one interception. Perhaps his sad performance will quiet the haters.
Manning's first three quarters were fantastic. Watching him sling lasers and have fun with his team – he even joined in on a touchdown celebration – made my football-loving heart happy. Perhaps all the fun had something to do with the fact that OBJ sat out due to a quad injury.
The Last Word
Eli Manning faced last year's benching with nothing but class. He's been the face of the Giants franchise for 15 years. He's a leader in the locker room. He shows a quiet confidence and displays a quirky sense of humor. Manning has stood by teammates as they made poor decisions. He's continued to defend those who've called him out in interviews. He's stood by the Giants franchise when they did him wrong.
A class-act all the way, Giants quarterback Eli Manning is far from washed up. One thing I know from watching the NFL over many years is that, with number 10 under center, you can never count Big Blue out! I wholeheartedly believe that with the right coaching staff and a team built around his skillset the way the New Orleans Saints built around Drew Brees, Manning has another Super Bowl up his sleeve and a Hall of Fame induction in his future.
Main Photo:
Embed from Getty Images