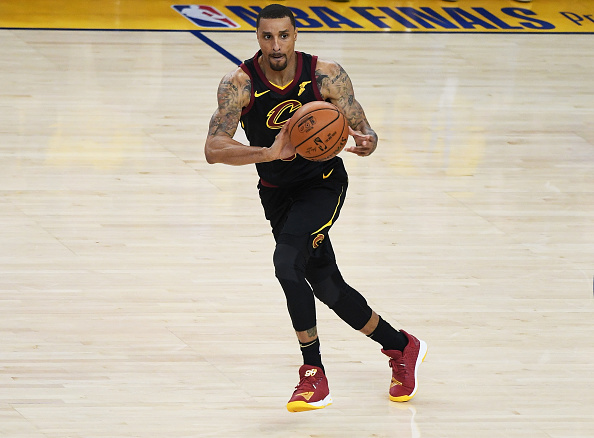 Trade Details
Milwaukee gets: PG George Hill and PF/C Jason Smith
Cleveland gets:  PG Matthew Dellavedova, C John Henson and 2021 1st round pick and a 2022 2nd round pick
Washington gets:  SF/PF Sam Dekker and 2021 2nd round pick
Grading Bucks-Cavaliers-Wizards Trade
Milwaukee Bucks
The Bucks accomplished a lot with this deal. On the floor, they majorly upgraded the backup point guard spot with George Hill. The second unit was lacking in the lead guard spot. Hill now gives the Bucks huge stability and takes pressure off Malcolm Brogdon who has had to help out at times. Hill is a veteran who can shoot and defend and brings a lot to the table. He also comes with a minor guarantee for next season of $1 million. This will save the Bucks close to $18 million next summer.
If Hill works out, the Bucks can bring him back on a cheaper, more team friendly deal. Smith can bring spacing to the second unit either at the four or in the middle. It was obvious Dellevadova was not a good fit in Milwaukee and had to go. Playing with LeBron James was the reason he got paid the big money by the Bucks and it was a huge mistake. Milwaukee was also trying to unload Henson for a while and Cleveland bit on that. Henson and Dellavedova are each owed over $9 million for next year. As the Bucks look to be a top team in the East, this trade helps them immediately. As for saving money and getting room to free up some money to re-sign Khris Middleton or another free agent this summer, this trade will help immensely.
Grade: A
Cleveland Cavaliers
I understand the Cavs are in the business of acquiring first-round picks, taking Dellavedova and Henson, along with their money next season was an odd move. They also acquire a second-round pick which will now come from Washington as a part of this trade. I guess Dellavedova may get some playing time behind rookie Collin Sexton, but let's be honest, since he left Cleveland the first time, he has not been very good. He can't seem to shoot or defend anymore, traits that got him lots of minutes in the 2015 and 2016 NBA Finals.
Henson has a nice game down low but is far from the type of athletic centers that are coming up. I could see him get minutes in Cleveland with Larry Nance likely moving to the starting power forward spot. The Cavs are a sinking ship and the only reason I didn't totally hate this deal is the first round pick but that isn't until 2021.
Grade: C
Washington Wizards
I am not sure why the Wizards got involved with this deal. They swapped 2nd round picks with Cleveland and took Dekker who hasn't done a lick in the NBA thus far in his career. Dekker is very athletic but hasn't found his shot since getting drafted. I guess the Wizards have plans for him? They gave up Smith, who can shoot and rebound and has at least been able to find a role everywhere he has been. Just confusing why Washington got involved. Smith was on an expiring contract and Dekker has a player option for next year so it doesn't make sense to me. Smith is a better player than Dekkar.
Grade: D
Last Word
This is why the Bucks are an up and coming team and the other two are not. Milwaukee hosed Cleveland with this deal and got better this season and next summer cause of it. Washington and Cleveland are both sinking ships that need help as soon as possible and I hope these deals work out for them, but I don't see it!
Main Photo:
Embed from Getty Images