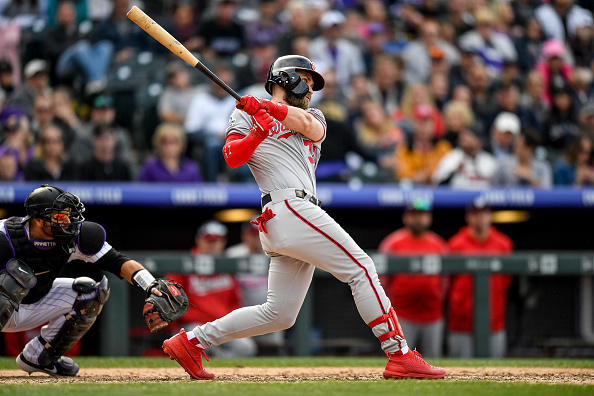 Over the next month, LWOSports will be breaking down the top five MLB players in franchise history for all 30 teams. This article will rank the top five Washington Nationals players from least to best by who had the biggest impact for the team. You can check out the other series articles here.
The team was founded as the Montreal Expos in 1969, but the team was bought by Major League Baseball in 2002, was renamed the Nationals and moved to Washington, D.C. in 2005. The team has achieved some regular season success but never advanced out of the first round of the playoffs. In fact, The Nationals are the only National League team to never play in a World Series. The core of young players and quality veterans makes up the entire top five list and should have led to at least one championship so far, but individual talent has not equaled team success.
Top Five Washington Nationals Players in Franchise History
5. Trea Turner
I know what you're thinking, he's only played one full season and part of three others, but take Trea Turner out of the Nationals' lineup and the team does not function as well. In 2018, Turner led the National League in steals with 43 and led the majors by playing in all 162 games and making 664 at-bats. He also hit 19 homers. Turner has more than one game in which he stole four bases in his young career, which basically tells other teams that, with Turner, a walk is as good as a double (or triple). Two other guys on this list have to love the fact that Turner sets the table so they can feast on opposing pitching. Turner may be young, but it would be tough to find another "top-of-the-order" guy as consistent as him, and his best years are likely ahead of him.
4. Ryan Zimmerman
The Nationals are the only team Ryan Zimmerman has ever known. He debuted with the team in September 2005 and has been with the club ever since. The biggest problem with Zimmerman is staying healthy, but when he does, he is a power hitter in the middle of an already-potent lineup. In the seven seasons where he played at least 140 games, he averaged 27 homers and 96 RBIs. He had seven years when he played in fewer than 120 games, which shows how good he is, but how much more he could have done! When he is consistently in the lineup, he is a homerun threat.
3. Stephen Strasburg
Stephen Strasburg was a star long before his much-anticipated debut with the Nationals in 2010, the question was whether he could live up to the hype. He started off on the right track, by striking out 14 and walking none in his debut and a record-setting 32 strikeouts in his first three starts. Tommy John surgery ended his fast start and wiped out most of his 2011 season. Since 2012, however, Strasburg has made at least 22 starts a year, struck out at least 150 batters (including a league-leading 242 in 2014), made three all-star teams, finished third in Cy Young voting (2017), and averages more than ten strikeouts per nine innings. On most teams that would qualify as being a number one guy.
2. Max Scherzer
The only reason why Stephen Strasburg is NOT the number one guy is because of his teammate, Max Scherzer. Scherzer has been nothing short of dominant. He joined the Nationals in 2015 and has thrown two no-hitters and won two of his three Cy Young Awards since. He is the fourth pitcher in history to strike out 250 or more in four consecutive seasons (he has a current streak of five) and reached the 300 strikeout mark in 2018. He also has thrown two immaculate innings while with the Nationals. He has worked more than 200 innings every year since 2013 and has a .660 winning percentage.
1. Bryce Harper
Bryce Harper sits in the top of this list because his personality and talent are both larger than life. Some would argue about his inconsistency, but there is no denying Harper's impact on the game. An example of that would be the 2016 game in which the Cubs walked him six times in one contest, and 13 times in the four-game series. While it's not walking him with the bases loaded, it shows how much other teams fear what he can do. He led the majors in walks in 2018 with 130. In 2015, Harper was a unanimous MVP after becoming the youngest player since Babe Ruth to hit 40 homers and walk 120 times. He was the 2012 Rookie of the Year, is a six-time all-star (in seven seasons) and, despite three injury-shortened seasons, still averages 26-plus homers a year and 75 RBIs. The question for Harper isn't where he ranks among Nationals players, but whether he will be on the Nationals come opening day 2019.
Last Word
The Nationals are loaded with talent. Their lean years early on gave them the chance players like Strasburg and Harper, but this team has not performed when it mattered most, in the playoffs. The team has Strasburg locked up for a couple years, but Turner is nearing the end of his rookie deal, Harper is a free-agent, and Zimmerman's prime is behind him. If you look at this list, you will see another constant with this team is the inability to keep star players healthy, which, pardon the pun, could ultimately be the Achilles heel keeping them from making a deep run in the playoffs.
Main Photo:
Embed from Getty Images