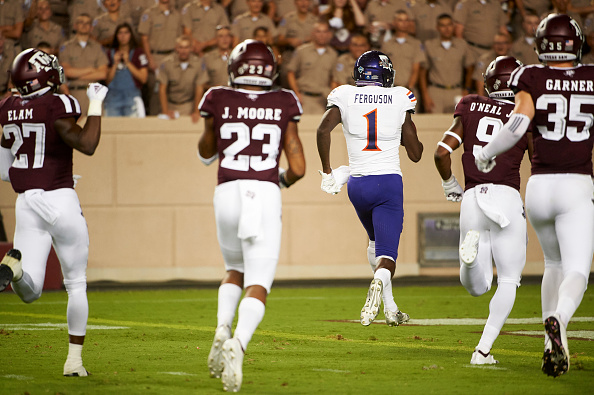 The 2019 NFL Draft is stockpiled with wide receivers. Players like D.K. Metcalf, Kelvin Harmon, and N'Keal Harry have already declared for the draft. Now, you can add Northwestern State wide receiver Jazz Ferguson to the list.
FCS to NFL: Jazz Ferguson
Background
Jazz Ferguson was a four-star wide receiver prospect out of West Feliciana High School, according to 247Sports. He was a top 40 wide receiver in the recruiting class which included Calvin Ridley and DaMarkus Lodge. After offers from many schools, namely Miami, Ole Miss, and LSU, Ferguson committed to the Tigers. Ferguson unofficially visited Alabama but was not extended an offer.
Ferguson's brother is a defensive end at Louisiana Tech. As a three-star prospect, his most notable offer came from Mississippi State. Years later though, Louisiana Tech's Jaylon Ferguson should get a nod from the NFL as well.
Back to Jazz, Ferguson had attended LSU in 2015 and 2016. In mid-2016, Ferguson was suspended indefinitely by LSU for violation of team policy. He then announced his transfer to FCS Northwestern State University where his career took off once again.
High School
In his junior season, Ferguson had exceptional numbers receiving. He finished with 1137 yards and 12 touchdowns.
In his senior season, he was not as effective through the air, but he took on several roles. He ran the ball for 561 yards and seven scores on 8.1 yards per carry. He also caught the ball 47 times for 889 yards and ten touchdowns. At 6'5, playing running back and wide receiver already makes him incredibly versatile, but Ferguson took it one step further.
He made 87 tackles, eight for a loss with four interceptions. Playing as a wide receiver, running back and defensive back, Ferguson presumably didn't come off the field very much. Regardless, he was an absolute playmaker.
College Career
Statistics
Ferguson sat out in 2017 due to redshirt, but he put up very good numbers this season. He caught 66 passes in 11 games for 1117 yards. He also reached the endzone 13 times, good for more than once per game. His biggest game statistically came again Sam Houston State where he caught nine passes for 138 yards and two touchdowns.
As for opponents, the FCS doesn't provide the stiffest competition. He does have one game on résumé that will help him tremendously through the draft process. He scored Northwestern State's only points in a rout against Texas A&M in the season opener. Unfortunately for the Demons, Ferguson does not play defense anymore as the Aggies dropped 59 on them. Ferguson did catch four passes for 129 passes and a score, averaging out to 32.3 yards per reception.
He was the game's leading receiver, and his touchdown came on a 71-yard pass. The long touchdown was right on cue with the type of player Ferguson is, an explosive, athletic specimen who can produce against even the top talent.
NFL Traits
Ferguson is not like most FCS prospects. He's an extremely talented player that is there due to suspension, not due to late blooming. Ferguson has played against top talent before and he will again at the next level. As for this season, he did what he needed to do to put himself on the map for the NFL. Standing at 6'5, 223 pounds, he will get a look from several teams.
The big-bodied wide receiver has an NFL frame already. He uses the height to his advantage well by high pointing the ball in the endzone over defensive backs. His hands look really good as he does not drop passes and he regularly comes down with contested, tough catches. Whether it be high-pointing the ball, or one handed catches, Ferguson has shown his ability to haul the ball in. Ferguson has good speed to beat defenders and his moves after the catch are significantly above average. His juke leaves defenders leaning the wrong way, and he showed off a nasty stiff arm too.
Where Ferguson can improve his game is his route running. He still has room for improvement by working on running crisp routes with distinct nuances. His route running is pretty solid, and against FCS competition he left most of them in the dust. Moving up to the NFL though, it will become that much more important for Ferguson to sell his routes.
Conclusions
Ferguson will get a look from the NFL as a big, physical receiver. He may be coming out of the FCS, but there's no debating the fact that Ferguson is an extremely talented player that can blossom into a star. He has the features necessary to succeed in the NFL. His frame and ball skills are reminiscent of Clemson superstar Mike Williams.
Depending on what the suspension was for at LSU, it may be a red flag. Assuming it isn't though, if Ferguson can do a good job in his team meetings, he has the talent to be drafted in the first two days this April. Watch for his name to climb draft boards in the next few months as more scouts digging into the FCS film.
Main Photo:
Embed from Getty Images