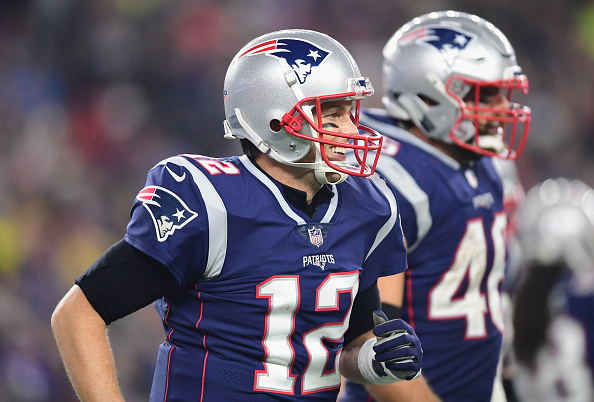 In their first game in December, the Patriots defeated the Vikings 24-10 in a fairly low scoring game. They improved to 65-13 in December during the Bill Belichick era. New England's victory means that it is the 18th straight season that they will have a winning record.
Tom Brady hits big in win over Vikings
Another week, another Brady milestone
Last week, Tom Brady passed Peyton Manning for the most passing yards (regular season and playoffs) in league history. In the offseason, he's been training for another goal that he would like to accomplish. Look, this guy is a five time Super Bowl champion and a three time MVP. But with 4:13 left in the first quarter on third-and-three, Brady ran five yards for a first down. That meant that he reached 1,000 career yards on the ground. Hey, it only took 266 contests to get to that mark. Later on Brady would climb up the history ranks.
With 42 seconds remaining in the third quarter, Brady found his target Josh Gordon open in the middle of a zone defense for a 24 yard touchdown strike. That put them in the lead 17-10 and they would never look back. It was the 508th regular season touchdown pass of the Patriot quarterback's career, putting him in a tie with Brett Favre for third place all time. Overall, he threw for 311 yards on 24/32 with a mixture of short passes and quick screens versus a great Vikings defense.
The Develin Showing
James Develin is making an impact and it's not just for his blocking ability in the run and pass game. Before this game, he had only reached the end zone one time in his career. However, that would change as Develin scored the first and last touchdown of the contest. This was the most scores that he's had in his career. Although it was short yardage touchdowns, it still counts on the scoreboard.
Defense Complementing Offense
The Pats 21th ranked defense took on a Minnesota seventh ranked passing offense led by Kirk Cousins. They also had their wide receiver duo of Adam Thielen and Stefon Diggs. However the defense did a great job up front and in the back end. Thielen was one of the leading wideout in the game averaging 103.4 receiving yards a game. However, the Pats secondary led by Jason McCourty did a great job keeping him (five catches for 28 yards, TD) and Diggs (five catches for 49 yards) in check.
Also, they did a good job in getting off the field on third down as the Vikings only converted 3 of 12 in those situations. Trey Flowers and Adam Butler each would have a sack on Cousins. Going back to the secondary, Duron Harmon caught an interception off a deflection by J.C. Jackson as Cousins threw deep to Aldrick Robinson. Then, Jonathan Jones would have a pick to put the nail in the coffin.
The Last Word
At 9-3, the Patriots are in second place in the AFC behind the Chiefs, who they beat earlier in the season. They could get home field advantage throughout the playoffs if they win out and Kansas City loses at least one game. Next, is on to Miami to play against the division foe Dolphins.
Main Photo:
Embed from Getty Images