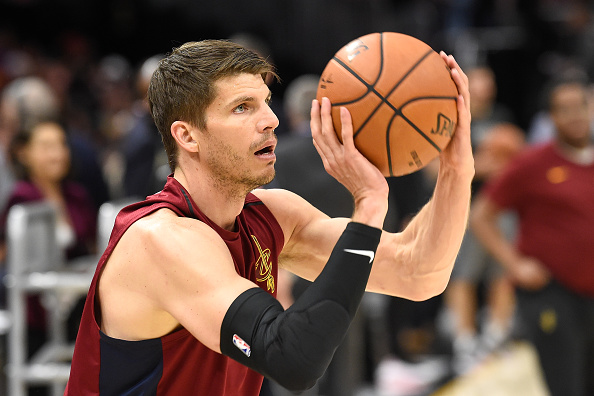 In what looks to be the first of many moves for the Cleveland Cavaliers, they send Kyle Korver to the Utah Jazz. Cleveland is in full rebuild mode now and is ready to send all of the veterans out of town as fast as they can. The slow start for Cleveland has sped up the process as they look to acquire assets to natch with their young talent. Utah is struggling right now and needs a dark. Adding Korver will help, it is going to take more than that.
Usually, December 15th Is the unofficial start of the trade season, this is a rare trade in the early season. On that date, newly signed players can be dealt and teams can unload their disappointing signings. The Philadelphia 76ers were rumored to be interested in Korver but the rumored details weren't plausible. It was obvious Cleveland was going to unload Korver, just surprising to see Utah snag him. The Cavs see going nowhere right now and I would say it is officially a fire sale in Cleveland.
Grading Cavaliers-Jazz Trade
Trade Details
Cleveland gets: SG Alec Burks and two second-round picks
Utah gets: SG/SF Kyle Korver
Cleveland Cavaliers
The Cavs are looking to unload veterans and money and accomplished both with this deal. Korver was starting to get some run in Cleveland lately and playing well. The time to deal him was now. The Cavs also shed his over $7 million this year and his guaranteed $3.44 million next season. Getting two-second rounders was the other prize in this deal. Cleveland is in position to stockpile assets in picks while also shedding money. Adding Burks who has an $11 million cap hold this summer will help keep Cleveland below the luxury tax. As for the rest of the season, I think Burks may be able to contribute for Cleveland. With J.R. Smith exiled and Korver now in Utah, Burks could get some minutes with the second unit. Burks has been a disappointment since entering the league and not playing up to his full potential. He doesn't shoot particularly well but has been successful at times attacking the rim. This is a deal aimed in the rebuilding mode.
Grade: B
Utah Jazz
The Jazz needs some help getting back to the Jazz of last season. Korver brings His excellent three-point range to the Jazz who desperately need some scoring with the second unit. Korver shoots 46% from the field and a tick higher from behind the arc. With Donovan Mitchell also dealing with nagging injuries, Korver can offer more help than Burks did. While I think adding Korver is a good move, I'm not sure this move will propel the Jazz to the top of the West.
Grade: B-
Last Word
This is the first of many moves the Cavaliers are expected to make as they trim their cash and unload veterans to gain picks as the start the rebuilding phase. Cleveland will look to deal J.R. Smith and George Hill next. Utah had to make a move and adding Korver helps the struggling second unit.
Main Photo:
Embed from Getty Images