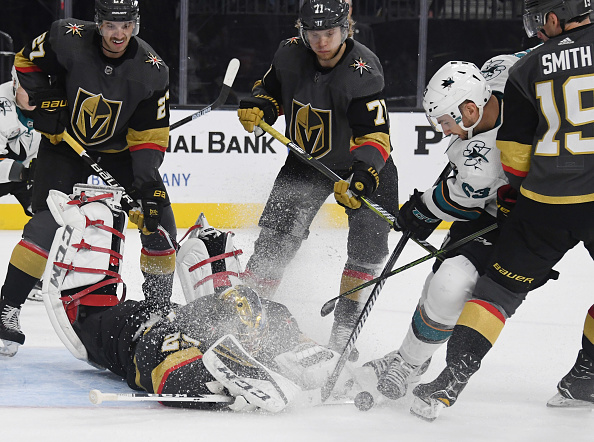 Here we are two months into the regular season and we have seen impressive play by teams I expected to be near the bottom of the league such as the Montreal Canadiens. But also that same concept in reverse in the St. Louis Blues being as terrible as they are. The Los Angeles Kings fall into that category as well. What other teams have made the mark, or missed the grade? Read on to find out.
NOTE: There will be no power rankings this week as originally planned but unforeseen circumstances came up. The next power rankings will be posted on Friday.
November NHL Report Card
Eastern Conference
The Bruins are in the top ten in the NHL in point. Despite the fact that they are now without Zdeno Chara (out another 3-5 weeks) and Patrice Bergeron (at least 4-weeks) for a prolonged period of time. So this will be a test of their depth. Which right now with a depleted defense due to injuries consists of several rookies. They may have to win games 2-1, 1-0 for a while if the offense can't get on track. They may need to make a trade sooner or later to add offense because Jaroslav Halak has been great in net for the Bruins and Tuukka Rask might have found himself during his half of a week off from the team.
Grade: B+
The Sabres are one of the best teams in the NHL right now. They aren't exactly doing it in dominating fashion but they are getting very good goaltending from Carter Hutton and timely goals when they need them. Because of that they currently have a six-game winning streak. Currently the longest in the NHL.
Grade: A-
The Hurricanes started out very strong and looked like they were going to make a run for a playoff spot but recently they have been awful going 4-4-2 in their last ten and playing themselves out of a playoff position.
Grade: C-
Columbus is one of the better teams in the NHL but the scary thing in my mind is that they cannot defend well making them one of the worst teams in the league based on goals against which shouldn't be happening with Sergei Bobrovsky in net. But the offense has been able to pick up the slack. But is it sustainable? We will see.
Grade: A-
The Red Wings are rolling thanks in large part to Jimmy Howard winning five of his last six starts and doing so in impressive fashion. The Wings have gone 9-2 in their last eleven bringing their record from 1-7-2 to 10-9-2 which is a very impressive feat. The Red Wings are winning games in large part due to Howard's emergence as the clear starter. The Red Wings offense has been off so the fact that they are this far along is impressive. The Wings need their younger guys to step up on offense if they wish to sustain this run.
Grade: B-
Florida still can't seem to score but they are getting solid goaltending keeping them in the race and with more games with points earned than not. I question how long the Panthers can sustain a lacking offense before they fall straight to the bottom.  I am not very confident with this team at this point.
Grade: C-
The Canadiens are scoring a lot of goals this season which is great. Except for one thing… they are also allowing a lot of goals. Which is stunning with Carey Price in net. But it just goes to show you that even the best goalies in the NHL can't stop 35-40 shots a game and be successful. Though Price has been better lately but the D hasn't been.
Grade: B+
New Jersey is plummeting in the standings fast than the Hurricanes which is stunning because they have been getting really good goaltending. The Devils are not scoring which is the root of their issues this season. Kinkaid has been superb this season.
Grade: D+
The Islanders are sniffing a playoff spot but their play has fallen a little bit. We'll see how things play out over the next five months but it is going to take a lot of effort to be competitive in a very tight conference.
Grade: B-
Playing much better as of late. They are in a position to make a run at the playoffs post US Thanksgiving and that is usually a great thing for teams.
Grade: B
The Sens are who we thought they were. A team that is going to struggle this season and probably the next couple of seasons after this one because of the Erik Karlsson trade. I don't expect much out of Ottawa so it is hard to assign them a terrible grade because I expected them to be like this. So I will give them a D+
Grade: D+
Here is a team trending in the wrong direction. And it is stunning since they have one of the best players in the NHL. Who is due to come back from a brief injury soon. But the biggest issue with the Penguins is that they aren't getting good goaltending. Secondary scoring isn't as strong as it usually is either. There is potential for better results and I expect them to make a run. But for now, they have earned an F.
Grade: F
Defense and goaltending continue to be an issue for the Flyers. I wonder if they will ever realize this. Because they are wasting the efforts of their scorers because they cannot defend or get good enough goaltending. I don't think it is a coaching thing, it is the same issue no matter how many times they fire a coach. They need to look at the front office if you ask me.
Grade: D
Finally starting to get production from Steven Stamkos and the wins are starting to pile up. I was never worried about the Bolts. There was no reason to be. They have far too much talent to worry about them not winning or doing well.
Grade: A+
Toronto continues to roll even without Austin Matthews in the lineup which is incredible considering that he is such a huge factor to their team. They have survived life without him just fine. Though once he comes back one should assume that he will only help them stay near the top of the conference.
The one stat I find really impressive is that Toronto is 9-2-0 on the road, that is absurd.
Grade: A
The Capitals are playing some decent hockey, but they are not where I think people expected them to be. And that is a surprise considering the core players are still there. Is the pressure of repeating causing this? We'll see. But I expect them to get on a roll. They usually turn it on late in the season anyway.
Western Conference
The Ducks are one of five teams playing around .500 hockey looking to get third place in the division moving forward. They currently hold that third spot but they need to be better because young teams Vancouver and Edmonton are right on their heels. When they get Corey Perry back it should give them the boost they need to pull away.
Grade: C
Started out pretty slow but have bounced back and have given good teams fits. The Coyotes have a tough task if they want to be really competitive, however,  this is a feisty team with decent talent. Do not rule them out.
Grade: C
Don't look now but the Flames are in first place in the Pacific division thanks in large part to their three-game winning streak they have compiled recently. Not only have the Flames won all of the games but they have dominated those games. This is going to be a fun team to watch moving forward because they are young.
Grade: A
What has happened to Chicago? They have lost 10 of their last twelve and have looked terrible all season. This is definitely not the Blackhawks that had been winning as of late and it cost Coach Q his job. It is amazing to see how far the Blackhawks have fallen this season.
Grade: F
Firmly in the first Wild Card slot in the Western Conference and having possessed one of the best offenses in the conference the Avalanche should be able to put together a strong run moving forward.
Grade: B+
The Stars are an odd team. On paper, they look like they should dominate the rest of the Conference on offense. But for some reason, they aren't really clicking right now. Will it change? Probably. But when? We shall see.
Grade: C+
The Oilers have a player that they call McJesus on the team, however, what does that really help when the secondary scoring isn't there? So far, not a lot. And their defense isn't that good but could get better after adding Chris Wideman from the Sens. Plus they just added Ken Hitchcock behind the bench. Things could change fast in Edmonton.
Grade: C
The Kings have been struggling on both sides of the ice and have been one of the biggest surprises in the NHL. But in this case, it is not in a good way. A lack of goal scoring and an injury to Jonathan Quick have been the biggest storylines for the Kings.
Grade: F
The Wild got off to a weak start but have really come alive over the last few weeks and have become one of the best teams in the Western Conference. They have a nice recipe for success with a top-ten offense and a top-ten defense. Well, that is until the playoffs…
Grade: A-
The Predators were slow to start but have bounced back nicely and they finally look like the team that could dominate the Western Conference like it has for the last couple of seasons. A Stanley Cup Finals trip is not at all out of the question. They have the pieces including a great goaltender.
Grade: A+
The Sharks are 11-7-4 at the time of this writing and it really does feel like they have been mediocre at best so far. And the record to my surprise confirms it. The Sharks, to me anyway, feel like they could be having a better season than it appeared. But in this case, they aren't. A little more consistency would go a long way.
Grade: C
St. Louis Blues
The Blues, wow, what a mess this team has turned into. I can't even think of any good reason for the turnaround but it has happened and it may be too late to fix it. However, putting Craig Berube behind the bench could be fun to see because he doesn't take anything from anybody.
Grade: F
Vancouver Canucks
The Canucks started out on fire and have since gone ice cold leading them to a middling record to this point. The Canucks are second in the NHL for most goals allowed and their offense has quieted down a little bit as of late. But Canucks fans still have reason to watch because Elias Pettersson has been a rock star this season.
Grade: C-
Vegas Golden Knights
Coming off of a Stanley Cup run, the pressure was on the Golden Knights and they so far have not fared nearly as well. The Golden Knights have begun to turn it around, however, but is it in time? We will see.
Grade: D+
The Jets have been pretty good this season and it has been lead by Patrik Laine, who has been on fire in November scoring 10 goals in eight games. That is just absurd. They currently sit third in the Central Division and I think they will finish there or second leaping over Minnesota. Time will tell but that is my early call.
Grade: A-
Main Photo:
Embed from Getty Images