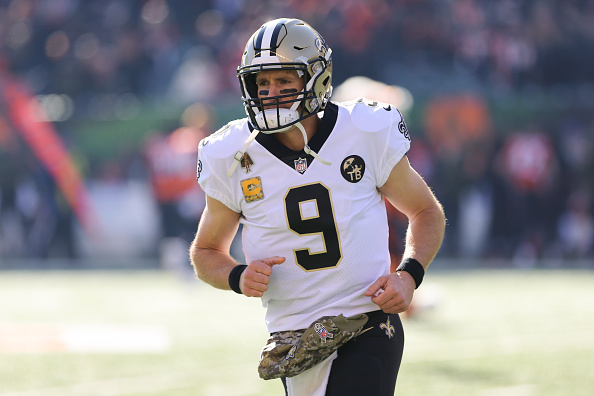 The NFL playoffs are rapidly approaching and many teams are pulling away from the rest and showing they mean business. Along with the Chiefs, Rams, and Patriots are the Saints. The Saints ended the Rams' perfect season and have only one loss which came all the way back in week one. The Saints are on fire offensively and their defense is improving every week. If they return to their 2017-18 form on defense by playoff time, it will be hard to pick anyone who can beat them. If they hold the Rams for the first seed in the NFC then it'll be even tougher to take down.
Why the New Orleans Saints Can Win Super Bowl 53
One-Two Punch of Kamara and Ingram
Most teams enjoy the luxury of having a talented running back who can both run and catch. Some teams don't have one at all. They rely on a collection of backs to cover all the aspects of the modern running back. The Saints just happen to have two of these special running backs. Mark Ingram has been a talented running back since he was drafted by New Orleans, and Alvin Kamara has been equally as talented.
Kamara broke out last season showing off his exceptional skills in the receiving game out of the backfield. He combined that with equally impressive runs and many touchdowns. He would go on to win Offensive Rookie of the Year. Kamara has taken his game even further this year and Ingram has been great as a change of pace back since returning from suspension. Ingram could carry the entire workload and still perform well so getting lots of rest makes him extremely dangerous when he steps onto the field.
The Saints not only have possibly the best duo of running backs, but they also have one of the NFL's best wide receivers and the all-time leader in passing yards. Brees is in the class of best quarterbacks in history and he is playing like it this season. Brees has channeled himself into an MVP candidate this year and has made great work out of what he has. Michael Thomas is breaking out this year setting the record for most receptions in a player's first three seasons, previously held by Odell Beckham Jr.. He is on pace for over a hundred catches this season.
Brees has made Tre'Quan Smith a notable name this year and now he has Brandon Marshall on his side. Marshall has never played in a playoff game despite always being considered one of the best receivers to play. Marshall will play his heart out for the Saints for giving him the opportunity to reach the playoffs and having Brees as the QB makes Marshall's job that much easier. Stopping Kamara, Thomas, Marshall, Smith, and Benjamin Watson led by Drew Brees will be tough for any NFL secondary.
The Saints have a loaded roster. Both sides of the ball are playing excellent football at this point of the season. The Saints have had limited injuries this year as well. They also currently have home-field advantage through the playoffs if the standings hold up. Even with all of this, the Saints have yet another advantage in the playoffs. Sean Payton is the advantage for the Saints this time. Payton has been a very successful coach through his career and has won a Super Bowl with Brees already.
He knows what it takes to get to the super bowl. He showed that in Super Bowl XLIV, with the onside kick play-call that swung momentum to New Orleans against the Colts, he has the ability to swing a game for his team with his strategy and execution. Payton will have more experience than most other coaches in these playoffs. Especially against the talented but young Sean McVay. If the Saints follow the leadership of Payton and continue to perform on the field they will not be stopped on their way to Super Bowl 53.
Main Photo:
Embed from Getty Images