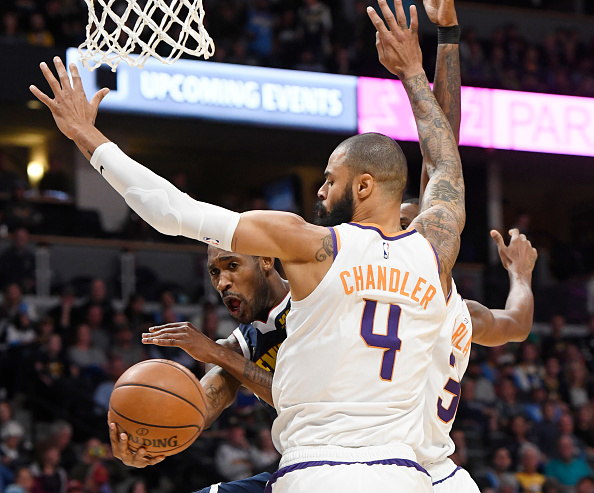 Tyson Chandler made the game-saving play in a game against the Atlanta Hawks that was sloppy for the Los Angeles Lakers. They couldn't knock down their free throws. LA from the charity stripe went 15-24 and was not converting them in crunch time down the stretch.
Lakers Tyson Chandler Saves Game With Game-Winning Block
Tyson Chandler the hero for the #LakeShow #nbatwitter pic.twitter.com/ZGX5d3bUbW

— NICK HAMILTON (@NickHamiltonLA) November 12, 2018
LA held on to earn the victory in a game they should have lost with how sloppy they played, however, they won a game. How sloppy did LA play? They played sloppy enough to turn the ball over twenty-two times. Yet, with their scrappy style of play, they still found a way to survive with a victory at home.
Tyson Chandler had a quiet game with four points, five rebounds, two steals, and three blocks. Furthermore, he finished the game with the game-winning block of the night. His energy and hustle have spread to the rest of the team.
Back in his home state of California Tyson Chandler has already helped improve the Lakers defense. It is showing for example in the last few games they were able to hold their opponents to less than 110 points. They crashed the glass forty-eight times. On defense, they played man most of the game. This exploits how athletic and in shape the Lakers are since they are able to keep up.
The Los Angeles Lakers now hold a season record of 7-6. They have been struggling all season to find their identity. Coach Luke Walton is still experimenting with lineups to see how match-ups fare in live game situations.
Los Angeles as a team has been improving every game. They will only keep improving as the season goes on. Chemistry is now visible for the team. The Lakers and LeBron James are understanding how each other play and their style. They are working together as they have the same goal in mind to win games and eventually win an NBA Finals. Los Angeles has been struggling in the aspect of defense. One area of defense they were struggling with is rebounding. As a result, they allowed more than 110 points in every game with the exception of the last two games.
They signed center Tyson Chandler in the last week, who already has been inserted into the lineup and is making a difference on the team. Chandler is another veteran leader with championship experience, who can assist in leading this Lakers organization in where they want to go.
Tyson Chandler has assisted the Lakers in allowing second-chance points by securing rebounds or swatting the ball to the three-point line to his teammates. Doing this allows the Lakers to run more plays if the original plans don't work or are not executed well.
Additionally, he has been clogging up the lanes for opponents making blocks, stealing the ball by stepping in the passing lanes using his vision, and securing rebounds, then passing them to his teammate for an outlet pass. Even so, this is all happening because of the energy he brings every night, along with his hustle and wanting to win.
In conclusion, playing man allows them to play up-tempo on offense and score in transition.
Main Photo:
Embed from Getty Images