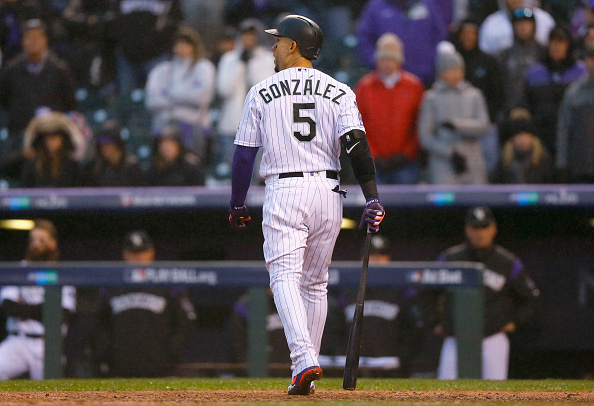 The Boston Red Sox have won the World Series and brought an end to the 2018 MLB season. In a year that saw the Colorado Rockies make back to back postseasons and finally emerge as consistent postseason contenders. However, to take the next step and win a championship questions must be answered and improvements made. Rockies management must capitalize and go all in on winning now to keep both the fans and players happy. Here are a few tasks for general manager Jeff Bridich this offseason.
Colorado Rockies Free Agency Outlook
Second Base
Incumbent second baseman DJ Lemahieu is set to be a free agent and will likely have plenty of teams asking for his services. After seven seasons in Colorado, it will be tough to see Lemahieu leave. The Rockies will put in an offer to keep him Colorado but will not get caught in a bidding war for him. Garret Hampson was exciting during his stints with the club last season and top prospect Brendan Rodgers is bound to break through soon. With the young talent behind Lemahieu Rockies fans should prepare for life with a new second baseman.
Center Field
Both Carlos Gonzalez and Gerardo Parra are both free agents, leaving a starting outfield role open. Picking a replacement is going to be tricky as the Rockies have multiple needs for their outfield. One glaring need is for a speedy, defensive specialist to cover the massive Coors Field outfield. The current free agents do not offer this type of player. All center fielders are above 30 years old, and only AJ Pollock had a WAR above one. An option the Rockies should consider is trading for Cincinnati outfielder Billy Hamilton. His speed should help improve the Rockies outfield defense and allow Charlie Blackmon to shift to right field.
Need number two further complicates things for management. Both David Dahl and Charlie Blackmon hit from the left side of the plate, leaving zero right-handed production. Hamilton is a switch hitter but offers little power from either side. Colorado should consider bringing in Adam Jones on either a two or three-year deal if they consider hitting a more glaring need. Jones hit 15 home runs in 2018, a number that could easily rise playing half his games at Coors Field.
Catcher
Easily the biggest weakness on the Rockies roster was the catcher position. Rockies catchers were mediocre at best in 2018. The two main catchers Tony Wolters and Chris Iannetta had a combined WAR of -0.1 and outside of Wolters heroics in the Wild Card game offered little meaningful moments. The easy option would be to hope Wolters or Iannetta will improve next season, but if the Rockies are serious about winning now they need a replacement. Jeff Birdich should be calling Miami and making any deal that brings J.T. Realmuto to Colorado.
Yes, it would cost a fortune but Realmuto is that good. Trading for Realmuto would cost Brendan Rodgers along with other top prospects. But it is a move worth making, Realmuto has two more years left on his contract and would bring elite power and defense to the catcher position. If the Rockies are serious about winning now this is the move they have to make.
Outlook
While the Rockies should feel good about their recent success they need to improve this offseason if they want to contend for a title. They have loads of young talent and for the first time have a quality pitching staff. All they need is to fill a few cracks to seriously be considered championship contenders. Your move Jeff Birdich.
Main Photo:
Embed from Getty Images