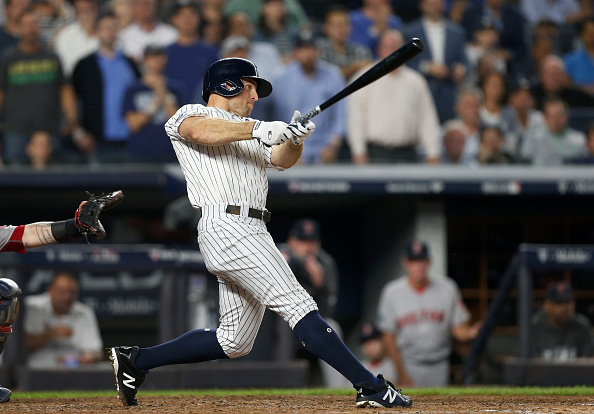 The New York Yankees have brought back their longest-tenured active player, signing outfielder Brett Gardner to a new one-year, $7.5 million contract on Wednesday. The team declined the veteran outfielder's $12.5 million option for 2019.
New York Yankees Re-Sign Brett Gardner
Gardner, 35, is coming off a rough offensive year, but his elite defense has made him a repeat finalist for the Rawlings Gold Glove Award among AL left fielders. The lefty leadoff man produced the worst offensive output of his career, finishing with the lowest batting average (.236), on-base percentage (.322), OPS (.690) and OPS+ (86) since he played 42 games as a rookie in 2008. Baseball Reference and Fangraphs did calculate a 2.8 and 2.5 WAR for the season, lower than most of Gardner's past campaigns but respectable. Despite those struggles Gardner shows patience and knows how to work the count, ranking 14th in all of baseball with 4.23 pitches seen per plate appearance.
The Yankees Outfield Current State
The veteran outfielder will be entering his twelfth season with the Yankees and is in the mix to what could be a very crowded outfield. Aaron Judge, Giancarlo Stanton, and Aaron Hicks are all set to return. There's also a question of whether the Yankees would pursue star outfielder Bryce Harper in free agency.
Gardner's Ranks In Yankees' History
Gardner ranks third on the Yankees' all-time stolen base list with 257 (Derek Jeter-358, Rickey Henderson-326) and is one of just five Yankees' draftees to tally at least 1,000 hits with the team. Gardner is a career hitter with 790 runs scored, 204 doubles, 61 triples, 96 home runs, 450 RBIs, 561 walks and a .344 on-base percentage.
Reason Why Re-signing Gardner Makes Sense
Retaining a well-liked clubhouse leader that still has something to offer for a savings of $3 million seems like a sensible move for the Yankees. Along with fellow free agent pitcher CC Sabathia, he is one of those immeasurable factors that has contributed to a young club's rise since 2017.
Main Photo:
Embed from Getty Images