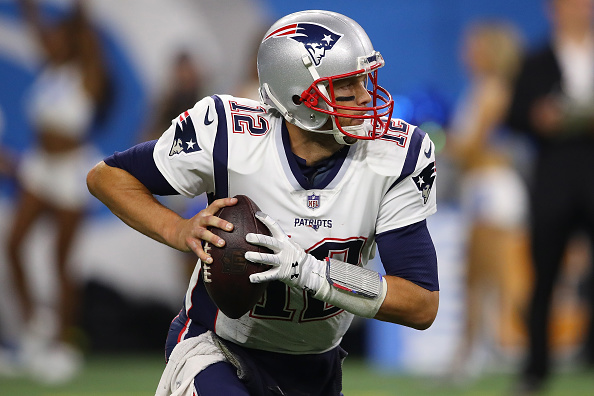 After their last second shootout victory over Patrick Mahomes and Chiefs, the New England Patriots traveled to Chicago. They took on an improved Chicago Bears defense led by All-Pro Khalil Mack and their offense led by Mitchell Trubisky. Rob Gronkowski did not make the trip to the Windy City because of a back injury. In spite of that, the Pats went on the road and survive the Bears for their first win away from home, 38 to 31.
New England Patriots Survive on the Road in Chicago
The Offense
The offense started the game off well as they got first downs on their first three plays. As a result, they went eight plays for 75 yards that ended in a nine-yard screen touchdown from Tom Brady to his guy Julian Edelman. The offensive line did a great job protecting Brady all day against the Khalil Mack led Bears defense. He would continue to build his connection with Josh Gordon as he had 4 catches for 100 yards including the 55-yard catch-and-run that set up the team's final touchdown. Brady went 25/36 for 277 yards, three touchdowns, and one pick as he goes 5-0 against the Bears.
However, Sony Michel left the game due to a knee injury. It happened in the first half as he was being tackled and lost the football. With that Brady's other favorite target, James White picked up the slack as he had 40 yards rushing on 11 carries. Kenjon Barner and 10 carries for 36 yards. Additionally, White caught eight passes for 57 yards and two touchdowns. White leads the team with six touchdown receptions as he also led them with 10 targets in the game.
Special Teams
You know what people say there are three phases of football (offense, defense, and special teams). Well, New England's special teams did their part in a big way. The dynamic returner Cordarrelle Patterson had a 95-yard kickoff return for a touchdown. Keep in mind, Patterson lost the football on his previous return. In the third quarter, Dont'a Hightower blocked a punt and Kyle Van Noy returned it 45 yards for a touchdown. It was the Patriots first blocked punt return for a score since Tedy Bruschi in 1996.
Containing Trubisky
The Patriots defense who haven't been good this year, did their best to contain Mitchell Trubisky. They would give him different looks to catch him off guard as his ball placement was shaky as he completed only 52 percent of his throws and two ill-advised picks. One was when J.C. Jackson picked the ball while diving on the ground. The other was Jonathan Jones with a one hand interception intended for Anthony Miller that could've resulted in a score.
But the second-year quarterback had success in running the ball as the Pats made it a priority to take away his legs. Unfortunately, they were unsuccessful as he ran for 81 yards on six rushes. The most notable happened in the first quarter when he spun away from Adrian Clayborn and Trey Flowers and took off for an eight-yard score. Trubisky had a chance with two seconds left to throw one Hail Mary in the end zone. He threw it deep 54 yards and Kevin White caught it but was stopped one yard short of the tying touchdown.
The Last Word
It was a great test for the Patriots to survive a game on the road that could've gone either way. Just thank the heavens it wasn't like Super Bowl 20 in 1985 when the Bears demolished the Patriots 46-10. At (5-2) it's on to Buffalo to play a divisional game against the Buffalo Bills on Monday Night Football.
Main Photo:
Embed from Getty Images