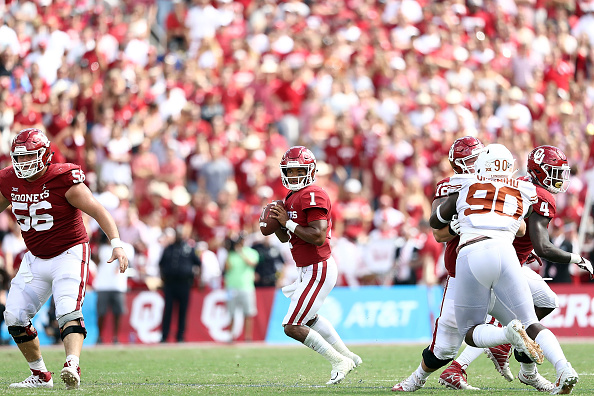 Everything was pretty much par for the course until Saturday night arrived. Two major upsets occurred that will alter the landscapes of both the college football playoffs and their respective conference races. Let's take a look at the biggest takeaways from this past weekends action as well as look ahead to the upcoming week. This is the last word on college football week eight edition.
The Last Word On College Football Week Eight Edition
Boiler Up!
Purdue dispatched Ohio State by a score of 49-20 in West Lafayette. The Buckeyes repeatedly made their way to the red zone, failing to capitalize as Purdue kept them from scoring a touchdown five times! Ohio State played undisciplined football by committing 10 penalties, several of which were at inopportune times. Impressively, Purdue held Ohio State to just 76 yards rushing on 25 carries. Meanwhile, Purdue was extremely efficient offensively. In fact, they seemingly stepped up with a big play every time they needed one. D.J. Knox ran 16 times for 128 yards with three touchdowns. David Blough completed 25 of 43 passes for 378 yards along with three touchdowns and no interceptions. Electrifying freshman Rondale Moore stepped up with 12 receptions for 170 yards along with two touchdowns. All in, Moore accumulated 252 all-purpose yards.
When Ohio State loses, they surely go down hard! Case in point, their last four losses are by a combined 106 points. Purdue's 29 point victory is the third largest by an unranked team against an AP top 2 team. Two additional occurrences were incredible to see. First, seeing the Purdue fan base rallying around Tyler Trent was awe inspiring. For those not aware, he is suffering a grim diagnosis related to bone cancer. Secondly, to see Columbus native Markus Bailey put up 15 tackles with a pick-six against his home-town team, who did not recruit him was special.
The Pac-12's Last Hope: Washington State?
It is safe to say Washington State has greatly exceeded expectations so far in 2018. They continued that sentiment by defeating Oregon 34-20, in a game where they led 27-0 at halftime. Amazingly, they held the Ducks to just 328 total yards, which is far below their average of 461 per game. Washington State ranks 19th nationally in total defense, so perhaps this should not have been surprising. The Cougars were far more efficient on third down, converting nine of 14 attempts. Gardner Minshew threw four touchdown passes, although he also tossed two picks. WSU even ran for 77 yards, which is a lot for them!
WSU now controls their destiny in the Pac-12 North at 6-1 overall and 3-1 in the conference. They have a tough task traveling to Stanford this week plus a game at Colorado in a couple of weeks. Additionally, they have the Apple Cup against bitter rival Washington at home to finish the season. Granted, it is a long-shot, however, if they win out and win the Pac-12 championship game, WSU has an outside shot at the playoff. That is certainly something nobody else in the Pac-12 can say at this point.
Don't laugh: Northwestern Can Actually Win the Big Ten West
Speaking of long-shots, this is certainly one. First, let's address the fact that Northwestern barely escaped woeful Rutgers by a disgusting score of 18-15. Secondly, let's consider the fact that the Wildcats, despite being only 4-3 overall, are actually 4-1 in the Big Ten currently. Yes, you read that right. Northwestern somehow controls their destiny in the Big Ten West as of now considering they have already beaten Purdue. Additionally, they host Wisconsin this week while playing at Iowa in a couple of weeks. Everyone can agree that Minnesota and Illinois are winnable games. Additionally, most would agree that seems unlikely that Northwestern would defeat both Wisconsin and Iowa. One must remember, this is college football and strange things happen.
Is Virginia For R?
Virginia picked up a massive 28-14 win at Duke, which effectively ended Duke's bid at the ACC Coastal title. The win puts UVA at 5-2 overall, including 3-1 in ACC play. Virginia's defense was particularly impressive against Duke accumulated eight tackles for loss with four sacks, two quarterback hurries, and six pass deflections. Virginia actually ranks 24th this season in total defense, which has helped key their success this year.
As for Virginia's chances to win the Coastal, they control their own destiny right now. The Cavaliers have already defeated Miami (FL) along with Duke. They host North Carolina this week while hosting Pittsburgh the following week, which are both winnable games. They finish the season by visiting struggling Georgia Tech followed by a road trip to rival Virginia Tech. If Virginia wins out, ends the 14-game losing streak versus the Hokies, we will be staring at a Virginia versus Clemson ACC title game.
Wait, Nebraska Won?!
Scott Frost and Nebraska finally picked up their first victory of the season, 53-28, over Minnesota. The Cornhuskers accumulated 383 yards along with four touchdowns on the ground. True freshman Adrian Martinez delivered his best performance of the season by completing 25 of 29 passes for 276 yards along with three touchdowns. Additionally, he tacked on 125 yards rushing with a touchdown on 15 carries. Nebraska hosts Bethune-Cookman this week which likely means a two-game winning streak.
Weird Ending
Old Dominion scored 10 points in the final nine seconds of their 37-34 win over Western Kentucky. How did ODU pull that off? Incredibly, they did it with three untimed downs. Let's break this craziness down.
First, WKU went 80 yards on 10 plays to go in front 34-27 with 1:37 left in regulation. Then, ODU marched it's way to a touchdown to tie the game back up at 34 with nine seconds left. After the ensuing kickoff, WKU had the ball at its own 30-yard line. They ran for a quick 15 yard gain and subsequently called timeout. Davis Shanley's impending pass fell incomplete to Marcus Floyd over the middle as time expired. However, there was a roughing the passer penalty assessed, which meant WKU had the ability to run another play via an untimed down. WKU attempted a 57-yard field goal, which fell short.
However, the game did not go into overtime at that point. The referees deduced that ODU had 12 men on the field, meaning WKU would be able to attempt a 52-yard field goal. Unfortunately for WKU, that kick also fell short, falling into the hands of ODU's Isaiah Harper, who was waiting in the end zone. Harper then ran the ball back 83 yards before being shoved out of bounds at the 15-yard line. Overtime right? Wrong. Hilariously, WKU was penalized for a facemask penalty, which meant ODU would be able to run a play on an untimed down. Nick Rice then kicked a short field goal to win the game.
Random Ruminations From Around the Country
As we continue the last word on college football week eight edition, let's take a trip around the country.
Cincinnati fell from the ranks of the unbeaten to Temple in overtime, 24-17. Cincy gave up a seven play, 75-yard drive which tied the game, then proceeded to lose in OT. Incredibly, this is Temple's first home win against an AP top 20 opponent since 1936!
Amazingly, Army became the first FBS team this season to not complete a pass in their double overtime 31-30 win over Miami (Ohio).
Speaking of Miami (Ohio), they were one of two teams to go for two in overtime in hopes of snagging a victory but failed. Kent State was the other as they fell 24-23 to Akron.
Michigan defeated Michigan State 21-7 in a bitter contest in East Lansing. They held Michigan State to only 94 yards, which were the Spartans fewest in a game since 1947 when they racked up a measly 56 yards against, you guessed it, Michigan. Unbelievably, this marked the first time Michigan threw a passing touchdown in this series since 2011. Finally, this was the Wolverines first road win over a ranked team since 2006.
Kyler Murray passed for 213 yards along with four touchdowns while rushing for 51 yards in Oklahoma's 52-27 win at TCU. Murray's 25 touchdown passes so far this year are the most by an OU player through their first seven games of a season since Sam Bradford racked up 26 in 2008.
Maryland's 115 total yards were the fewest allowed by Iowa against a Big Ten opponent under Kirk Ferentz.
Mississippi State's Nick Fitzgerald sure does not pass efficiently, but he can definitely run. He recorded his 18th career 100-yard rushing game, which breaks Anthony Dixon's record of 17. Meanwhile, LSU's 19-3 win over Mississippi State might prove costly as star linebacker Devin White was called for a targeting penalty in the fourth quarter. Unfortunately, that means he will miss the first half of the upcoming Alabama game.
USC's 41-28 loss to Utah accomplished a couple of things. First, it helped complicate matters in regards to the Pac-12 South picture. Four teams now sit at two conference losses apiece. Those teams include USC, Utah, Colorado as well as UCLA. Secondly, it means that USC has not lost fewer than three games in a season since Lane Kiffin's second year in 2011.
UAB edged North Texas 29-21, which means UAB is firmly in control of the C-USA West. Games remain against UTEP, UTSA, Southern Miss and Middle Tennessee. As long as they beat Southern Miss, they can withstand a loss somewhere and still win the division since they hold the tiebreaker over Louisiana Tech.
Washington displayed their depth at running back by accumulating 201 yards rushing in their 27-13 win over Colorado. Star running back Myles Gaskin was lost for the game, which forced the Huskies to spread the wealth at the position. Meanwhile, Colorado losing Laviska Shenault severely hampered their offense against one of the best defenses in the country.
With Clemson's 41-7 thrashing of NC State, they have now won their last two games by a total of 104-10.
Tua Tagovailoa now has three 300 yards, four touchdown games this year, which is the most in Alabama's rich history. Additionally, Alabama has scored at least 50 points in six games this season, which is tied for the second most by an SEC team in history. Florida is the only school to record more such games in a season with seven in 1996 when they won the national title. Meanwhile. Alabama picked up their 12th consecutive victory against Tennessee.
Buffalo grabbed an important 31-17 win over Toledo. In doing so, they moved to 7-1 on the season. The seven wins are their most since 2008 when they won eight. Amazingly, Buffalo has never won more than nine games in a season, which they accomplished in 1986. Certainly, this year is shaping up to be a record-breaking season for the Bulls.
Kentucky reached six wins for the third consecutive season with their 14-7 slugfest of a win over Vanderbilt. This marks just the second time since the mid-1950's that the UK has recorded three or more consecutive seasons of six plus victories. If the Wildcats finish with 10 victories this season, it would be the first time since 1977 doing so. They have not finished with nine wins in a season since 1984.
Looking Ahead to This Week
As we wrap up the last word on college football week eight edition, we look at the five biggest games of the week.
Georgia (6-1) (4-1) vs Florida (6-1) (4-1)
With Kentucky (6-1) (4-1) controlling their destiny by virtue of their win over Florida, this game is gigantic in the SEC East. If UGA wins, then their game at the UK the following week would likely determine the East champion. If Florida reigns supreme, then the UK temporarily moves into first place, therefore causing chaos. At the very least, that would make matters extremely difficult on Georgia to win the division. Meanwhile, on the field, the last four meetings between the two have been decided by no less than two touchdowns.
Washington State (6-1) (3-1) at Stanford (5-2) (3-1)
This game has obvious massive implications in the Pac-12 North division. With a win,  Washington State would put themselves in the driver's seat leading up to the Apple Cup against Washington. For Stanford, losing does not necessarily eliminate them from contention, however, it puts them in quite the precarious position. WSU has actually won the last two meetings in this series after losing eight straight.
Wisconsin (5-2) (3-1) at Northwestern (4-3) (4-1)
Interestingly, Wisconsin has only won at Northwestern once since 1999. Also interestingly, this game actually matters in the Big Ten West. Northwestern finds itself at 4-1 in conference play and by winning, would remain in control of their destiny. Likewise, Wisconsin is still in good shape with a win here. Keep in mind Northwestern only lost to Michigan by three points while Wisconsin lost by 25 to the Wolverines.
Appalachian State (5-1) (3-0) at Georgia Southern (6-1) (3-0)
Georgia Southern has been the surprise team of the Sun Belt so far. If they can snag a victory in this one, they might be favored in the rest of their games. Appalachian State has a strong team, but was knocked down a peg when running back Jalin Moore was lost for the season a couple of weeks ago. The winner of this game is likely the clear-cut favorite to win the division. Appalachian State has won three in a row in this series.
South Florida (7-0) (3-0) at Houston (6-1) (3-0)
The rest of the schedule for USF is significantly tougher than the first half beginning with this match-up at Houston. USF needs to win this game to keep pace with UCF at the top of the division. Houston, led by Ed Oliver and D'Eriq King, has emerged as the favorites in the West division, especially with Navy and Memphis experiencing down seasons.
Other important games: Texas A&M at Mississippi State, Clemson at Florida State, NC State at Syracuse, Purdue at Michigan State, Kentucky at Missouri, Miami (FL) at Boston College, Iowa at Penn State.
This concludes the last word on college football week eight edition. For previous editions or additional sports content, go to https://lwosports.com/.
Stats acquired from various sources, including http://www.cfbstats.com/.
Main Photo:
Embed from Getty Images