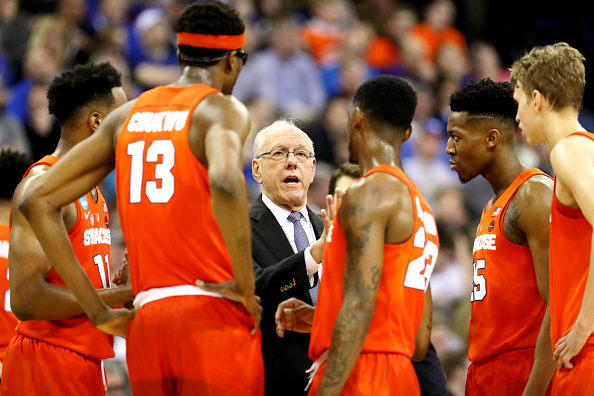 The Syracuse Men's Basketball team is already recruiting for the 2019 season and have a couple players committed. College basketball and recruiting are year round and the coaching staff does their best to make these kids feel at home. From in-house visits to going to watch their games and just making them know they are welcome. Syracuse has their preferred players that they go after to fit their style of play which helps tremendously. I will be breaking down the players that have committed to Syracuse for next season as long as the players that Syracuse is still pursuing. Here is the 2019 Syracuse men's basketball recruiting outlook:
The 2019 Syracuse Men's Basketball Recruiting Outlook
Committed Players
Brycen Goodine, Shooting Guard
Brycen Goodine is ranked 69th in the top 100 for next season and committed to Syracuse in September of 2017. Goodine is a tremendous athlete and has a ton of upside after winning the Gatorade Rhode Island Player of the Year award as a junior. Goodine is learning how to run a team in his senior season which will be enormous for his growth. If Goodine can be an effective point guard with his skillset at Syracuse next season, he will flourish. Goodine's game is being aggressive and attacking the rim which could be huge if he were to play the point guard position in college. Goodine committed to Syracuse before being recognized on a national level which could be a steal for Syracuse if he turns out to be the player that everything thinks he can become.
John Bol-Ajak, Center
John Bol-Ajak isn't a ranked recruit but watching film on his game and seeing what he could become is special. Bol-Ajak is your typical Syracuse center who is very skilled on the defensive end with his blocking ability and his ability to get up and down the floor well which is going to be perfect for the middle of the zone. Bol-Ajak's offensive game is a work in progress but when Syracuse recruits their centers they look for guys who have a skillset of defense first and then they will work on their offensive game when they arrive. Bol-Ajak will be one of two centers on the roster next season with Bourama Sidibe unless Paschal Chukwu is granted another year of eligibility from the NCAA.
Joe Girard, Shooting Guard
Joe Girard committed to Syracuse this past weekend and was a huge get for the Orange. Girard was down to his last six teams which included Boston College, Duke, Michigan, Notre Dame, Penn State, and Syracuse. Girard said he wanted to play in the best venue with the best fans in college basketball and he wanted to go up against the best competition. Girard is the all-time leading scorer for high school basketball in New York State and he has yet to play his senior season in high school. Girard is a natural born scorer and has been compared to Jimmer Fredette when he was in college, just a better overall player. Girard will bring a much-needed scoring punch to the Syracuse basketball team next season with the potential losses of Tyus Battle, O'Shea Brissett, and Frank Howard.
On the Radar
Isaiah Stewart just recently took his official visit to Syracuse this past weekend. Stewart is one of the best big men in the 2019 class and he is a rebounding machine. Stewart is being recruited by some of the big colleges and it will be a race to the finish. Joe Girard and Isaiah Stewart have expressed interest in playing with each other in college after they played with each other during their high school careers and in the AAU circuit. Stewart is ranked fourth in the top 100 and the third center ranked. Stewart is from Rochester, New York which makes Syracuse his backyard and a huge advantage in recruiting. Isaiah Stewart has offers from Duke, Indiana, Michigan State, Villanova, Washington, and of course Syracuse.
Akok Akok, Power Forward
Akok Akok is on his official visit to Syracuse this weekend after cutting his list down to his final five. Akok is your new age forward with his ability to play around the rim as well as having a soft touch to round his game. Akok has stated that he wants to be the best player in the 2019 class which shows a lot about the kids' work ethic and desire to be great. Akok final five list includes Connecticut, Georgetown, Pittsburgh, Providence, and Syracuse which is an old big east recruiting battle. Akok is your typical forward for Syracuse with his length and athleticism which will be the perfect fit in the 2-3 zone. The crystal ball prediction has Akok Akok choosing Syracuse with a 67% prediction.
Kofi Cockburn, Center
Kofi Cockburn is a dominant big man in this class which has a lot of them. Cockburn plays his high school ball at Oak Hill Academy which has produced huge talent including Carmelo Anthony who played his only college season at Syracuse and leading them to a championship. Cockburn can do it all as a big man which makes him so dominant. Cockburn recently cut his list to 8 which includes Kansas, LSU, Pittsburgh, St Johns, Florida State, Connecticut, Illinois, and Syracuse. He has yet to set up official visits but those will be coming soon and will be huge for each school on his list.
Qudus Wahab, Center
Syracuse is making their center position a point of emphasis for next years recruiting class with the dominant big men. Qudus Wahab isn't a ranked player in the top 100 but he has a chance to be a high-level prospect. Wahab is a great rim protector and defensive player which is key in the middle of the zone. His offensive game is a work in progress but with his great learning skills being at the next level will improve his offensive game to go along with his defensive skills and make him a high-level prospect. Wahab final five came out just under a month ago and includes Pittsburgh, Connecticut, Georgetown, Virginia Tech, and Syracuse. Syracuse seems to be going against old big east foes with each of their players which will leave for a great battle at the end.
Quincy Guerrier, Small Forward
Quincy Guerrier won't be ranked on the top 100 because he plays in Canada and they rank Canadien players on their own board. Guerrier took his official visit to Syracuse late in September and stated how he loved his visit. Syracuse has had great success recruiting from Canada with Tyler Ennis, Andy Rautins, Leo Rautins, and O'Shea Brissett as some of the names. Guerrier is an underrated small forward with his ability on both ends of the floor and one of the top players in Canada the past couple of seasons. Quincy Guerrier is down to three schools which include Oregon, Illinois, and Syracuse and has set his commitment date as October 31st.
Main Photo:
Embed from Getty Images