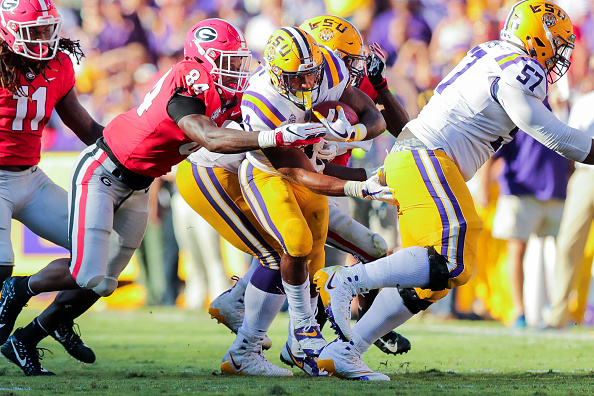 Well, this was certainly a wild weekend of college football! We had numerous upsets along with a few historic moments. However, the weekend did not clear up the playoff picture much. A couple of teams like Washington and West Virginia are likely eliminated from contention though. Still others like LSU, Florida, Texas, and Michigan kept themselves alive. This is the last word on college football week seven edition.
Upsets Galore
One thing is for certain, it was a dominating performance by LSU on Saturday. The Tigers took down Georgia 36-16 in a game where Jake Fromm threw 2 interceptions. LSU held the Bulldogs to just 113 yards rushing while running for 275 yards themselves. LSU converted four 4th downs while forcing four turnovers which were additional keys to the victory. The SEC East is wide open, although UGA still controls their destiny, while LSU controls theirs in the West. This was LSU's 41st straight win when leading by at least 16 points at halftime. The last time they lost such a lead was against Tennessee in 2005.
Speaking of Tennessee, who saw them going to Auburn and pulling out a 30-24 win? The Vols only managed 68 yards rushing against Auburn's stout defensive front. However, UT quarterback Jarrett Guarantano had a career day by completing 21 of 32 passes for 328 yards with two touchdowns. Most importantly he threw no interceptions. Meanwhile, Jarrett Stidham threw two interceptions while losing a fumble for Auburn. This was Tennessee's first win over Auburn since 1999. Additionally, this ends an 11 game SEC losing streak for the Vols. On top of all of that, the Vols won as a 15.5 point underdog, which is tied for the schools second largest upset over the last 40 years.
Iowa State dominated West Virginia in every aspect of their 30-14 win in Ames on Saturday. The Cyclones held WVU's potent offense to just 152 total yards along with only nine first downs. West Virginia converted just one measly third down in 10 attempts. Iowa State got another strong performance from freshman quarterback Brock Purdy who threw for 254 yards with three touchdowns. Additionally, star running back David Montgomery ran for a career-high 189 yards with a touchdown. Lastly, Iowa State now has three regular-season wins over AP top six teams since the start of last season. Previously, they only had one such win in the entire history of the program.
Michigan State went into Penn State and handed the Nittany Lions their second home loss of the season, 21-17. Brian Lewerke threw a beautiful back-shoulder pass to Felton Davis for the game-winning touchdown with 19 seconds left. The Spartans won the game despite Penn State breaking up 14 passes! This breaks a 30 game winning streak for Penn State over unranked opponents, which was the second longest active streak. By the way, that loss was to Iowa in 2009. There was some good news for Penn State as Trace McSorley passed Christian Hackenberg as the schools all-time leading passer.
Oregon made up for their collapse at home against Stanford a few weeks ago by handing Washington a heart-breaking 30-27 loss in overtime. UW kicker Peyton Henry missed a game-winning field goal as time expired to send this game to overtime. Oregon's defense then stepped up, holding Washington to a field goal. Then the Ducks won on a CJ Verdell touchdown. This loss essentially knocks Washington out of the playoff picture while putting Oregon in position to win the division. Of course, Stanford needs to lose another conference game to help the Ducks out.
Should UCF Be Ranked in the Top Ten?
No doubt, we should give Central Florida credit for starting 6-0. The Knights have won 19 consecutive games. However, for this season, should they actually be ranked in the top ten? Let's be honest here, they have beaten nobody. UConn is 1-5 with a defense ranked dead last in the nation. South Carolina State is a not so good FCS team. FAU has been a disappointment sitting at 3-3 on the season while Pittsburgh is just 3-4. Next UCF beat a 2-4 SMU team before getting a 31-30 win at 4-3 Memphis in a game where they had to overcome a 16 point deficit. Are we overvaluing UCF based on last season, namely the victory over Auburn? Shouldn't UCF get the same treatment as Cincinnati and South Florida in the polls? After all, all of their resumes are similar to one another.
ACC Coastal is a Mess
Virginia's 16-13 win over Miami (FL) solidified the fact that the ACC Coastal is crazy yet again. We can all agree that Georgia Tech (1-3 in ACC play) and UNC (1-2) are both out of the picture. Virginia Tech is currently 3-0 with a divisional win over Duke already. They have an advantage since they get GT, BC, Miami, and UVA all at home. Their only road game remaining is at Pittsburgh. Virginia, Duke, Miami, and Pitt all sit at one conference loss apiece. Most of these teams still have to play each other, which means it will be a wildly entertaining remainder of the season.
WYD Nebraska?
Nebraska fell to 0-6 overall, 0-4 in the Big Ten as a result of their cruel 34-31 loss to Northwestern. The Cornhuskers were leading 31-21 with 5:41 remaining. Then, the cavalcade of errors happened. Clayton Thorson completed two fourth and 10 passes while Nebraska committed two pass interference penalties on the drive that brought Northwestern to within seven. Then, the offense went three and out. The Wildcats had no timeouts with 2:02 remaining. Everything seemed to be in Nebraska's favor. Carlos Davis was flagged for a roughing the passer penalty on the game-tying drive. Nine penalties compared to just one for Northwestern did Nebraska in. Not being able to defend plays, everybody in the stadium knew what was going to happen led to their demise.
Hey, UCLA Won!
Chip Kelly finally picked up his first win as the Bruins head coach as UCLA went into Berkeley and defeated slumping Cal 37-7. Joshua Kelley racked up 157 yards along with three touchdowns en route to the victory. Five Cal turnovers to zero for UCLA proved quite costly in this game.
Michigan is Still a Threat
In case you were wondering, Michigan is still a legitimate threat to win the Big Ten as well as make the CFP. They steamrolled Wisconsin 38-13 in the Big House, leaving no doubt about their place in college football this year. Michigan out-gained the Badgers 444-283 while snagging 21 first downs compared to 11. Michigan also picked off Alex Hornibrook twice while converting seven third-down attempts. Additionally, they controlled time of possession by 15 minutes. Michigan accumulated 320 rushing yards which is the most against a ranked AP opponent since 2000 when they rushed for 341 against #19 Illinois. Interestingly, Michigan is now 10-0 when Karan Higdon rushes for 100 plus yards.
Crazy Games
Bowling Green had two separate 14 point leads over Western Michigan. The most important lead came at the end of the game, however, as Western Michigan came out on top 42-35. Western Michigan tied the game at 28 with 26 seconds remaining in the third quarter. About a minute later, Bowling Green retook the lead on a Scott Miller nine-yard touchdown catch. Western Michigan then answered with two rushing touchdowns, first to tie the game, then win.
Jordan Ta'amu passed for 387 yards along with two touchdowns while rushing for 141 yards and one touchdown as Ole Miss snagged a 37-33 win over Arkansas. Arkansas was leading 27-10 at one point, but Ole Miss kept working their way back into the game. The Rebels scored the go-ahead touchdown on a Scottie Phillips 5 yard run with 42 seconds remaining.
Around the Country
North Texas dispatched Southern Miss 30-7 while UAB throttled Rice 42-0. That sets up a colossal Conference USA West showdown on Saturday in Birmingham.
Rutgers quarterback Artur Sitkowski completed just two of 16 pass attempts for a whopping eight yards along with four interceptions. Not surprisingly, Rutgers lost to Maryland 34-7. Giovanni Rescigno apparently wanted in on the interception train as he threw one pass, which was also picked off.
Troy is reeling from the loss of quarterback Kaleb Barker to injury as they tasted defeat at the hands of Liberty 22-16.
Colorado fell to 0-13 all-time against USC as the Trojans took advantage of awful play calling by Colorado to reign supreme, 31-20. JT Daniels threw two early interceptions, which Colorado failed to take advantage of. Afterward, Daniels was strong, tossing three touchdowns in fact. USC committed 13 penalties (a problem all year) while only rushing for 62 yards (another problem) in the win.
Dwayne Haskins became the first Ohio State quarterback to throw for over 400 yards twice in a game. Impressively, he accomplished that feat in back to back games. The only quarterback prior to Haskins to throw for 400 in a game was Art Schlichter in 1981 against Florida State. Haskins threw for 412 yards with three touchdowns in the Buckeyes 30-14 win over Minnesota.
During Iowa's dominating 42-16 win at Indiana, Nate Stanley tossed six touchdowns. He is the first Hawkeye to toss six touchdowns in a game since Chuck Long in 1985. Long also accomplished that feat in 1984.
Utah State is 5-1 for the first time since 1978 when they ended up 7-4. Considering Utah State's only loss is by seven to Michigan State, this team appears to be for real.
Florida overcame an 18 point deficit to shock Vanderbilt in Nashville by a score of 37-27. The last time the Gators overcame a deficit that large was in 2003 against Kentucky. Side note, Florida amazingly accumulated 576 yards in the game.
Texas A&M was up 16-0 on South Carolina until late in the third quarter. The Gamecocks came back to tie the game with two touchdowns while converting both two-point conversions during the last five minutes of the quarter. A&M eventually won 26-23, however it probably should not have been that close. A&M out-gained South Carolina 458-299, led time of possession 41:29 to 18:31 and committed zero turnovers to South Carolina's two.
Notre Dame escaped against Pittsburgh with a 19-14 victory. Notre Dame moves to 7-0 for the first time since 2012, when they played in the national title game. Meanwhile, Ian Book became the third Irish quarterback in the last 25 years to complete over 80% of his passes with at least 30 attempts in a game. Book joins Brady Quinn and Everett Golson on that short list.
This season marks the fastest Texas has reached six wins since 2009 when they went 13-1 overall losing to Alabama in the BCS national championship game. They were able to overcome a Sam Ehlinger injury to defeat Baylor 23-17.
The Alabama offense has now scored 30 points in the first half of six straight games. In doing so, they now have the longest such streak since Baylor in 2012 and 2013. Tua Tagovailoa joins Johnny Manziel as the only SEC quarterbacks to throw for at least three touchdowns in the first half of three consecutive conference games.
On Saturday, Navy suffered a 24-17 loss to Temple. In doing so, they dropped to 2-4 overall, which is significant. Ken Niumatalolo is currently in his 11th year as head coach. During that time, Navy has finished below .500, thus not making a bowl game, just once, which was in 2011. In fact, 2011 is the only season since 2002 that they have finished with a losing record. With games looming against 5-1 Houston, 7-0 Notre Dame, 6-0 Cincinnati, 6-0 UCF plus 4-2 Army, it is looking quite likely they will have a losing record in 2018.
Looking Ahead to this Weekend
We continue the last word on college football week seven edition with a look ahead at the five biggest games coming up this week.
USC at Utah
This game is huge in the Pac-12 South race for several reasons. First, if Utah (4-2, 2-2) wants any shot at the division, they must win this game. Secondly, if Colorado (5-1, 2-1) wants hope, they need Utah to win. Thirdly, if USC (4-2, 3-1) secures this victory, the division would firmly be in their control at that point.
Michigan at Michigan State
Michigan State (4-2, 2-1) still controls their destiny in the Big 10 East after beating Penn State (4-2, 1-2). If they beat Michigan (6-1, 4-0) and Ohio State (7-0, 4-0) without any other conference slip-ups, they can snag the division. Michigan has other plans however as they also control their destiny after destroying Wisconsin (4-2, 2-1) last weekend. They still have games against Penn State and Ohio State left after this one.
Virginia at Duke
As previously mentioned, the ACC Coastal is a mess. This game will go a long way in solving the puzzle that exists within the division. Virginia (4-2, 2-1) is coming off a massive win over Miami (FL) (5-2, 2-1). Duke (5-1, 1-1) disposed of Georgia Tech (3-4, 1-3) in Atlanta last weekend. Duke has already lost to Virginia Tech (4-2, 3-0), which means this game is crucial to their chances of staying alive within the division.
Oregon at Washington State
Another big Pac-12 match-up sees Oregon (5-1, 2-1), fresh off a win over Washington (5-2, 3-1) visiting Washington State (5-1, 2-1). WASU currently controls their destiny in the division, so a win here would be monumental for them. Despite Oregon needing Stanford (4-2, 2-1) to lose another conference game, they still have a chance within the division with a win at WASU.
North Texas at UAB
With a win over North Texas (6-1, 2-1), UAB (5-1, 3-0) would assume complete control in the Conference USA West. By virtue of losing to Louisiana Tech (4-2, 2-1), it is imperative that NT wins this game as UAB has already defeated La Tech.
Other big games: Oklahoma at TCU, Mississippi State at LSU, NC State at Clemson, Ohio State at Purdue, Penn State at Indiana, Maryland at Iowa, Colorado at Washington.
Last Word
We are roughly halfway through this incredible season already. It has taken us on a wild ride of twists and turns, with many more coming. What will week eight bring us?
For previous editions please visit: https://lwosports.com/.
Main Photo:
Embed from Getty Images