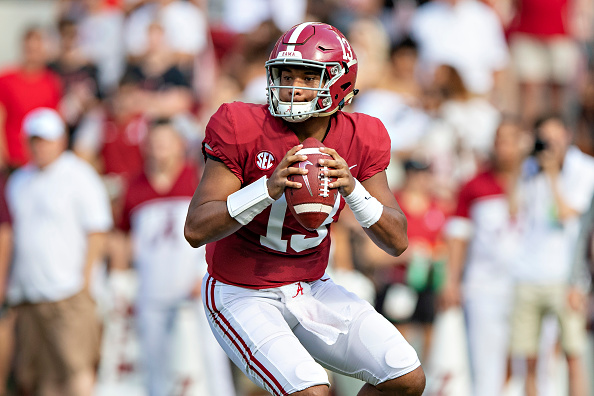 We are halfway through the season and the Heisman Trophy is clearly still up for grabs. Surely, this seems like an appropriate time to begin considering what a Heisman top five might look like. Certainly, I will revisit this more frequently throughout the rest of the season. Without further ado, here are my Heisman front runners after seven weeks.
Heisman Front Runners
5) Laviska Shenault Jr.- Wide Receiver – Colorado
The numbers: 60 catches for 780 yards 6 TDs. 15 carries 87 yards 5 TDs.
Laviska Shenault Jr. is averaging 130 yards receiving per game, which leads the nation by 10.1 yards. Additionally, he is averaging 14.5 yards per rush. Moreover, he has established himself as a true threat from anywhere on the field for this resurgent Colorado squad.
4) Kyler Murray – Quarterback – Oklahoma
The numbers: 71.1% for 1,764 yards 21 TDs 3 INTs. 57 carries 377 yards 5 TDs
Kyler Murray's numbers are potentially on pace to surpass Baker Mayfield's numbers from last year. His insane athleticism has shown through as well as his ridiculously impressive arm.
3) Dwayne Haskins – Quarterback – Ohio State
The numbers: 72.3% for 2,331 yards 28 TD's 4 INTs
Dwayne Haskins is averaging an impressive 333 yards passing per game. Additionally, he is the first Ohio State quarterback to throw for 400 yards in a game twice.
2) Darrell Henderson – Running Back – Memphis
The numbers: 110 carries for 1,133 yards 13 TDs. 11 catches 191 yards 2 TDs. Nine kick returns 111 yards.
Darrell Henderson is averaging an incredible 10.3 yards per carry. Also, his 161.86 yards rushing leads the nation. Additionally, his 13 rushing TD's is 2nd in the nation. Certainly, Henderson is a legitimate NFL type talent.
1) Tua Tagovailoa – Quarterback – Alabama
The numbers: 71.5% for 1,760 yards 21 TDs 0 INTs. 25 carries 117 yards 2 TDs.
Think about the numbers that Tua Tagovailoa would be posting if he was playing the second halves of games. Undoubtedly, Tagovailoa is number one as of now, even though a lot can change. His big plays, plus his overall efficiency put him as the favorite through seven weeks of action.
Other Considerations
Jonathan Taylor (Running back, Wisconsin), Ed Oliver (Defensive tackle, Houston), Travis Etienne (Running back, Clemson), Will Grier (Quarterback, West Virginia), Benny Snell (Running back, Kentucky).
Stats courtesy of http://www.cfbstats.com/.
Main Photo:
Embed from Getty Images