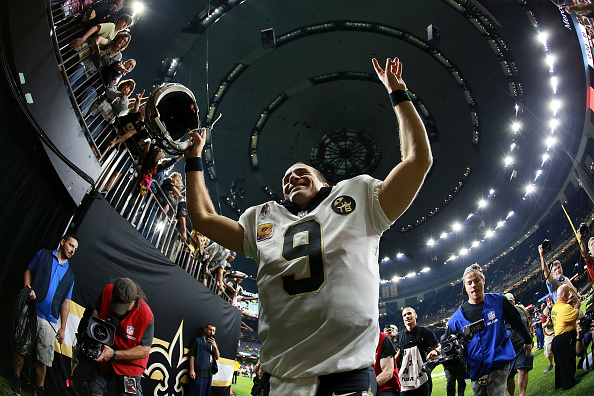 Before he broke the all-time passing yards record, Drew Brees was widely regarded as one of the all-time greats. He either has or will likely break every meaningful passing record. The impact he had on the San Diego Chargers and especially the New Orleans Saints is unlike most others. As a first ballot Hall of Famer, Brees has cemented his legacy, enough to where I believe he is the greatest of all time. Between his stats, impact on both teams, and character, he, in my opinion, is the real GOAT (Greatest of All Time).
Why Drew Brees is the Greatest Quarterback of All Time
Numbers Never Lie
Against Washington, Brees broke Peyton Manning's record for the most passing yards in NFL history with 72,103 and counting. He joins Brett Favre and Manning as the only quarterbacks to throw for over 70,000. He currently has 499 touchdowns, when he throws his 500th he will join Manning, Favre, and Tom Brady as the only quarterbacks with 500 Touchdowns. Of passers with 1500 attempts, Brees is currently fourth all-time with a 97.3 quarterback rating only behind Aaron Rodgers, Russell Wilson, and Brady. He has completed 67.2% of his passes, which is best of all time. He holds the record for most career completions, most completions in a season, most consecutive games with a touchdown pass, and is tied for most touchdowns in a game. He is an 11 time Pro Bowl selection, a four-time All-Pro, and twice has won the offensive player of the year. He also won the most prestigious award in football in 2006 with the Walter Payton man of the year.
Impact Unlike Anyone Else
He has all the numbers to consider him the GOAT, but his one downfall is only one Super Bowl. Brady has five, Manning has two, and Joe Montana has four. Brees won Super Bowl XLIV (44) in 2009 bringing the Saints their first ever championship. New Orleans historically was one of the worst teams in the NFL, and until Brees arrived fans wore paper bags and called the team the aints. Brees immediately changed the culture along with Sean Payton. The team had 8 or less wins the past five years before he arrived. He arrived and immediately the Saints went 10-6 and reached the NFC Championship. Just three years later, the Saints dominated the league going 13-3 and reaching their first Super Bowl. After trailing 10-6 at halftime to the Colts, the Saints recovered a surprise onside kick to begin the second half and took over the game. They went on a 25-7 run in the second half, including an iconic pick six by Tracy Porter to seal it. The Saints won 31-17 bringing New Orleans its first championship in any sport. The city was given hope after the devastation of Hurricane Katrina, and for once could celebrate a winner. I do not believe any championship has meant more to a city then Super Bowl 44 did to New Orleans. Brees may only have one ring, but the impact and legacy it had on the city and team is greater than any of the other 51.
A True Saint
Brees has not only been a legend on the field, but also off the field. Arriving in New Orleans just after Hurricane Katrina, he and his wife immediately began helping their new community. His charity helped to build schools, parks, playgrounds, and mentorship programs for New Orleans. The New York Times reported on how he brought fraternity members and paid for their expenses so they could serve. "Brees arranged downtown hotel rooms for more than 75 Sigma Chi fraternity brothers from universities around the country and Canada so that they could work on a handful of Habitat for Humanity houses in the city's "musician's village" in the Upper Ninth Ward. Brees was a Sigma Chi at Purdue." His foundation raised over 2 million dollars to help rebuild his new hometown. It says a lot about someone to just arrive in a new place and immediately feel a need to help serve. His character is also visible on the field as one of the best examples of sportsmanship and respect. He won the Walter Payton man of the year award in 2006 which players believe is the most prestigious honor in football. It honors players for upholding the values Payton had in his career with Chicago, both on and off the field. Brees now wears a patch on his jersey signifying this accomplishment and will for the rest of his career.
Number 9 On the Field, Number 1 In Our Hearts
Brees will easily be a first ballot Hall of Famer, and will go down as an all time great. His numbers are as impressive as anyone in history, and his character is easily one of the most respectable. He is and will forever be a legend, not just to football and the NFL but to the city of New Orleans and the state of Louisiana. Fans shed tears when he broke the passing record, something not publicly known when Manning or Favre did it. That to me reveals how much he's impacted the Saints, and makes him the greatest of all time.
Main photo:
Embed from Getty Images