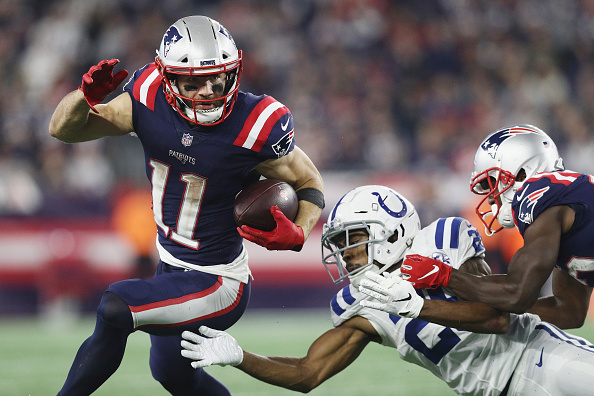 People think of rivalries as intense and competitive. Well, the New England Patriots and Indianapolis Colts rivalry produced a lot of great games led by Tom Brady and Bill Belichick versus Peyton Manning. Above all, there was the well known Deflategate controversy that brought resentment between these clubs. The Colts accused the Pats of playing with deflated footballs in the 2014 AFC Championship Game. As a result, Brady got the ax for the first four games of the 2016 season. Then, there was Josh McDaniels becoming the Indianapolis' head coach and he backed out the last minute to stay in New England. Colts general manager Chris Ballard declares it as, "Rivalry is back on."
New England Patriots Take Care of the Indianapolis Colts Again
Well, it's one of the lopsided rivalries in recent memory. The Patriots have defeated the Colts seven consecutive times including the 2013 Divisional Round and the 2014 AFC Championship Game. The previous average margin of victory the Pats was 19 points and it wasn't even close. It was another domination by the Patriots over the Colts as they won 38-24. The interesting part was they never trailed in the contest despite the Colts cutting it to 24-17 in the final quarter. They haven't lost to Indianapolis since 2009.
The number one receiver for Tom Brady plays in his first game after serving a four-game suspension for violating the league's drug policy. Also, Edelman missed the entire 2017 season after tearing his ACL in the preseason. The last time he played in a significant game was when he made the impossible catch in Super Bowl 51. Well, he made his presence known as he had three catches for 28 yards on the Patriots first possession that resulted into the touchdown. He would finish with seven catches on nine targets for 57 yards on underneath and option routes. His presence opened up everything for the other receivers to play well. The team improves to 47-9 since 2013 when he plays.
Brady Makes More History
Also, Brady had another masterful performance. He was picking apart the Colts defense by throwing quick short passes to neutralize their pass rush. In the Pats first drive, he went 9/9 for 78 yards and the touchdown to Cordarrelle Patterson. Although, he had two fluke turnovers that were on Chris Hogan and Rob Gronkowski. In the fourth quarter, he threw a big touchdown strike to Josh Gordon in double coverage. That touchdown means that he joins Brett Favre and Manning as the only quarterbacks to throw 500 touchdown passes. In addition, it was a touchdown pass to his 71st different receiver, which is a record. Brady finishes with 34/44 passing for 341 yards and four total touchdowns (three passing and one rushing).
Brady's Bunch
The weapons for Brady were in full display. Eight different players caught at least one pass. It was also the first time that Brady, Edelman, and Gronkowski played together since 2016. Gronk led the team with 75 receiving yards and passed Wes Welker in second place in the team's all-time (7,468) receiving yardage list behind Stanley Morgan (10,352). James White had another game where he had 10 receptions being the security blanket for Brady for 77 yards and a touchdown.
Sony Michel almost had another 100 yard game on the ground (98 yards and a 34-yard touchdown). Josh Gordon had his highlight moments when he jumped and caught Tom Brady's 500 touchdown pass against double coverage. Expect him to get more opportunities downfield as Edelman and Gronk work in the short and intermediate routes. It was the second straight week that the Pats offense had over 400 yards total.
The Last Word
With their victory on a short week, they'll have 10 days off. Next, they'll take on Patrick Mahomes II and the red-hot Kansas City Chiefs on Sunday Night Football.
Main Photo:
Embed from Getty Images