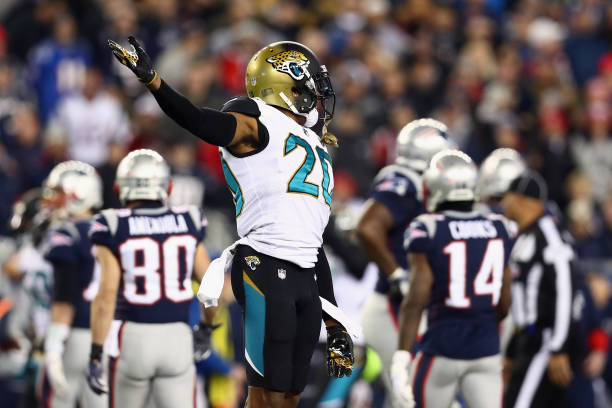 Welcome to Week Two of the 2018 NFL regular season. One of the big games involves the New England Patriots as they will travel to Jacksonville to take on the Jaguars. Both squads won their respective season openers. It is a rematch of last season's AFC title game where the Patriots just got by the Jags 24-20 in a thriller.
What's remarkable was how well Sacksonville was playing in that game with their number two ranked defense in the league. They had a 20-10 lead in the fourth quarter and Myles Jack took the ball away from Dion Lewis. Every Patriot haters thought the Jags will pull off the shocking upset. But, there was that man named Tom Brady as he led his team to two fourth quarter scoring drives that capped off with a game winning touchdown pass to Danny Amendola with 2:49 left. Eventually, they would go to their second straight Super Bowl where they would lose to the Eagles.
For Jacksonville, it was a loss that stuck with them all off-season. They will have the motivation to get back at the mighty Pats. However, running back Leonard Fournette is questionable to play due to a hamstring injury he suffered against the Giants. That's huge because he's a big part of their old school style of play with running the football and playing great defense. Blake Bortles plays his role as game manager by not turning the ball over. Sacksonville still has their front seven and secondary that still puts fear in opposing offenses.
With all being said here is the match-up to watch for in this game.
This is the match-up that people have been talking about since the off-season. It was further perpetrated by Jalen Ramsey because he took shots at the Gronk. The All-Pro corner said he isn't that good and that each time that he's goes against a cornerback, he does not play well. Well, to back up his point Gronk had only one catch in the AFC Championship Game versus this team before going out with a concussion.
Make no mistake, Rob Gronkowski is the greatest tight end ever to play this game. He is a match-up nightmare for opposing defenses with his six foot six, 265 pound frame. The Gronk is too big for smaller defensive backs and fast for linebackers to cover him. As a result, he is unstoppable in the red zone as he has 55 TD's in that area in his career. In Week One versus the Texans, he had seven catches for 123 yards and touchdown. So, he'll be ready for the challenge.
But Ramsey on the other hand is one of the best cornerbacks in the league. He has the personality of Richard Sherman because he talks and backs up his play. The Pro Bowler has taken shots at other players like saying Atlanta Falcons quarterback Matt Ryan overrated, saying Baltimore Ravens quarterback Joe Flacco sucks and that Buffalo Bills rookie quarterback Josh Allen is trash. Ramsey fears nobody – not even his grandmother, mother, father and brother.
The Last Word
This game will likely be a close battle that would require Brady to have fourth quarter drives to win the game. Gronk and Ramsey won't be lined up against each other on every possession. But when they do, it will be fun to watch.
Main Image: Embed from Getty Images