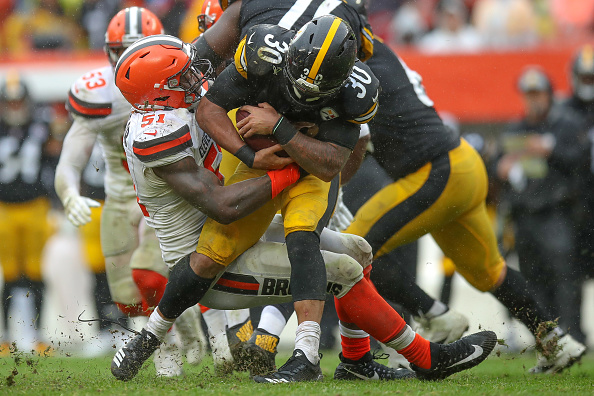 Well, yeah, the first game of the 2018 season was ugly. Of course it depends on who you ask, some are a lot happier than others with the outcome. But if you are a Pittsburgh Steelers fan, there are still some positives that you can pull away from this game. Let's recap shall we?
LE'VEON BELL WHO?
It is very annoying, how much the controversy has been talked about by myself and fans and commentators alike. But there is a bottom line here, whatever Bell's reasons are, he has pushed the envelope to the point where he has already missed the first game. Now enter James Conner, young, strong and a true warrior. This young lad has already fought and beat cancer. He is never going to back down from a fight, and he is going to take advantage of whatever opportunity he gets. He proved that during week one by posting up more than one hundred rushing yards in his first NFL appearance. Some people are saying that if we had Le veon in the game we wouldn't have lost. I disagree, the last time Le veon entered the season late with no practice with the team.
He under performed, gaining only forty yards, there is little doubt that he would have had about the same performance especially in the harsh weather they were playing in. Smart money stays with Conner. As a fan of course I would like to see Bell on the field, but we will never get the full Bell back. His mind isn't the same as the guy we drafted. His mind may not even be on being a Steeler no matter what kind of contract he gets. So hard as it is, the team needs to looks forward.
HOW MUCH BLAME IS PLACED ON BIG BEN?
Ultimately, the quarterback is the one who needs to lead his troops down the field, but how much of what happened in this ugly game is really Ben's fault? Technically yes, he had three interceptions, but realistically, two can be said to not be his fault. The last one to Jesse James went through his hands and was an easy interception from there. The second one to Antonio Brown was either a miscommunication in which direction AB should run, or quite simply 40mph winds can push a ball thrown that far downfield. However, Ben doesn't make or except excuses, if the team doesn't win, he isn't happy. Look for Ben to make up for the ugly game with a beauty next week.
TJ WATT AND THE PITTSBURGH DEFENSE
Seriously, want to talk ugly, how about staring down the beast that is TJ Watt and trying to get past him.. your chances are what is ugly. TJ, not to be outdone by his brother JJ Watt walked on the field last year with a sense of purpose. He has only focused that purpose even more. He is all over the field, focused and stopping plays no matter the conditions. The entire defense on the Steelers stepped up even when miscues happened. Cleveland gets a fumble recovery? Three and out says the Pittsburgh D. When Chris Boswell missed the go ahead field goal with an ugly kick. TJ made sure Zane Gonzalez was not going to get the winning kick either with a well-timed block. Ultimately ending the game in a 21-21 tie.
THE WEATHER WAS REALLY UGLY
Not just in the Steelers vs Browns game. Week one was just ugly weather wise. The Miami Dolphins game, was delayed for a total of more than five hours due to lightning strikes. There was heavy rain and winds all up and down the east coast. Certainly perfect form is not going to happen in these conditions. However it is part of football to play in all types of weather. Maybe it was early in the season for such a hard condition? Regardless of the whys, the bottom line is what happens next week to both teams as they move on from the game.
LAST WORD
This game may have been ugly, but it truly had an impact on both teams. For the Steelers, a tie against the Browns is the same as a loss. The Browns were win less last year, so even in horrid conditions to not be able to seal the deal and get a W is a moral loss. On the other side of the coin, a tie against the Steelers who have been dominating the NFC north for years is a huge morale victory for the Browns. There is no denying the weather was a factor. So now the big question is. Will the Steelers have that hard a time in good conditions? Will the Browns be able to keep up in good conditions? Onward to week two to find out.
Main Photo: