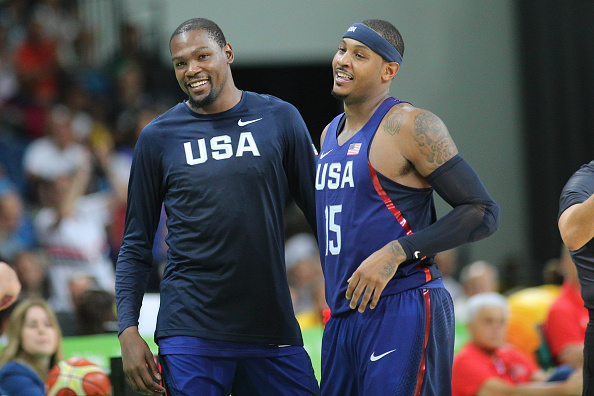 Paul Pierce is a very respected former NBA superstar.  The forward was the best player on the 2008 Celtics championship team.  In 2015, Paul Pierce wrote in The Players Tribune "The 5 Toughest Players I've Ever Guarded." 5 was Kobe Bryant, followed by Tracy McGrady at 4, Vince Carter at 3, and LeBron James at 2.  Any guesses at #1 (Hint: His name is in the title). #1 is Now-Houston Rockets forward Carmelo Anthony. Pierce said about 'Melo "If I had to single one guy out who is the most difficult player to guard in the league, it would have to be Carmelo. He's a unique blend of being big, strong, and athletic while also having a world-class shooting touch and a natural ability to get to the rim. That's what sets him apart — every facet of his game is elite."
Is Carmelo Anthony the Most Overrated Player in NBA history?
Carmelo Kyam Anthony was born on May 29th, 1984 to Mary Anthony and Carmelo Irate in projects of Red Hook, Brooklyn.  Irate, Anthony's father, died of liver failure when Anthony was only two years old. When Anthony was 8, he and his family moved to Baltimore.  Anthony always honored his hero Bernard King, stating in his New York homecoming against the Milwaukee Bucks on February 23rd, 2011 that he wanted to be Bernard King.  Melo played for Oak Hill Academy, a boarding school in Virginia. He would play one of his eventual close friends LeBron James every-so-often.
Anthony continued his basketball career at Syracuse University for a year, where he won the national college championship in his first and only year before his journey continued.  
NBA Career
The 2003 Final Four Most Outstanding Player is a staple in what might be the greatest NBA draft class in history, featuring LeBron James, Dwyane Wade, and Chris Bosh.  Anthony was picked third overall by the Denver Nuggets. The two drafted before him were NBA legends LeBron James and Darko Mili… never mind.
Anthony came in second for rookie of the year voting behind James, but many say that Anthony was the one who deserved it.  Anthony averaged 21 points, 6 rebounds, and 3 assists, while leading the Nuggets to an 8th seed in the playoffs, eventually losing to the MVP Kevin Garnett. Anthony got revenge on Garnett in 2013 when Anthony's NY Knicks beat Garnett's Celtics in the playoffs despite Kevin Garnett's very inappropriate comment about Anthony's wife Alani "LaLa" Vasquez.  Back to 2004 though, Lebron James's Cavaliers had a 35-47 season that ended in a ninth seed in the (Much Easier) Eastern Conference. James averaged 20 points, 5 rebounds, and 5 assists. The numbers were fairly similar, but the success Anthony had should have been enough to give him the award, but James was a household name, getting him the award.
Anthony spent valuable years with Denver, making the Western Conference Finals once, but evidently losing to a Kobe Bryant-led and more experienced LA Lakers.  This same Laker team won the championship that year, to put things into perspective.
The later part of his career
In New York and Oklahoma City, which was a span of 8 years, Anthony's teams were a top 4 seed just twice.  He has constantly played for teams that had a lot of hype going into the season, before evidently having either himself or his teammates, deal with injuries.  Anthony personally had some great success in New York, but he only played with one singular all-star in Tyson Chandler. In OKC, his teammates Russell Westbrook and Paul George were both all-stars, but it became pretty clear that the three of them could not co-exist due to them all being ball dominant players.
Now, the best argument put up about Carmelo being OVERRATED is by famous YouTuber, Mike Korzemba-watch here. Korzemba claims that Anthony was never a top 5 NBA player because he never made an All-NBA 1st team.  This is funny, as, in 2013, LeBron was one vote away from winning the NBA MVP unanimously, and who was the man who got that one other vote? Carmelo Anthony. He says that Anthony is overrated but then tells his audience that Carmelo is one of 11 players to average 24 points, 6.5 rebounds, and 3 assists.  Melo was the only other person to receive a first-place vote that year, so, tell me how this is the case that he is not top 5.
Korzemba's next claim is that Anthony is "noticeably worse when games matter", guess this Chicago Bulls fan was not watching on Easter in 2011 when Anthony made two incredible threes to win the Knicks that game.  Anthony also happens to have the most go-ahead shots made in the final 5 seconds of a game (15). This is ahead of Kobe Bryant, the man everyone claims to be the most clutch player in history.
Is Carmelo overrated? I think not.
This leads us to advanced stats, where our good friend Mike slanders Anthony for them being low.  Anthony has a top 10 usage rating of all time, so no wonder his advanced stats are not as good, the man is forced into taking 20 shots with around 15 of them being contested, because, for the majority of his career, his teammates have been below average.  He also claims that Melo's numbers go down in playoffs, but by a very small margin. Along with this, Anthony's usage rating goes up to 6th all time. I don't know how this is a bad thing, Mike, because once again Melo's teammates were not good. so this can be thrown out the window.  Also, he has the 6th highest usage rating ever because he is one of those players who can change the whole dynamic of a game.
He says that Anthony demanded a trade to the Knicks in 2011 and needed his way, and the Knicks went from a serious contender to a mediocre team.  Yeah, Mike, do some research, the Knicks were a 7 seed at that point standing at 28-26 on the year and they had losing records in both January and February.  The Knicks were not getting better and needed to make a move, so they got a star who wanted to play there.
Carmelo's issues sharing the spotlight
Jeremy Lin erupted for the Knicks in the 2011-2012 season.  Lin came out of nowhere and started Linsanity in New York. We all know the story of Linsanity, and some may know that Anthony is to blame for the Knicks not bringing him back.  Melo was the Knicks star, and he did not love the spotlight Lin took from him.
Korzemba blames Anthony because he wanted the Knicks to be winning with him being the best player.  Lin is a score-first point guard, Melo is a score first forward, this is not a match made in heaven.  Mike then fails to mention that Lin's 3 year/25.1 million dollar deal blew up in the face of the Rockets as Lin failed to improve and actually regressed each year to the point of Houston trading him away to the Lakers along with a first round pick for Sergei Lishouk.  That first round pick turned into Larry Nance Jr., a guy who could be fitting in very well with the Houston Rockets right now. Now, let's say the Knicks match the deal and Lin returns to NY, but the Knicks make the same trade with LA. In that case, that pick the Knicks would give the Lakers, is now KRISTAPS PORZINGIS.  Knicks fans, thank Carmelo Anthony for actually saving the Knicks by getting them KP.
The last word
One more thing about Mike Korzemba, the man is a Bulls fan.  Anthony was basically a sure thing to go to Chicago in 2014, that did not work out, and Mike expresses time and time again that Anthony "chose money over winning."  Last time I checked, since Michael Jordan, the Bulls have not won, well, anything. Also, Melo chose LOYALTY, something many stars *cough* KD and Boogie *cough* didn't.  Maybe Mike is just angry at Melo, I would be when an all-time great decides to not come to my team.
Main Image:Embed from Getty Images