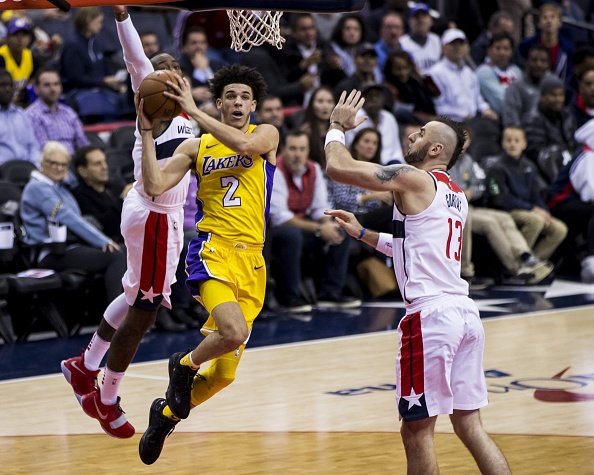 Over the past 3 years the Lakers have drafted at the number 2 spot in each NBA draft. In 2015 they drafted D'Angelo Russell (Ohio State), 2016 they drafted Brandon Ingram (Duke) and most notably in 2017 drafted Lonzo Ball (UCLA). Since then D'Angelo Russell was traded to the Brooklyn Nets in a deal involving the Lakers sending Russell and Timofey Mozgov to Brooklyn in exchange for Brook Lopez and the 27th overall pick in the 2017 draft which turned out to be Kyle Kuzma. As each player now enters the new season wanting to improve and take that next step, we take a look into who is most likely to have the best season.
Which 2nd Overall Lakers Draft Pick Will Have the Best Season
D'Angelo Russell
Although DLo may seem the most likely out of the trio to have the best season as well as being a potential Most Improved Player candidate, the odds may not all necessarily be in his favor. For starters he underwent surgery on his left knee in Mid-November and meant he only played in 48 games in the 17-18 season. The fact that the Nets are very much an outsider to make the playoffs, and the Lakers are almost a certainty now that LeBron is in LA, means that he is very unlikely to feel that playoff experience.
We saw the effects of this last year with Jayson Tatum, who only averaged 13.9 points during the regular season, but came alive in the playoffs and was only one field goal shy of holding the record for most playoff points as a rookie. Thus it is probable that DLo will have to shine throughout the regular season in his most likely role at shooting guard and build on his previous numbers of 15.5|3.9|5.2.
Despite this the fact the Nets have no other stars means that DLo will be the primary scoring option for them and could see his stats soar similar to a Oladipo type season.
My prediction for DLo is that he will make that next jump and become an all-star averaging 21|4|6.
Lonzo Ball
The man who Magic Johnson put his faith in, to allow DLo to get traded. The expectations for Lonzo were high coming in to his rookie year, not only as he was the second pick, but also because of all the hype his father LaVar had created. Now although I predicted that D'angelo will become an all-star, it doesn't mean Lonzo can't have a better season.
The fact Lonzo plays in a stacked West compared to a thin East, means that the odds of him having the status of being an all-star going into his second year are very improbable. Lonzo will start as the Point Guard of the Lakers with Rajon Rondo as the backup, from whom he can learn a whole lot about dishing dimes and being the floor general. Some say playing with LeBron will reduce his ball handling time, but the likelihood is playing with the LeBron will only elevate his assist totals further from 7.2 to 9/10 a game.
Lonzo Ball in my opinion will silence the critics further and have a very promising season and average 14|7|9.
Brandon Ingram
There has been much debate regarding B.I. to his ranking so to speak in the league. There have been conflictions to whether or not he is currently better than the likes of Jaylen Brown and Jayson Tatum. There is also a question mark about which he position he will play next year and could feature in the 2 or 3 spot. A disappointing rookie year was followed by a much better display in which he coincidentally joint led the Lakers in scoring with Kyle Kuzma and Julius Randle.
The play style of B.I. also developed as he showed his ability to run the offense and handle the ball a lot while Lonzo was out injured. The Lakers 'only' signing LeBron in the offseason and no second superstar means that he is guaranteed a starting role and is most likely to be the Lakers second scoring option. Many have likened his scoring game to a young Kevin Durant, with his length and ability to score from all angles, after heavily improving on his driving into the paint mid-season. He has shown signs to be a clutch player too, with his game-winning 3 of a Lonzo pass against the 76ers.
For these reasons I believe that B.I. will have a very successful regular and likely post season and can help LeBron in his LA journey. I feel that he will receive a few all-star votes and Most Improved player votes if he is really able to further his game and average 20|6|5.
Main Image:Embed from Getty Images