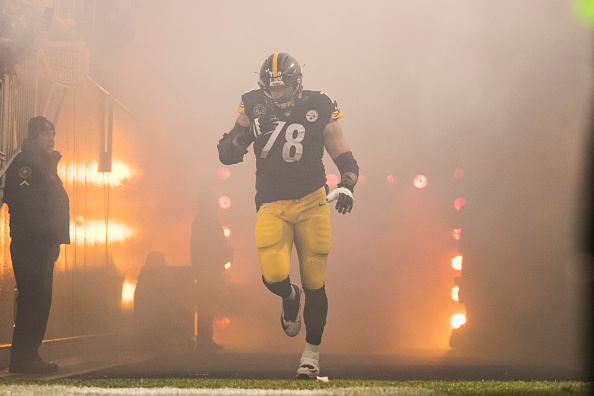 With the 2018 NFL season less than a month away, many fans are anticipating and predicting how their favorite team will do. Every team in the record book is equal, every team is currently undefeated. There are many headlines coming into 2018 including the revamped LA Rams and the return of stars JJ Watt and Odell Beckham Jr. among others. While every team technically has a chance at the Lombardi, but realistically only a few do. Here are my 2018 NFL predictions for each division, and the playoffs. In parentheses you can find my predicted record for each team.
AFC North
Pittsburgh Steelers (11-5)

Baltimore Ravens (9-7)

Cincinnati Bengals  (4-12)

Cleveland Browns (4-12)
Pittsburgh still has a top offense, Ben Roethlisberger still has gas left in the tank and does not seem to be declining. Le'Veon Bell and Antonio Brown are both top three at their position. The Ravens have a healthy Joe Flacco who impressed in camp but the running game and OL are serious concerns. They should be in contention, but have missed the playoffs the past two seasons.
Cincinnati can't get it together, talent such as AJ Green and Geno Atkins can't do everything. Marvin Lewis should have fired years ago, this could be the year. The Browns on paper look significantly better, Tyrod Taylor and Baker Mayfield are a top QB duo. Myles Garrett looks promising, but until I see them win games I can't trust the Browns.
AFC South
Houston Texans (9-7)

Jacksonville Jaguars (9-7)

Tennessee Titans (6-10)

Indianapolis Colts (5-11)
If Deshaun Watson stays healthy, Houston wins the division. JJ Watt and Deandre Hopkins are top at their positions. If not, we've seen Houston struggle without a QB. Jacksonville has a top defense led by Jalen Ramsey and Calais Campbell. Blake Bortles is a question mark, but Leonard Fournette should help hide his inconsistencies. Every year a few teams miss the playoffs after making it the year prior. Tennessee could be one of them. The Titans have talent, but could be on the border of a wildcard spot. Andrew Luck is back, but other than TY Hilton there isn't much talent in Indy. He will probably help, if healthy. –
AFC East
New England Patriots (13-3)

Buffalo Bills (8-8)

New York Jets (5-11)

Miami Dolphins (4-12)
Until Bill Belichick retires or leaves, the Patriots will be the heavy favorites in this division. Tom Brady shows no sign of slowing down, the Super Bowl was no exception. Tyrod Taylor is now in Cleveland, the Bills will look for rookie Josh Allen to step up. If he can, this could be a playoff contender. The Jets hope Sam Darnold is their franchise QB, if not Leonard Williams is still a top DL. This team needs another year or two before playoffs are realistic. The Dolphins lost Suh to LA, and Jarvis Landry to Cleveland. Ryan Tannehill has shown flashes, but with not much around him this will not be a playoff year in South Beach.
AFC West
Los Angeles Chargers (9-7)

Oakland Raiders (9-7)

Denver Broncos (7-9)

Kansas City Chiefs (6-10)
The AFC West has many questions this year. Kansas City won the division last year, but lost their QB in Alex Smith. Their season will largely depend on the performance of Patrick Mahomes. Marcus Peters is gone, leaving a big hole in the secondary. If players can step up maybe Andy Reid could lead this team back to the playoffs. The Chargers have already been hit with the injury bug, Hunter Henry and Jason Verrett are out. If the rest of the team can stay healthy, Phillip Rivers and Joey Bosa should have a wildcard contender.
Jon Gruden was brought back to rejuvenate the Raider nation. Derek Carr and Khalil Mack showed us in 2016 what they're capable of, if they return to this form they can easily win not only the AFC West, but contend for the AFC. Von Miller and Emmanuel Sanders lead this Broncos team into a new chapter. Demaryius Thomas will need to step up with new QB Case Keenum, if Keenum is still in his Vikings form the Broncos might return to the Super Bowl 50 team.
Main Photo:Embed from Getty Images