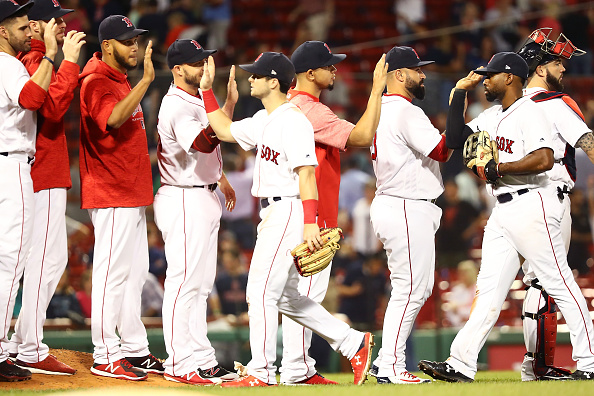 As the baseball season heads into the home stretch, it's not too soon to see how the current division leaders would fare if they are left standing atop the standings at the end of the regular season. Let's start with the American League and see which among the Red Sox, Indians or Astros would be most likely to make the World Series.
Which American League Division Leader is Ready for the World Series?
Let's start with the defending World Champion Houston Astros
Anytime, you have Justin Verlander on your team, you can expect at least one victory, but that's necessarily the case when you look at the numbers.
Verlander's record at home this season is just 2-6, despite a good ERA of 3.13.  On the road, he's 10-2 and his ERA is Cy Young-like at 2.09. The only problem with Verlander is he seems to be regressing as the season goes along.  Before the All-Star break, he had a 2.29 ERA. Since then, it's a frustrating 4.22.
As a team, Astros pitchers are better on the road, period, with a 44-21 record and 2.88 ERA. Compare that to their home record of 33-29 with a 3.38 ERA and the team may want to rethink the term home field advantage.
The offense also performs better on the road. The team batting average at home is .243 while on the road it is a bit higher at .266.  On the road, the Astros offense also has more homers, three times as many triples and 30% more doubles than at home.
This is a team that seems to like having their backs against the wall, as it appears to give them more leverage.
The Cleveland Indians Currently Hold a 12.5 game lead in the AL Central.
The scary thing for opponents is they appear to be getting better as the season wears on.
Of course having Corey Kluber leading your rotation doesn't hurt.  He's 8-3 at home AND on the road, but has a slightly higher ERA away from Cleveland (3.35).  His season can be described as consistently brilliant.  Before the All-Star break, he was 12-5 with a 2.76 ERA.  Since then, he's 4-1 with a 2.66 ERA.
Of course, Trevor Bauer's season is nothing to blink at with a record of 12-6 and a tiny 2.22 ERA.  There's a reason his name comes up in the CY Young debate.  He's only getting better.  Before the All-Star break, Bauer was 8-6 with a 2.24 ERA.  Since then, he's 4-0 with a tiny 2.12 ERA.
The Indians obviously prefer to play at home.  Their record of 39-24 and batting average of .270 shows that.  Their road record, however, shows they are no easy out when they leave the state of Ohio.  They are 34-29 with a batting average of .248, but they have a similar number of homers, hits and extra base hits in road games.
In short, the Indians are a solid team from top to bottom.
The Red Sox are Standing on the Brink of History.
They are flirting with the all-time record for wins in a season and with good reason: they have four starters who could make a case for the Cy Young Award as Chris Sale (12-4), Eduardo Rodriguez (11-3), David Price (14-6), and Rick Porcello (15-6) give the Red Sox a likelihood to win nearly every night.  It doesn't matter if they are playing at Fenway or on the road, either.  Red Sox pitchers are 45-18 at home and 44-21 on the road. The team ERA is nearly identical at 3.53 and 3.47 respectively.
As a team, the Red Sox hit better at home with more extra base hits than on the road.  At Fenway, Red Sox hitters are batting .279 compared to .259 on the road.
But pitching wins ballgames.  With pitching like the Red Sox have, it is probably not too tough to believe that when the team lost three in a row from August 19-21, it was their first three game losing streak since April.  Until that so-called losing streak, the Red Sox had not lost two in a row since July 21-26.
With their pitchers, and with the days off that come with the playoffs, the Red Sox are, shall we say, "well armed" to fight for a spot in the World Series.
The Verdict…
Keeping in mind that anything can happen in the playoffs where a cold streak can bring a quick end to a promising run, it comes down to the numbers, and the Red Sox have them all in their favor.  Yes, the Astros have been there before and that should count for something.  But so have the Indians.  But the Red Sox have four starting pitchers have Cy Young seasons.  With days off, three of them could be the starters in a series, and the fourth be a go-to person in the event one of them has an off day.  Plus, given that the Red Sox just don't go on losing streaks, I don't see another team beating them four out of seven games.  They go to the World Series.
Main Photo: