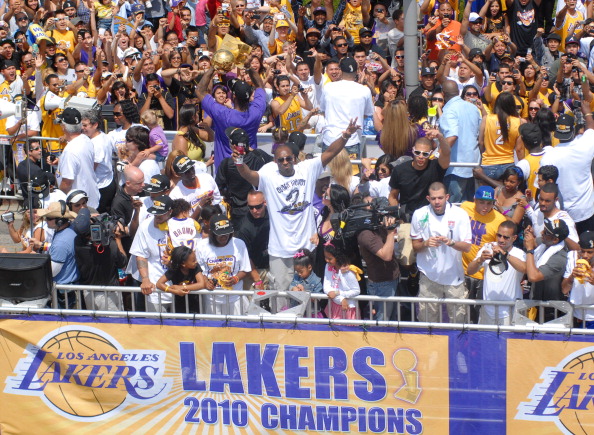 As NBA and Laker fans know, Kobe Bryant is a legend. He is considered to be one of the greatest players of all time. The Black Mamba played for 20 years and all of them wearing the Purple and Gold uniform. He would have his number 8 and 24 jerseys raised up to the rafters of Staples Center. Likewise, he's compared to Michael Jordan because of his playing style.
The Top 40 Kobe Bryant Moments from His Illustrious Career
Most say that he's the greatest Laker in franchise history. Most noteworthy, he was an 18-time All-Star, four-time All-Star MVP, two-time scoring champion, one-time regular season MVP, five-time title winner and two-time Finals MVP. Additionally, he made the All-NBA First Team 11 times and the NBA All-Defensive First Team nine times.
Above all, Kobe was exciting to watch because of his unbelievable shot making abilities, scoring performances, and his will to win at all costs. In crunch time, the Mamba will always come through and take the big shot. Furthermore, it showed everybody that he will never shy away from the moment.
Kobe would get up early in the morning to workout and shoot a thousand shots a day. Certainly, he pushed himself and his teammates to be the best. As a result, that work ethic showed that he was committed all-day every day to the game of basketball. He would play through numerous injuries like a broken finger, ankle sprain and a bum knee to show his warrior mentality. Consequently, as he got older, the injuries like the torn achilles caught up to him. Nevertheless, Kobe had a great career that will put him in Springfield, Massachusetts.
All things considered as Kobe turns 40 years of age, he's left the league with so many memorable moments. Here are 40 of them to match his age.
1996 NBA Draft 
First Career Point 
First 20 Point Game
1997 Dunk Contest
The crossover and dunk on Ben Wallace
33 points vs. Jordan's 36
1998 All-Star Game
First 40 Point Game
https://www.youtube.com/watch?v=PDVFMh4pMcU
2000 Playoffs: First Playoff Game Winner 
2000 NBA Finals Game 4
First 50 Point Game
First All-Star Game MVP
Comeback win vs. Mavericks
https://www.youtube.com/watch?v=LWwjKOQloiI
12 Threes vs. the Sonics
55 points in last game vs. MJ
The baseline reverse dunk versus the Timberwolves
Game tying three vs Pistons
Christmas Day game vs. Shaq 
https://www.youtube.com/watch?v=mo18RBms76k
Dunk over Dwight Howard
Left handed three
https://www.youtube.com/watch?v=4MuvPhGs6-4
62 in Three Quarters 
81 point game
First Round Game 4 vs. Suns 
Dunk over Steve Nash
50 Point Streak
https://www.youtube.com/watch?v=3oBAawAS-ZY
2008 NBA MVP
2008 Summer Olympics
61 Points at the Garden
Rainbow fadeaway jumper over LeBron James
2009 Co-All Star MVP with Shaq
Passing the ball off the backboard and putback on Yao Ming
https://www.youtube.com/watch?v=9WrUNw_09R4
First title without Shaq
The Off Balance Winning Three vs. Heat
NBA Finals Game 7 vs. Celtics
Dunk over Kris Humphries
Doing it to the Raptors again
Free Throws on Torn Achilles
Passing Jordan on the All-Time Scoring List
The Last All-Star Game
60 point career finale
Image Credit:
Embed from Getty Images