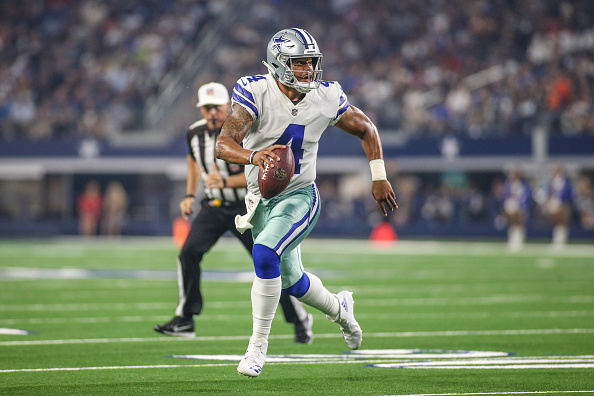 With the 2018 NFL season less than a month away, many fans are anticipating and predicting how their favorite team will do. Every team in the record book is equal, every team is currently undefeated. There are many headlines coming into 2018 including the revamped LA Rams and the return of stars JJ Watt and Odell Beckham Jr. among others. While every team technically has a chance a the Lombardi, realistically only a few do. Here are my 2018 NFL predictions for each division, and the playoffs. In parentheses are my predicted record for each team.
NFC North
Green Bay Packers (12-4)

Minnesota Vikings (10-6)

Chicago Bears (7-9)

Detroit Lions (6-10)
Aaron Rodgers returns with a new target in Jimmy Graham, and with a relatively easy schedule Green Bay should return to the playoffs. Minnesota paid Kirk Cousins this offseason to take them all the way, this is likely a decrease from Case Keenum but still a talented team. Chicago is on the rise, Trubisky looks to be the future but it's not their time yet. The Lions are the least talented team in the division right now, Stafford needs to step up in order to bring Detroit postseason football.
NFC South
Atlanta Falcons (11-5)

New Orleans Saints (10-6)

Carolina Panthers (9-7)

Tampa Bay Buccaneers (5-11)
Julio Jones and Devonta Freeman are a top five RB-WR duo. Matt Ryan doesn't show any signs of slowing down. Combine that with a rising defense and an easy schedule and Atlanta should cruise through 2018. The Saints surprised last season, particularly their defense. I would not be shocked if New Orleans plays in Atlanta more than once. Carolina has been up and down, they have talent but never show any signs of consistency. They have what it takes to sneak into the wildcard, but the NFC is stronger and they may end up being the odd man out. Tampa has some talent but not enough. Winston has proven he is not a franchise QB, and if he doesn't show major improvement it might be time to move on from the former FSU Seminole.
NFC East
Philadelphia Eagles (11-5)

New York Giants (8-8)

Dallas Cowboys (7-9)

Washington Redskins (5-11)
Philadelphia is still the champion, and in a rare scenario improved their team significantly in the offseason. That is on paper, as the champs take a slight dip but still win the East easily and are contenders to repeat. As a Giants fan, this team has the defense to play anyone, and with Odell, Shepard, and Evan Engram as targets Eli Manning should have reliable options. We all know how promising Saquon Barkley looks, if the OL can give him holes and Eli time this could be the first step in getting back to postseason football.
Dallas lost Dez Bryant and Jason Witten this offseason, both big losses. Dak Prescott and Ezekiel Elliott will both need to return to their rookie forms, otherwise this will likely be a mediocre season. Alex Smith is not much, if at all an upgrade from Kirk Cousins. The Redskins have some serious questions this year at multiple positions on offense and especially defense. Their secondary will struggle against Odell, Shepard, Alshon Jeffrey, and Allen Hurns. This is not going to be a great year in D.C.
NFC West
Los Angeles Rams (13-3)

San Francisco 49ers (9-7)

Arizona Cardinals (5-11)

Seattle Seahawks (5-11)
This could be the Rams year. They were already one of the best teams in football before this offseason. Going out and adding Ndamukong Suh, Brandin Cooks, Aqib Talib, Marcus Peters and resigning Todd Gurley and Lamarcus Joyner makes them deadly. If Jared Goff can become a true franchise QB, Los Angeles has a serious chance at a championship. The 49ers have drastically improved. Richard Sherman comes over from division rival Seattle and is still a top CB. Jerrick Mckinnon has a chance to break out as the feature back with Carlos Hyde in Cleveland. Jimmy Garoppolo looks to be the next great QB for San Francisco and if he is they can easily be a wildcard contender.
Arizona has questions at QB, Josh Rosen doesn't look ready and Sam Bradford isn't a guarantee to stay healthy. This might be Larry Fitzgerald's last season, and unfortunately he does not appear to have a chance at a ring. Seattle lost a lot this offseason, Russell Wilson can't carry this team by himself. The OL is a major concern and with DL of Suh and Donald in LA and Jones and Golden in Arizona this will not be the legion of boom anymore.
Main Image: Embed from Getty Images