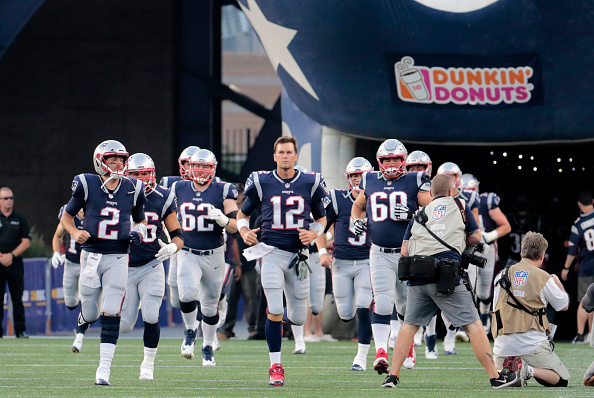 Is this Brady's final year? Can their defence hold up? What about the tension between Brady and Belichick? The New England Patriots have never had so many questions looming before the start of a season. Although nothing dramatic has changed, the departure of some key players has many wondering if this may be the "fall of the empire". Do the Patriots have enough to continue their dominance? Let's take a closer look.
2018 NFL Season Preview: New England Patriots
Offence:
Notable Additions: RB Sony Michel, RB Jeremy Hill, WR Eric Decker, OL Isaiah Wynn
Notable Departures: WR Brandin Cooks, OL Nate Solder, RB Dion Lewis, WR Malcolm Mitchell
Strength: QB and running back depth (yet again)
Weakness: Depth at WR
The Patriots have always had a pass-first offence, and that trend will continue. Behind centre, you have arguably the greatest QB ever in Tom Brady. Until that changes, the Patriots will continue to run a pass-first offence. The biggest loss for the Patriots has got to be Brandin Cooks. Cooks was a 1,000-yard receiver in 2017 for the Patriots and although he only caught 7 TD passes, his season was a huge part of the Patriots Super Bowl run. Dion Lewis is also a considerable loss, but the Patriots still have a player very similar in style in James White. The Patriots also added considerable depth at the RB position.  Sony Michel and Jeremy Hill join an already crowded backfield. I definitely think New England will need a couple of games to adapt to this new offence, and without Julian Edelman for the first 4 games of the season, the passing game could struggle. However, I definitely believe this offence will continue to be a top one in the league and run smooth like it always does under the Brady/Belichick tandem.
Bold Prediction: Sony Michel jumps James White and Rex Burkhead for the starting job by the end of the season.
Defence:
Notable Additions: CB Jason McCourty, DE Adrian Clayborn, DT Danny Shelton
Notable Departures: CB Malcolm Butler, DT Alan Branch
Strength: Great secondary/Great chemistry
Weakness: D-line
The Patriots have never been ones to rock a top 3 defence in the league, and this year is no different. A huge loss of Butler was lessened with the addition of Jason McCourty. The addition of Adrian Clayborn helps bolster the D-line that saw the departure of Alan Branch this past off-season. In yards allowed per game last season, the Patriots ranked 29th in the league (336.00 YA). Although I do believe that this defence will improve, I still don't see the Patriots being a top 10 defence in this league. I would put this team in the top 15-18, that is if everyone can stay healthy. Injuries to Donte Hightower have hurt this defence over the years. However, a great secondary mixed with a good front 7 allows this team to yet again give enough to compliment this unstoppable Patriots offence.
Bold Prediction: Adrian Clayborn picks up where he left off, finishes with 9 sacks on the season
Patriots season Wrap-up
Notable Games: Week 1 Vs. Houston, Week 2 @ Jacksonville, Week 9 Vs. Green Bay, Week 15 @ Steelers
Prediction: 12-4 (1st in AFC East)
New England is tied for 22nd in the league for the strength of schedule, which leads you to believe this season will be nothing out of the ordinary. However, there are many notable games on the Patriots schedule this season. New England has had tough matchups in the past, but games against Aaron Rodgers and the steller Jags D has me questioning if they can prevail. Chalking up a loss for them against all the above teams would put them at 12-4 and that's if they win the rest of the games. I see New England dropping games to Houston and Green Bay, and dropping a late one to the Bills. This would put them at 13-3 on the season, which would more than likely win them the AFC East again. Nothing has given me the indication that Tom Brady is slowing down. The offence still poses a significant threat to every defence in the league. The defence although not top in the league still holds their own every season. Until I see a significant drop off from Brady or a drastic change to this Patriots team, nothing should change from last year. This team will yet again finish as the one or two seed in the AFC and will yet again contend for the Lombardi Trophy.
Main Photo: