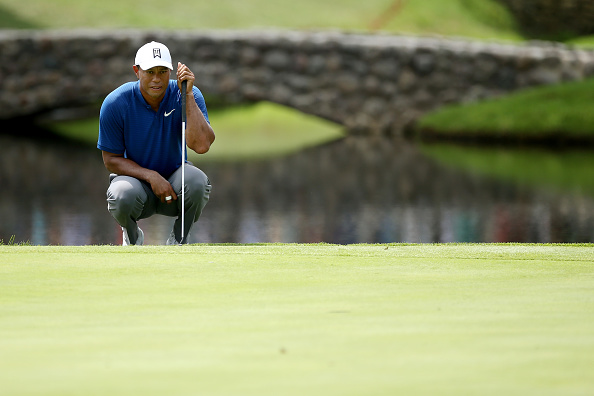 The first weekend in August brings us one of the favorite non-major events of the year. The Bridgestone Invitational has a great balance of course, players and skill level. It just seems to fit in perfectly at the high of the summertime, in the middle of the season. Let's take a look at some of the things we should be watching this weekend.
WGC-Bridgestone Invitational Preview
How About That Course
For more than sixty years, the Firestone Country Club in Akron Ohio has been the scene of many pro tournaments. It has hosted the Bridgestone Invitational since 2006 and this will be the last year it will be held in Ohio. Starting in 2019, this event is being moved down to Memphis, Tennessee. So there is a sense of loss as well as nostalgia as the practice rounds are being played. There is a lot of history, a lot of wins and many amazing shots that this course has given us and many will be sad that there won't be a tournament held there next year.
An Unreal Cast of Players
Is it something in the air? Is it the water they drink on the plane going from match to match? Or to quote wrestler Triple H, are they just that damn good? I am voting for the latter, as the saying goes, these guys are good. But some weekends good just doesn't describe it. They are making over three hundred yard drives as regularly as one of us can open a can of soda.
Among the best is Dustin Johnson, he is well establishing himself as the man to beat. He won last week's RBC Canadian Open with a neat -6 on Sunday, winning by three. His confidence surely must be something to help him keep cool during the dog days of summer. But as any smart golfer will tell you, overconfidence will kill your game faster than a bad slice. There are many others prowling around waiting and wanting to hoist a trophy in the air.
Speaking of prowling, we forget to mention Tiger Woods, who came achingly close to winning the British Open two weeks ago. In the lead for what seemed like a hot minute until a horribly timed double bogey dropped him back into a five-way tie at the time. Few things get the golf world exploding on social media like seeing his name on top of the leaderboard. Though in ways it almost seems like the suspense of waiting for his next win will be better than the win itself… Nah who am I kidding, but we are dying to see it.
But for now, seeing him doing so well and staying healthy is a great thing to behold. Yes, it has been five years since a win, but anyone's health comes first and the fact that he is going again is terrific. And this Bridgestone is one that Tiger has won eight times. Also, his last win was here, and it will be the last time he or anyone can win here, so the stage, as they say, is set.
Some of the Best Pairings to Watch
One of the favorite sites on practice day for the Bridgestone Invitational was watching Woods and Phil Mickelson, side by side taking practice swings. Reminding people of the match that has been rumored to be in the works but no word of being finalized as of yet, a match of just the two of them at a course to yet decided.
Phil's partner in the first two rounds is Justin Thomas. Both are in need of a win and both are capable to do it this weekend.
Tiger Woods will play with Jason Day. Day has won twice this year and Woods is still looking for his. But these two have a long history of playing together and being friends. However, when they are on the course competing, there is a special energy. The talk won't be about the golf game as much since neither wants to give the other an edge, but they enjoy playing together on the course.
A great pairing to watch will be Dustin Johnson with Francesco Molinari. Both of these men are bringing their A game every week. Johnson winning last week and Molinari winning two weeks ago at the British Open in fine style. A pairing of two men obviously hot and on point on the course can bring out a lot in a golfer. It can push them both to play even better to keep up with each other. Or do the opposite and if there are any chinks in the armor of confidence in one of them, playing against each other can bring it out.
Last Word
I can't say enough how entertaining the matches have been this year and see no reason why this week's Bridgestone Invitational won't be as good. Of course, I have also said many times, golf is not hard, it is evil. A man who can incredibly sink a fifty-foot putt making it seem easy can on the very next hole have a four-foot putt that curls around the lip and turns an easy par into a bogey.
A three hundred yard drive on one hole can turn into a two hundred yard slice out of bounds on the next. Concentration and consistency are one of the biggest keys in this game. Four days of golf is a lot of opportunity for anything to happen. So let's get out there and watch.
Main Photo:
Embed from Getty Images