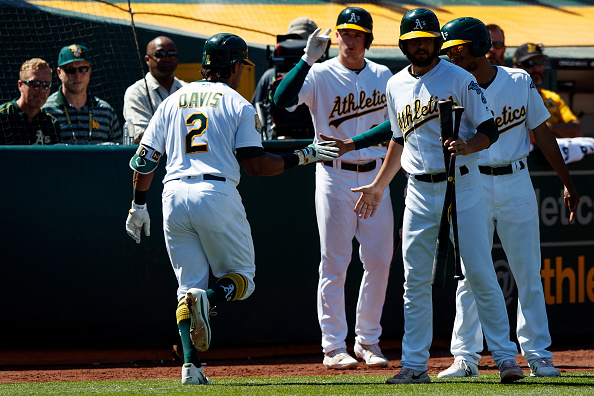 The Oakland Athletics are suddenly one of the hottest teams in baseball. They are currently riding a five game winning streak, and have won eight straight series. Since June 16, Oakland owns a 26-7 record which is the best in baseball. So, why should you believe in the Athletics you may be asking?
High Powered, Clutch Offense
The Athletics offense is really fun to watch. They have a ton of pop and score a ton of runs. Perhaps the biggest case was Tuesday night when Oakland scored 11 unanswered runs to come from behind and defeat the Rangers 13-10. Oakland then completed another come from behind, 6-5 win on Wednesday night.
The comebacks should not come as a shock, as Oakland has been scoring multiple runs late in games. They've staged comebacks to earn 17 wins and have scored the winning run in the eighth inning or later 12 times since June 16. They also have scored a league-leading 143 runs and a have an incredible team OPS of .841 in in the eighth inning or later.
Some of their biggest pieces have been Khris Davis (27 HR), Jed Lowrie (.280 AVG, 17 HR), Mark Canha (.257 AVG, 13 HR), Matt Chapman (.259 AVG, 11 HR), and Matt Olson (21 HR).
Stephen Piscotty has had an emotional run this year. This offseason he was traded home to Oakland so that he could be closer to his mother who had been battling ALS. A couple of months ago, Gretchen Piscotty lost her battle. Though it has been tough returning to baseball, Piscotty has been on unreal tear.
Since the beginning of June, he is slashing .263/.322/.469 with 14 home runs and 50 RBI's. In 18 July games, Piscotty has driven in 17 runs and smacked seven homers. Piscotty's return to his St. Louis form has been a huge boost to the Oakland offense. For the season, he has boosted his numbers to .263/.322/.469 with 27 doubles, 14 home runs, and 50 RBI's.
Lights Out Bullpen
The Athletics 2018 bullpen is one of the best units in a long time. Manager Bob Melvin has never had a better bullpen in his time in Oakland. The most talked about piece is All Star closer Blake Treinen. The righty throws some nasty breaking balls, and has posted a 1.06 ERA and 26 saves. Rookie Lou Trivino has come up from Triple-A and quickly turned himself into a star with seven wins and a 1.36 ERA.
Their only acquisition to this point, former Mets closer Jeurys Familia, is a big pickup. He has the ability to close out game, and can serve as a nice bridge to Treinen. Back in 2015, Familia set the Mets single season record with 51 saves. In 2018, he has had a shaky year but when on he is one of the top closers in the game.
A backend of the bullpen consisting of Treinen, Familia, and Trivino should go a long way for the Athletics.
What are they Missing?
The only big hole seen in this team would have to be their starting rotation. Right now, it consists of Sean Manea, and the other four starters streamed each week. The group streamed is made up of Edwin Jackson, Trevor Cahill, Brett Anderson, and Triple-A starters Frankie Montas, Daniel Mengden, and Chris Bassitt.
Right now, this unit is somehow getting the job done. Manea has led the way, having not lost a start since May and posting a 3.38 ERA, and a 0.974 WHIP. I think Billy Beane and the A's will look to acquire a starter, or even two, before the deadline. Some names to keep an eye on include Mets RHP Zack Wheeler, Marlins RHP Dan Straily, and Tigers RHP Mike Fiers.
Main Photo: