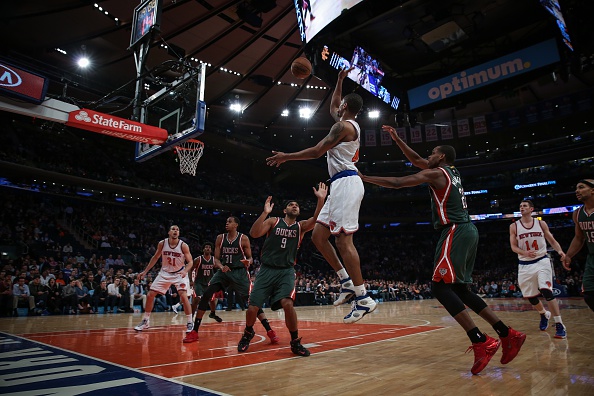 The New York Knicks are expected to have a growth season this year. New York will be without their franchise player Kristaps Porzingis for most of the season due to the torn ACL he suffered last season. The Knicks have a young roster and are going to give their young guys plenty of chances to succeed. This will be a major key in the Knicks attracting free agents next season and seeing what the future looks like for New York. I will be breaking down their depth chart from starters to bench players to role players.
The New York Knicks Depth Chart:
Starters:
Frank Ntilikina was a rookie in New York last season but showed signs of being an impact player. Coming into his second season Frank will be part of an open competition at the point guard position with Emmanuel Mudiay and Trey Burke. Due to Frank's defensive potential and new head coach David Fizdale's style, Frank should have the upper hand. This is an important offseason for Frank who the Knicks would love to see make a jump in his second year and become the player they think he can become. Frank is one of the best one on one and overall defenders in the league while also being an unselfish point guard who loves to get his teammates involved. He will have to be more aggresive this season and look for his shot more without Porzingis and with being the lead guard.
Tim Hardaway was drafted by the Knicks in 2013 and played for New York for 2 seasons before being traded to the Atlanta Hawks. Hardaway has been a reliable starter in the league but this season he has the oppurtunity to be a leader on and off the court. This is a big season for Hardaway as he is going to be a veteran and the Knicks are going to lean on him for leadership and to be a vocal leader. Hardaway had a fantastic start to his season last year before getting injuired and having to miss significant time which hurt the Knicks. Hardaway will have to improve on his shot selections and his 3 point percentage this season but having young players and guys who can score the ball will take some pressure off of him.
Mario Hezonja was the big signing for the New York Knicks this offseason. Mario is a young forward who has spent his whole career in Orlando with the Magic. Hezonja never reached his potential in Orlando but had a big second half of the season last year when he got the starting job. Mario is a above average defender and has an impact on the offensive end of the floor. Hopefully the change of secenary and a new look coaching staff will due wonders for Mario who is looking to revive his career in New York.
Kevin Knox was the Knicks first round pick in the 2018 NBA draft out of Kentucky. Kevin Knox didn't get to much hype coming out of college and into the NBA draft. He was the leading scorer on Kentucky but they had so many top level recruits that he wasn't playing to his potential. Knox was praised after the draft and scouts were raving about the Knicks getting a steal at number 9. In the summer league Knox shined and put the NBA on notice with his defensive intensity and his impact on the offensive end. Kevin Knox will most likely start at ower forward with Porzingis out and should be a dynamic player at the position in today's NBA.
Enes Kanter was acquired in the Carmelo Anthony deal to Oklahoma City last offseason. Kanter was a pleasent surprise at the center position. Kanter and Porzingis gained chemistry quickly which resulted in the duo playing great together. He is a rebounding machine and an impact on the offensive end. Kanter was the heart and soul of the team last season and playing night in and night out no matter the situation. Kanter will be a huge piece this season as well with Porzingis out and being the other veteran starter with Hardaway.
Bench:
PG: Trey Burke
Trey Burke was on the Knicks G-league team to begin the season last year where he florished. Burke was a top 10 pick coming out of college after his stellar career at Michigan. Trey never got the chance to prove himself until last season. When he got called up he took off in the league and finished the season strong. He will be a huge piece off the bench for New York with his ability to run a team, his presence on offense, and his above average defense. The Knicks took a low risk with Trey last season which turned out to be a high reward.
Damyean Dotson was a second round pick in the 2017 NBA draft. Dotson had a stellar college career at Houston where he was one of the best shooters in college. He saw time in the G-league and on the Knicks last season which helped him in his progression. Dotson played in the couple regular season games with the Knicks where he had some positive moments. In a game against the Miami Heat he scored 30 points and put on a show on the offensive end. Dotson should be the backup shooting guard this season and should make an impact for the New York Knicks.
Courtney Lee is rumored to be on the trading block as the Knicks are going younger. Lee was signed 2 seasons ago and has been a consistent all around player for the Knicks. Courtney had a career high field goal percentage from 3 last season. Lee is a tough one on one defender and a veteran who knows what he has to do night in and night out. If Lee isn't traded this offseason then he may be coming off the bench for the Knicks which would improve their second unit and add a veteran off the bench.
Lance Thomas is another veteran who the Knicks may be looking to deal this offseason. Thomas won't jump on the board with his stats but his play on the court is huge. Lance was signed a couple years ago by the Knicks and has been a consistent player for them. Thomas is a great defender who can defend multiple positions and is a team guy. Lance doesn't do much on the offensive end but he can stretch the floor and make plays for himself and his teammates. Lance may be the backup power forward next season.
Luke Kornet was another player who spent time between the G-league and The Knicks last season. Kornet is a stretch big man who can make 3's at a consistent rate while also play with his back to the basket. Luke is a good defender for a big man as he can contest shots and guard multiple positions because of his quickness. He will likely be the first big off the bench with the departure of Kyle O'Quinn and it should be interesting to see what situations Luke is put in under new head coach David Fizdale.
Role Players:
PG: Emmanuel Mudiay
The New York Knicks and Emmanuel Mudiay were linked to eachother in the 2015 NBA Draft but the Knicks selected Kristaps Porzingis. He was selected by the Denver Nuggets but never reached his potential due to the overload of guards on their roster. Mudiay was traded to the Knicks last season and had some nice games as a Knick. Mudiay is an intruging player here. He is still young and the Knicks think they can bring out the best of him. He will have the oppurtunity to compete for the starting job in training camp. Also if they decide to trade Lee then Mudiay would be the backup shooting guard.
Ron Baker has a one year deal this season and may not see any playing time for the Knicks. Baker has been rumored as a possible cut or trade bait to trim the roster down. Baker is a guy who will give it his all every night. However, with the Knicks depth at guard he is the odd man out.
The Knicks and Noah Vonleh agreed to a partially guaranteed contract recently. Vonleh has been in the league 4 seasons and is still just 22 years old. Noah has yet to reach his potential but has had some nice moments in the NBA. The Knicks are taking another low risk with Noah. If they can get him to buy in and reach his potential, it could be another high reward. Noah is a great rebounder and a good defender. He struggles on the offensive end. If he can add the three ball to his game he could be a nice role player.
The New York Knicks drafted Mitchell Robinson is the second round of the 2018 NBA draft. Robinson was a top 10 recruit coming out of high school when he choose Western Kentucky. Although, he never ended up playing college basketball. He hasn't played competitive basketball in over a year and a half. Though, he worked on his game to get ready for the league. Robinson has very high potential if he puts in the work and the coaching staff gets him where he needs to be. Robinson shined in summer league for the Knicks. He averaged a double double and almost 4 blocks a game. Mitchell will see extended time in the G-league as he tries to get into game shape. He should see time towards the end of the year on the Knicks.
This is an interesting situation with Joakim Noah. Noah got into a fight with Jeff Hornacek last season and was dismissed from the team. He has 2 years left on his deal with almost 20 million a year. Noah could potentially be a helpful player to the Knicks this upcoming season. Depending on what the Knicks plan to do with him, Noah could be the backup center. He would also serve as a nice veteran mentor to Kornet and Robinson. The Knicks will have to cut or trade a player to trim their roster if they plan on keeping Noah.
Main Photo: