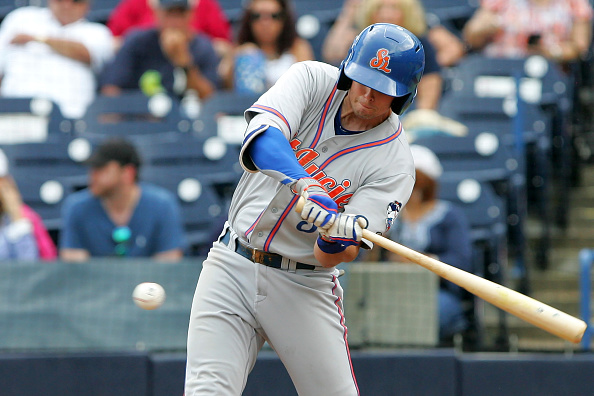 The New York Mets promoted INF Jeff McNeil from Triple-A Las Vegas earlier today. McNeil is enjoying a tremendous breakout season in 2018. He has risen in the ranks, and turned himself into a household name amongst Mets fans. So who is this Jeff McNeil guy you ask?
College Ball
McNeil did not play high school baseball until his senior year. He was a golfer, in fact he was the best golfer in his high school for three straight years. In his first high school baseball at-bat, McNeil singled, and proceeded to steal both second and third. Right after that game, he was offered a scholarship and initially committed to play at California State Northridge, but he ended up playing at Cal State, Long Beach.
Over his three year college career he quickly turned himself into an attractive high upside draft prospect. He hit .298/.356/.356 with 23 doubles and 48 RBI's. In 2013, he was drafted by the Mets in the 12th round of the Major League Baseball Draft.
Minor League Career
After being drafted, McNeil played in 47 games for the Kingsport Mets during the 2013 season. He showed exactly what he can do, hitting .329/.413/.409 with nine doubles and 13 RBI's. He led the Florida State League (A) in on-base percentage (.373) and runs scored (80) and also finished second in batting (.312) and third in hits (146) in 2015.
Injury Bug
His development was slowed a bit over the next couple of years as he missed extensive periods of time with multiple injures. In 2016, he appeared in just three games after suffering a double sports hernia, as well as a hip labrum tear. Then again in 2017, a groin injury limited him to just 48 games between A+ and AAA.
Breakout 2018 Season
McNeil has been one of the best hitters in all of the minors this season, hitting .342/.411/.617 with a 1.028 OPS, 19 homers, 26 doubles, 71 RBI's in 88 games between Double-A and Triple-A.
Upon his promotion, he is riding a seven game hitting streak and is 12-for-28 with four RBI's in that span. McNeil is being more selective at the plate, improvements to his launch angle, and some added muscle has helped him find more of a power stroke.
What Does He Bring to the Mets?
McNeil is said to be very much like former Mets 2B Daniel Murphy. He does not have an elite glove at second, but he gets the job done. He has the athleticism to make up for it as well. McNeil also has played some third, shortstop, and limited time in the outfield. There is one thing that is for sure, Jeff McNeil knows how to hit. He is a high contact/low power type of guy. Although, as already mentioned he has begun to find a power stroke this year.
McNeil certainly has the ability to be an impact bat. With an Asdrubal Cabrera seeming imminent, McNeil should be given everyday playing time. If he stays healthy and produces like he can, the 26-year old should win himself a spot as the everyday second baseman for 2019 and beyond.
Main Photo: