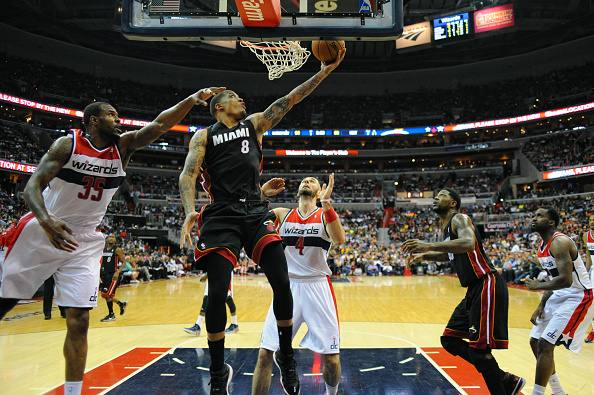 Magic Johnson and the Los Angeles Lakers continue to make a splash in the off-season; this time signing Michael Beasley. Beasley has agreed to a one-year deal with the Los Angeles Lakers according to Lakers Nation. Similar to how the Lakers have been making a lot of roster changes, Beasley brings a lot to the Lakers and this young core.
#Lakers have reportedly agreed to sign free agent forward Michael Beasley.https://t.co/q4n1l1R8t7 pic.twitter.com/M1827CZsWb

— Lakers Nation (@LakersNation) July 20, 2018
Michael Beasley Brings Aggressive to the Los Angeles Lakers
This is the seventh team Beasley has played for, as he just left the New York Knicks. A brief history reminder for you is that in 2008, he was the second pick of the first round in the NBA Draft. You ask who was the first overall pick and that would be Derrick Rose. Some other notable names in the 2008 draft class include Russell Westbrook, Kevin Love, Serge Ibaka, DeAndre Jordan, Goran Dragic, and George Hill amongst others.
In his rookie year, he was 2008-2009 All-Rookie, which glimpses how much of an athlete he is. In his career, he has averaged playing for 23 minutes, scoring 13 points per game, and five rebounds. What is scary is that he is capable of more. Furthermore, he is an energetic player who also makes plays that don't show up on the box score. Beasley understands the game and can make plays for his teammates when needed.
Additionally, you can count on him. He nearly played the entire year, playing in 74 games. Now, what does Michael Beasley bring to the Lakers that will help them improve the overall quality of their team and skills you ask? Well, number one, he brings aggressiveness. He isn't afraid to go after a loose ball. Furthermore, he uses that aggression to be able to drive to the rim and score. By the way, he is capable of making it from behind the arc, where he averages about forty-percent.
Michael Beasley is a versatile player who can lock down defensively and has quick hands as he likes to steal the ball and be physical on defense. Also, he brings the experience of being a veteran to LA.
The Los Angeles Lakers are looking to make the playoffs and win a championship. This is evident by all the signings they have made this off-season. They have brought in players who are physical, quality defense, and good offense. For example, such players they added along with Beasley are: Lance Stephenson, Rajon Rondo, and of course let us not forget one of the most impactful of the signings; LeBron James.
Main Photo:
Embed from Getty Images