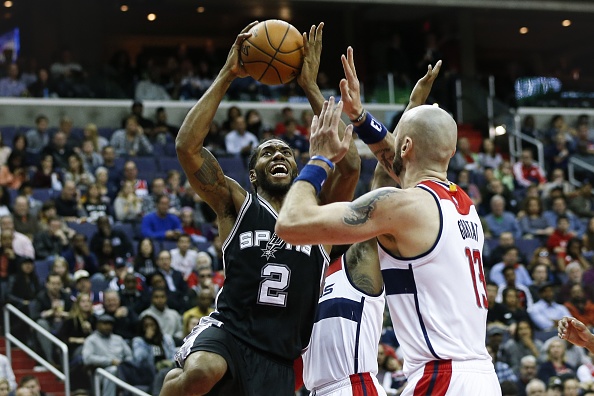 This was an alarm that woke everybody up in the morning. But now it's official, Kawhi Leonard is no longer a member of the San Antonio Spurs. He along with Danny Green have been traded to the Toronto Raptors in exchange for DeMar DeRozan, Jakob Poeltl and a protected first round pick.
It was a deal that surprised many because the Raptors weren't on Leonard's hit list. The Lakers, Celtics and 76ers were the teams that coveted the 2014 NBA Finals MVP. They eventually backed out because the Spurs asked for a lot of valuable assets and they wouldn't comply.
Both Leonard and DeRozan expressed their displeasure of the move. DeRozan took out his frustration on Instagram when he said, "Be told one thing & the outcome another. Can't trust em. Ain't no loyalty in this game. Sell you out quick for a little bit of nothing. Soon you'll understand."
This is the end of the Kawhi-Spurs saga that has existed for almost a year. The two time All-Star played in only nine games last season because of a quad injury. How it got from bad to worse was how he mysteriously left the team during the season to continue to rehab in New York after the team cleared him to play. Gregg Popovich and the players questioned the legitimacy of his injury publicly and that's what broke the connection. Popovich made an effort to repair their relationship but to no avail.
With that being said here are the teams who are the beneficiaries and the harmful of this trade.
Beneficiary: Spurs
Despite trading away their star, they will get an All-Star in DeMar DeRozan to help fill the void. He is arguably as a top 10 player that can go get his own bucket. The four time All-Star is arguably the best mid-range jump shooter in the game as it's his specialty. Last season for the Raptors, he averaged 23.4 points, 4.5 rebounds and 4.2 assists per contest. Also, DeRozan made improvement as a long range shooter by making a career high 89 threes.
It's good that the Spurs traded Leonard because they got good value now without him leaving for nothing in 2019. They may not have enough to compete with the Warriors, Rockets or Lakers in the tough Western Conference but they won't go out tanking. This move also showed the genius of Gregg Popovich, who is arguably the greatest coach of all time.
Harmed: Raptors
The Raptors are taking on the biggest risk in the history of their franchise. They had the best season in team history when they won 59 games and was the number one seed in the Eastern Conference. However, their playoff demons catched up to them again when they got swept by the LeBron-led Cavs in the semifinals. As a result, Dwane Casey, who was the Coach of the Year got the ax and former assistant Nick Nurse became the head coach. Then, they traded one of their greatest players in history in DeMar DeRozan to make this deal happen.
They are trading for a star who won't commit to you beyond this season and is coming off a quad injury. Make no mistake, Kawhi Leonard is the best two-way player in the league when healthy. He's a legit 20 point scorer and a lockdown defender. Leonard was a two time Defensive Player of the Year because of his defensive prowess. General Manager Masai Ujuri is definitely on the hot seat because if Leonard leaves after the season, he could lose his job. Also, it would've meant that he traded DeRozan for nothing and that would make Raptor fans very unhappy.
Beneficiary: Lakers
This was another great day for the City of Angels because Leonard has publicly said that he wants to go to LA. With LeBron James going to the Lake Show, it's becoming an attractive free agent destination again. The Lakers wouldn't have to give up their young assets in Brandon Ingram, Lonzo Ball, Kyle Kuzma and Josh Hart. They can wait and see how they develop and play along with King James.
The Purple and Gold will have the luxury to wait for Kawhi when he becomes a free agent in 2019 along with numerous stars. The stars of next year's free agent class will include Kevin Durant, Klay Thompson, Jimmy Butler, DeMarcus Cousins, etc. So that means that the Lakers are in the driver's seat to get one of the marquee players along with Leonard. Buckle up Laker fans because this is going to be a great ride.