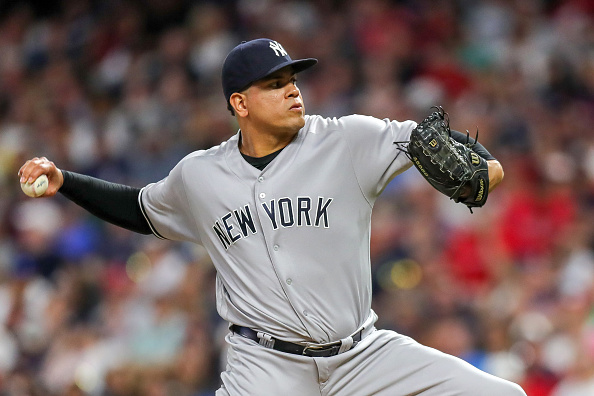 For the first time since his first full Major League season in 2014, Dellin Betances wasn't selected to represent the Yankees at the 2018 MLB All Star Game. The right handed flame thrower has played in four consecutive years (2014-2017) in the All Star Game since being a full time Major-Leaguer . He's been dominant in the last three months and many people believe he was snubbed not getting a fifth straight All-Star Game bid.
Dellin Betances Recent Dominance
After a rough start to the 2018 season, Betances has recaptured the form that allowed him to make the previous four All-Star Games. As of Monday the 6 foot 8 New York City native has a 2.56 ERA in 37 games, including a 0.00 ERA in his last 18 outings. In that span, he has 30 strikeouts in 17 2⁄3 innings and opposing batters are 3-for-53 (.057) against him. He also leads the AL with a 15.83 K rate per nine innings.
Conclusion why Betances deserves to play in the All-Star Game
The All-Star Game is an exhibition game, so there needs to be more excitement in the game. Betances can provide the fans with some amazement by throwing a 100-mph fastball and then with his next pitch dropping a filthy curveball that has been unhittable of lately. Despite the struggles, his talent was clearly there. Since May 23 he has turned his season around and has been nothing short of dominant. If one of the American League All-Star pitchers were to sustain an injury, Betances should be added to the team as an injury replacement for the bullpen. Betances is clearly one of the best relief pitchers in the MLB and his stats prove that.
Main Image: Embed from Getty Images