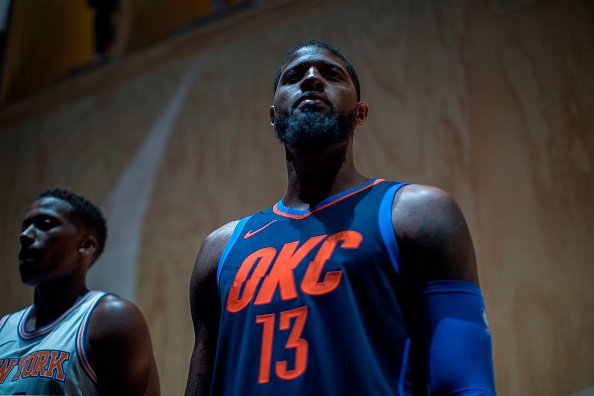 As you may have heard, NBA free agency happens at this time of the year. The definition of it is when a player's contract expires, he is free to sign with any other team. He also has the opportunity to re-sign with his old team for more money than he would get elsewhere.
In this time period, teams have the opportunity to improve their rosters by signing key players that will help them compete for a chance at a title. There are those who win during the free agency period and those who lose.
2018 NBA Free Agency
With that being said, here are the winners of this year's free agency.
Los Angeles Lakers
Anytime you land the best player in the NBA in LeBron James, then you clearly belong in the winners column. The King signed a four year, 154 million dollar commitment to come to the city of angels. He was the biggest fish in the pond and the Lakers were lucky to pick it up. At age 33, LeBron was coming off his best individual season of his career leading the talent-less Cavs to the Finals (his eighth straight). With the Lakers young core of Brandon Ingram, Kyle Kuzma, Lonzo Ball and Josh Hart; their work will be cut out for them because of LeBron's presence.
They also brought in Lance Stephenson, Rajon Rondo, JaVale McGee and re-signed Kentavious Caldwell-Pope to one year deals. Stephenson and Rondo will be largely responsible for the ball handling and defensive toughness. McGee will be the rim protector and rim roller.
This is the Lakers best moment in recent years because they've fallen on hard times since the late great Jerry Buss died. In addition, they have made terrible roster moves while missing the postseason the last five seasons. Magic Johnson and Rob Pelinka brought in to right the ship. They deserve all the credit for making the key trades and clearing up the salary cap space to make this possible. With the 2019 free agent class producing Kawhi Leonard, Kevin Durant, Kyrie Irving, Klay Thompson, Jimmy Butler, DeMarcus Cousins; the Lakers will be able to sign more big time free agents.
Oklahoma City Thunder
They are winners because they were able to keep Paul George, despite all the rumors that he would go to the Lakers. Last summer, they acquired George in a trade from the Pacers for Victor Oladipo and Domantas Sabonis with no guarantees he would stay long-term. He announced at Russell Westbrook's house party that he was staying in OKC. George signed a four year, 137 million dollar contract, committing himself to the Thunder for the long haul. PG13 got comfortable playing with Russell Westbrook being his sidekick. While Westbrook was posting his triple doubles, George averaged 21.9 points, 5.7 rebounds and 3.3 assists per game.
In addition, OKC signed Nerlens Noel to a two year contract to backup Steven Adams. They also kept Jeremi Grant (three years, $27 million) and Raymond Felton (one year, $2.39 million). The Thunder will trade or waive Carmelo Anthony to clear cap space and his unwillingness to play a reduced role.
This was an important moment for the Thunder franchise since Kevin Durant departed for the Warriors in 2016. They took a huge gamble on Paul George without any long term guarantees and it paid off. With George back in the fold and Westbrook cementing his legacy with the franchise, they'll continue to be a Western Conference contender. However, they'll have to compete against the likes of the Warriors, Rockets and the new-look Lakers to get to their championship goals.
Golden State Warriors
As they say, the defending champions continue to get richer. DeMarcus Cousins shocked the entire NBA world when he signed with the Warriors. The amazing part about it is that he took the 5.2 million dollar mid-level exception, which is essentially a huge haircut. The four time All-Star he allegedly didn't get any offers in free agency possibly due to his Achilles injury. Last year, Boogie averaged 25.2 points, 12.9 rebounds and 5.4 assists per game for the Pelicans before suffering a season ending torn Achilles on January 26th.
Cousins will bring an element to a star studded squad led by Stephen Curry, Kevin Durant (who re-signed on a two year deal with an opt-out after one for 61 million dollars), Klay Thompson and Draymond Green that they never had before. He's a big that can score from the post and from beyond the arc and rebounds tenaciously. Also, is highly emotional and passionate about the game. Golden State is so good that they don't even need to play Boogie in the regular season. They won back to back titles without him and getting him is just a bonus.
This goes to show that Dub Nation is the best organization in the NBA. They are that way because of the way they've built through the draft, signing big time free agents and playing unselfishly. The Warriors have an All-Star starting five that no one can counter because they're too good and talented. It looks like it'll be a while until somebody dethrones them.
Main Image:Embed from Getty Images