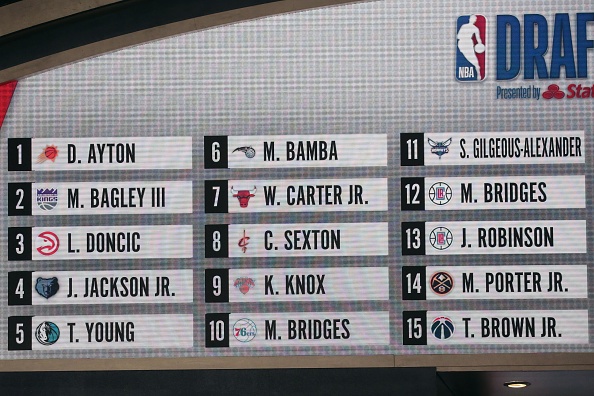 We can all agree that the Golden State Warriors have forever changed the NBA. But along with that, they have changed how we look at the NBA. Golden State's dominance in the past five years is one of the greatest sports runs in history. This has caused many NBA fans to look to the future. Today, I'd like to look at the top six NBA teams that seem most well prepared for the future.
6 NBA Teams With the Best Future
6. Utah Jazz
The Utah Jazz were a very surprising team last year. They knocked off the Thunder in the 1st round, but eventually got stomped out by the Houston Rockets. The Jazz were carried by rookie star Donovan Mitchell, who amazed everyone by averaging just over 20 points per game, along with four assists and four rebounds as well. The Jazz also includes star center Rudy Gobert, who is arguably the best defensive center in the entire league. Utah was ranked eighth last year in team defense, that according to NBA.com. They will continue to shine in that aspect of the game as long as players such as Gobert and Mitchell stay in Salt Lake City.
With the recent addition of Duke product Grayson Allen, the Jazz can only go up from here. After this run from Golden State is over, I see these guys being a top 4 team in the West in the coming years.
5. Lakers
The Lakers are starting to get back on track after having finished in the bottom half of the West for the past five years. The "big three" of Ball, Kuzma, and Ingram is a group purely constructed from the draft. This shows their ability to develop players very well. Lebron's words about Ball are definitely encouraging, as he stated "Can he ball? Absolutely." With some improvement in Ball's shooting and also some maturity issues being ironed out, this team can definitely compete for a spot in the NBA Finals in the future, even without Lebron. If the Lakers squad has the drive to compete, nothing will stop them. But it's all up to them.
4. Suns
The combo of Devin Booker and Deandre Ayton will be deadly and that shouldn't be a surprise. Booker averaged just under 25 points per game last season. Ayton, on the other hand, was a dominant force in college. With the help of young stars such as Marquese Chriss and Josh Jackson, this team has the perfect combo of guards and bigs to compete in the near future. Another piece to this Suns team will also be Mikal Bridges, who was drafted this past year by the Sixers but was traded to the Suns shortly after. Bridges is a very efficient, shooting just under 56% from the field and 45% from three-point range.
Many will question the placing of the Suns on this list because of their lack of experience. However, after a couple years of developing and the emergence of an all-star in Devin Booker, this Suns team is looking more and more dangerous every year.
3. Bucks
Milwaukee has done a great job of continually building their prospect pool up, while still maintaining a solid playoff presence. Many forget that Giannis Antetokounmpo is only a mere 23 years old and has already impacted the NBA in such a short period of time. Along with Giannis, guys like Malcolm Brogdon, Khris Middleton, and Jabari Parker have developed quick and are all very young as well. The Bucks also have a center in Thon Maker who will become a force in this league in a couple years.
If the Bucks can keep this core together, their starting lineup will become one of the most deadly lineups in the league. Jabari Parker played only 31 games in 2017-18 and has been plagued by injury for most of his career. His availability is key in this teams success. If he plays in at least 50 games a season, this team will find a lot of success.
2. 76ers
The 76ers have turned from the laughing stock of the league into one of the scariest teams in the league. The Sixers went from being a 10-win team in 2016 to a 52-win team playoff team in 2017-18. Joel Embiid is largely responsible for the success of this team in the past year. Ben Simmons has developed into a player who is capable of leading this Sixers squad very far into the playoffs. With Simmons and Embiid leading all the major statistical categories for the Sixers last year, these two need to be in this starting lineup every day to make this a successful next 10 years for them.
A player who hasn't exactly lived up to his hype is Markell Fultz. If Fultz gets his act together and develops his shooter game, this team will have threats all over the court. I see Fultz becoming a decent player on this Sixers squad. The Sixers created a plan and stuck with it. If this team can pick up a decent young shooter in either a trade or free agency, they will become a 55+ win team every season. This is a dangerous team and everyone knows it.
1. Celtics
And at number one, we've got the Boston Celtics. The Celtics have gone through a rebuild of almost five years and still have managed to have a presence in the playoffs. The drafting of both Jaylen Brown and Jayson Tatum have given the Celtics building blocks for the future and beyond. With the addition of guys like Terry Rozier and Daniel Theis, the Celtics have created a young atmosphere in Boston. The Celtics have two future all-stars in Brown and Tatum. They have got a bench with an average age of about 25 years old which is fantastic.
Their young guys have already adapted to the playoff atmosphere. Because of this, the Boston management should have no problem bringing in free agents to add to their already loaded squad. This Celtics team will be dominating the East for a long time, especially with the departure of Lebron James. I expect nothing short of at least one title for this Celtics squad in the next 10 years.
Last Word
But wait where are the Warriors?? Where are the Houston Rockets?? If we are going to look at the next three years, of course, these teams will be great in the future. But if we are looking at the next 10 years, these teams above will be at the top of their respective conferences. After the run by Golden State and the decline of Lebron James, the NBA will be wide open for any team to compete for a title. Can things change? Of course. Could the Brooklyn Nets acquire two all-stars and make them a title contender? Sure. But as it stands now these teams listed above stand the best shot at what they have. The young talent in the NBA will make the next 10 years a lot of fun to watch.
Main Image: Embed from Getty Images